Kazakh President Kassym-Jomart Tokayev said in an address on national television that he had told security forces they could fire without warning on protestors, Kazakh news agency Tengrinews reported.
"The militants have not laid down their arms, they continue to commit crimes or are preparing for them," Tokayev said in a televised address. "Whoever does not surrender will be destroyed. I have given the order to law enforcement agencies and the army to shoot to kill, without warning."
Government forces continue to engage in an operation against what has been termed national and foreign "bandits" with the aid of Russian backed forces.
"We had to deal with armed and trained bandits, both local and foreign. It is with bandits and terrorists. Therefore, they need to be destroyed. And this will be done shortly," Tokayev added. He also said he had ordered a nationwide communications blackout.
According to authorities, the Russian-backed forces from the Collective Security Treaty Organisation (CSTO) were not participating in any of the Kazakh security operations.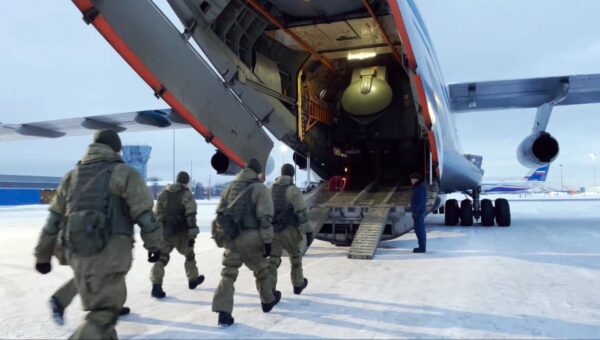 Currently, the official number of law enforcement agents killed in the clashes is 18, with 748 police officers and National Guard servicemen injured, reports Russian news agency TASS. At the same time, it has been reported that 3,000 protestors have also been detained.
The figures come after unconfirmed reports that dozens of protesters were also killed in Kazakhstan as they clashed with security forces, although there was no immediate confirmation on the number of fatalities.
Social media posts from those in Kazakhstan have also revealed that the former capital Almaty is experiencing heavy gunfire and explosions as protestors clash with CSTO troops and local police forces.
However, Kazakhs have taken to social media throughout Friday to show images and videos sent to them from inside Kazakhstan of the continued peaceful protests and government clampdown. This is despite Kazakhstan's government deliberately shutting down the country's mobile and internet communications networks.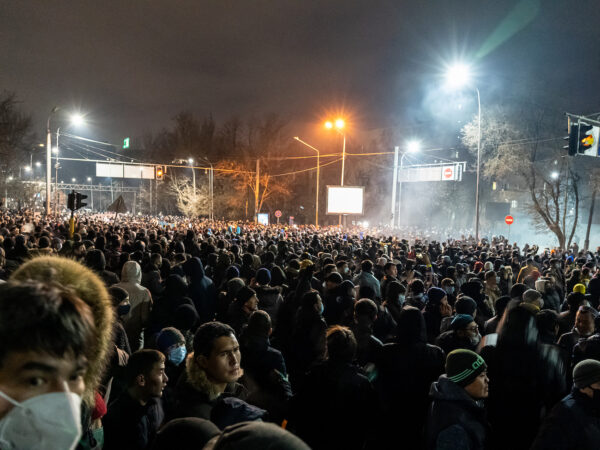 The blackout, which global internet monitor Netblock has called a public safety risk, has been in place for over 36 hours, forcing Kazakhs to rely on messaging platforms like Telegram to communicate amid the ongoing crisis.
Netblocks noted that the communication outage had a high impact on mobile services, with Kazakhstan's leading mobile internet services Kcell, Beeline, and Tele2 being significantly affected. They also said that almost all internet connectivity in the country was lost from Wednesday night.
⚠️ Update: It's now Friday morning in #Kazakhstan where internet has been shut down for some 36 hours, placing public safety at risk and leaving friends and family cut off.

Connectivity levels continue to flatline at just 5% of ordinary levels.

📰Report: https://t.co/Op5GwzXKbh pic.twitter.com/xQIYdZVhbK

— NetBlocks (@netblocks) January 6, 2022
This is not the first time residents of the Central Asian nation have faced this problem with a similar blackout reported by The Daily Swig, a cybersecurity media agency, in 2021 and 2019.
"Last year, internet shutdowns in Kazakhstan coincided with anti-government protests in several cities calling for the release of political prisoners following a resolution passed by the European Parliament on human rights in the country," Natalia Krapiva, tech-legal counsel at campaign group Access Now, told the Daily Swig. "The authorities responded with violence and detained approximately 50 protesters."
"In 2019, Kazakhstan throttled and blocked social media when opposition groups called for a protest to coincide with World War II victory celebrations that month, and in 2018, Kazakhstan throttled social media when opposition leaders live-streamed events," she said.
At present, the Kazakh government has introduced a critical red level terrorist alert for the entire country.
Under the alert, security forces have the power to carry out personal searches and search of vehicles, restrict or prohibit the movement of vehicles and people, freely enter residential and other premises, and control information transmitted through the channels of telecommunication systems.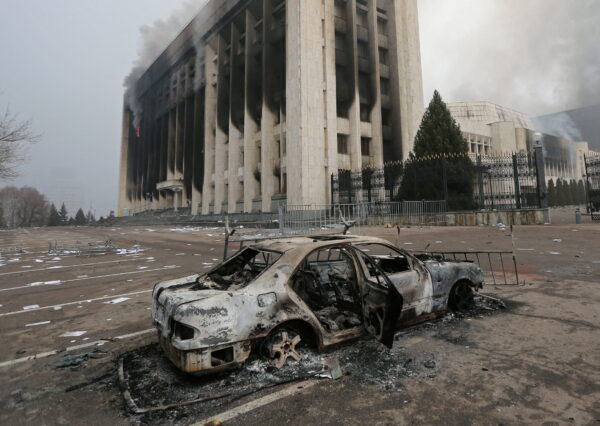 The protests, which started on Jan. 2 in the west of the country in the city of Zhanaozen and the Mangistau region, began in response to an increase in the price of fuel to 120 tenge (27 cents), from last year's 60 tenge (14 cents). However, the protest quickly morphed into discontent at the former president Nursultan Nazarbayev's continuing presence in the political sphere with many chanting "Old Man Go" in reference to Nazarbayev.
In other parts of the country, protestors have posted images on Twitter of pulled-down statues of Nazarbayev and clashes with police and military forces.
Nazarbayev stepped down as president in March 2019 after thirty years as the leader but had continued to maintain control over the ruling party Nur Otan until Dec. 2, 2021. His children feature prominently in both Nur Otan and the government.