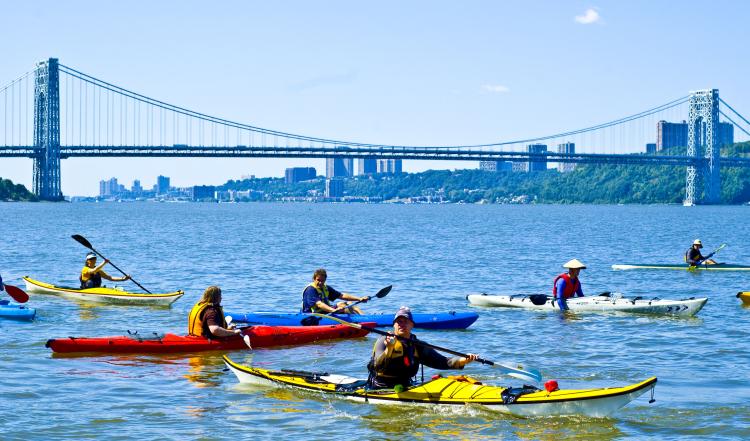 NEW YORK—Hidden in the North of Manhattan, on the side of a small dirt path near the Hudson River, is the Inwood Canoe Club. Offering free kayak outings every Sunday, the club held its last public trip of the season on August 31.
Water-bound adventurers from around New York and beyond came to cherish their last free kayak ride of the summer. Greeted by a vegetable-filled garden and sunflowers towering overhead at the entrance, visitors passed down the short path and into the boathouse where a small armada of kayaks awaited.
"This is a lot of work. We don't have a lot of money and it's amazing what we can get done with not very much," said Joe Wojak, one of the Canoe Club's members, a smile gracing his face.
Wojek, along with others who volunteer their time at the community club, help newcomers familiarize themselves with the personal-water-vessels, from teaching them the basics of paddling to helping riders into and out of the kayaks, to leading the water excursions.
For the island of Manhattan, in particular, Wojak mentioned that it seems beach access has become less and less as the city has continued to grow, with fewer and fewer New Yorkers regarding the local waterways as a place of recreation.
"A lot of people don't realize that there are these great bodies of water that surround the city," said Wojak. "This is a really cool way to get people to reconnect with the river; that's part of why we're here."
"The purpose of our program is that the trips on Sundays may be short, but it gives you a little sense of what it's like to be out [on the river]," said Wojak. "For a lot of people who've lived here all their lives, this is their first time really being on the water like this. Some people live three blocks from the Hudson River and have never had a chance to get out on the Hudson River."
Setting off from the rocking wooden dock, experienced and inexperienced kayakers alike took to the waters for a trip down the river. With the wooded shoreline of New Jersey laying the scenery across the way, the wake of motorboats passing by lightly rocked the water as the kayaks skimmed across the surface.
"It was beautiful," said Fred Brenthenzi, one of the weekend kayakers, who was visiting New York from Oregon. "It was nice and peaceful. Something about the water is really calming."
Originally started back in 1902, the Canoe Club is the oldest canoe and kayak club in Manhattan. Once a small wooden boathouse, a fire 12 years back prompted some remodeling and rebuilding into the current boat house now being used.
Many volunteers mention that they feel kayaking helps to create a sense of respect for local waterways. "I think it's a great opportunity to introduce the public to the river, perhaps the best opportunity," said Allegra Legrande, one of the club's senior members. "A lot of people are afraid of the river [since] the river has kind of a sordid history."
"For the last 30 years they've been cleaning, and the goal is for the river to be swimmable. What better way than to get people comfortable with that idea than to put them out on the water," said Legrande. "I think that people take care of their home, and if they paddle in the river then the river becomes part of their home."