Brett Kavanaugh, the Supreme Court nominee, said that he will not withdraw from the nomination process after two women accused him of sexual misconduct.
The unsubstantiated claims date from high school in Maryland in 1982, and Yale University in 1983.
Neither accuser has produced a witness or any evidence placing Kavanaugh at the scene of the alleged incidents. The first woman has been unable to provide a date, time, or place of the alleged assault while the other said the incident happened at a university dorm.
Asked whether he ever thought of withdrawing his nomination, Kavanaugh said in an interview with Fox News on Monday night, Sept. 24, that he wanted to clear his name.
"I'm not going to let false accusations drive us out of this process. And we're looking for a fair process where I can be heard and defend the—my integrity, my life-long record—my life-long record of promoting dignity and equality for women, starting with the women who knew me when I was 14 years old. I'm not going anywhere."
President Donald Trump, speaking to reporters at the United Nations in New York City, said earlier on Monday that he stands by Kavanaugh.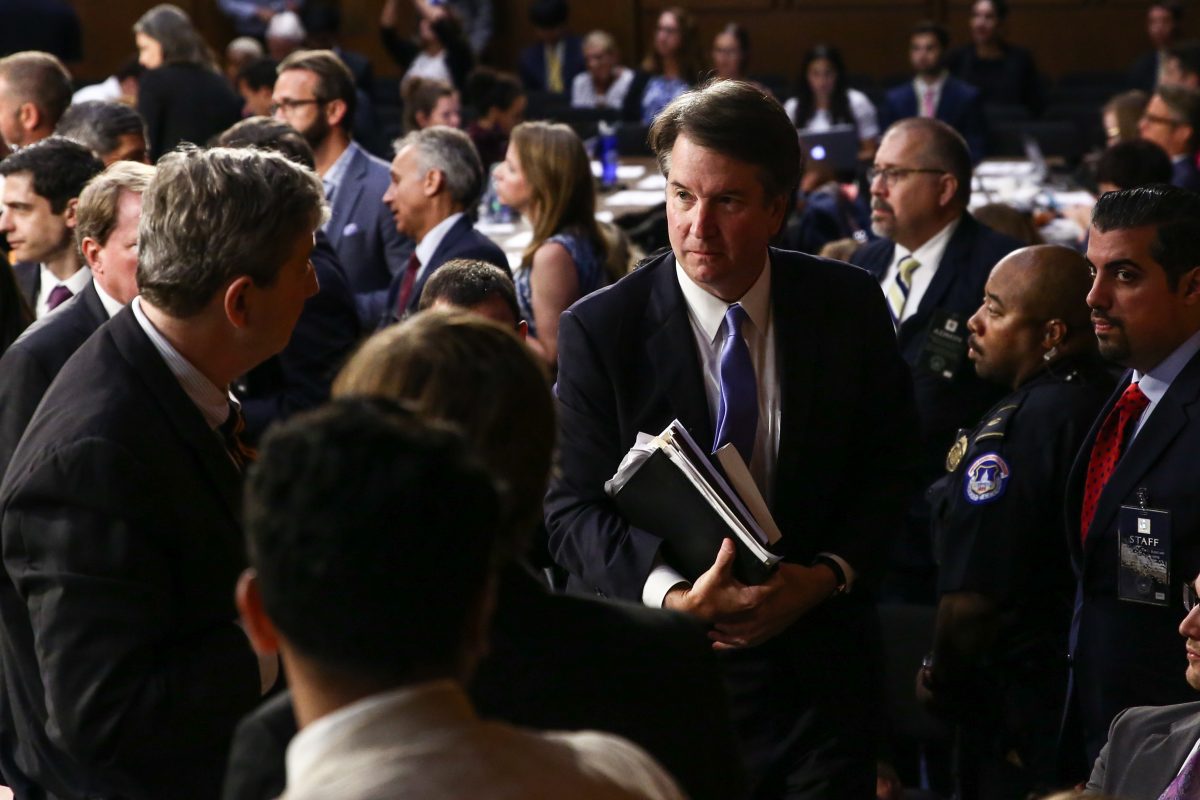 'Fair Process'
Referencing the constitutional right to face one's accuser, Kavanaugh said that he wants a fair process.
"In America, we have fairness. We hear from both sides. That's what judges believe that's what our system was built on, the rule of law," he said. "Fair process means hearing from both sides, and I think the process—I want to have an opportunity to defend my integrity and clear my name and have a fair process."
Kavanaugh said he's made mistakes, but vehemently denied anything taking place like that which he's been accused of, after he was asked whether he thought it was fair to be judged on something that allegedly happened when he was 17. Kavanaugh is now 53.
"I think everyone is judged on their whole life," he said.
"I'm a good person. I've led a good life. I've tried to a lot of good for a lot of people. I am not perfect, I know that. None of us is perfect. I'm not perfect, but I've never, never done anything like this."
Death Threats
Ashley Kavanaugh, Kavanaugh's wife, has received death threats amid the controversy. She said it's been hard for her and her family.
"This process is incredibly difficult," she said. "It's harder than we imagined, and we imagined it might be hard. But at the end of the day, our faith is strong and we know that we're on the right path."
She said she's had multiple discussions with her children after the accusations emerged.
"It's very difficult these conversations with your children, which we've had to have some broader terms for our youngest. But they know Brett. And they know the truth," she said.
"And we told them at the very beginning of this process this will be not fun sometimes. You're going to hear things that, people feel strongly, and you need to know that. And just remember you know your dad."
From NTD.tv
Did you enjoy this article? Continue to read more stories  here.