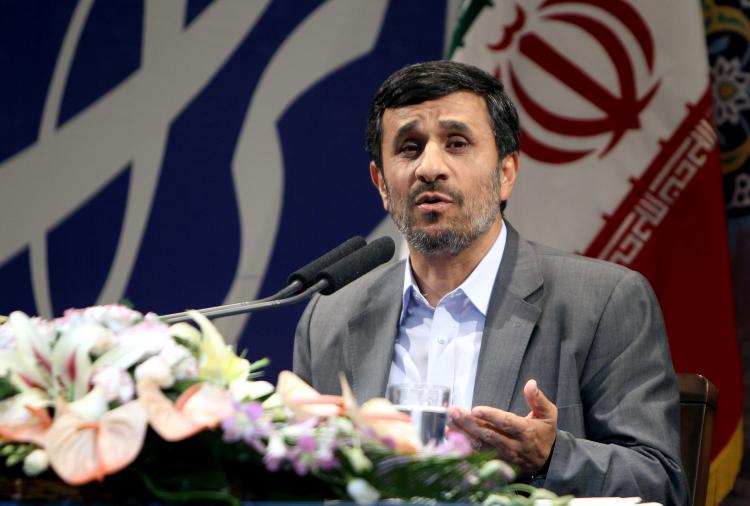 Iran has unveiled its first long-range bomber drone, a weapon the country's president has described as an "ambassador of death."
Mahmoud Ahmadinejad pulled a sheet from a model of the new unmanned aerial vehicle (UAV) in front of an audience of military officials at a ceremony in Tehran on Sunday.
The device, named Karrar—or 'striker' in Farsi—is to act as a deterrent and "keep the enemy paralyzed in his bases," Ahmadinejad said.
The presentation came as the country began fueling its first nuclear power station in Bushehr, a move which Israel has described as "totally unacceptable."
Iranian state TV later reported that the device would have a range of 620 miles– which is not far enough to reach Israel.
It can carry two 250-pound bombs, or a precision bomb of 500 pounds.
"This jet is a messenger of honor and human generosity and a savior of mankind, before being a messenger of death for enemies of mankind," said Ahmadinejad at the ceremony on Sunday reported BBC.
"The key message is friendship," he added. "We must make efforts to render all the enemy's weapons useless with our defense potential."
The drone is the latest piece of military hardware to be unveiled at a time when tensions are already high over the nuclear issue.
On Friday, the country test-fired a new surface-to-surface missile called the Qiam – which means "rising" in Farsi. Iran already has missiles capable of carrying nuclear warheads that can reach Israel and Eastern Europe.
In March 2009, fighter jets from the U.S. air force reportedly shot down an unmanned Iranian spy plane, a development which caused concern from Western military officials at the time.
The Debka file website, an Isreal-based site dedicated to military and espionage analysis, reported earlier this month that the man behind Iran's UAV program, Reza Baruni, had been assassinated at his home in a bomb attack. The claim has not been reported elsewhere.
The news follows allegations that U.S. security forces had kidnapped a scientist who had been closely involved in the Iranian nuclear program. U.S. authorities have denied the claim.
Both officials in Israel and the United Arab Emirates have called on Washington to launch a pre-emptive strike against Iran to prevent the country from obtaining a nuclear weapon.
On Sunday, Ahmadinejad warned against any such strike, saying that such a move would be "suicidal."