Sen. Kamala Harris (D-Calif.) renewed calls for a $2,000 per month stimulus check in the wake of economic damage caused by the CCP virus pandemic.
"The government should be here for the people in a moment of crisis," Harris, a potential running mate for Joe Biden, told The Appeal. "People should be able to count on their government to see them and to create a safety net for them, so that these people don't fall into poverty—or further into poverty—during the course of this pandemic."
Last month, Harrs, Sen. Bernie Sanders (I-Vt.), and Sen. Ed Markey (D-Mass.) proposed a bill that would distribute the funds to people. They argued that the $1,200 checks that were sent out by the federal government starting in April, passed under the $2.2 trillion CARES Act, weren't enough.
Their bill would include $2,000 per month for children as well. Those who make up to $120,000 are eligible.
"Can you imagine someone saying, 'You only need to pay rent once ever?'" Harris said. "The reality of life is that people have recurring expenses."
Previous proposals in the House also called for sending people the same amount of money. A House Democrat-sponsored bill, the HEROES Act, would give $1,200 for most Americans and children, although top GOP lawmakers have expressed an unwillingness to pass the measure due to what they described as unnecessary additions.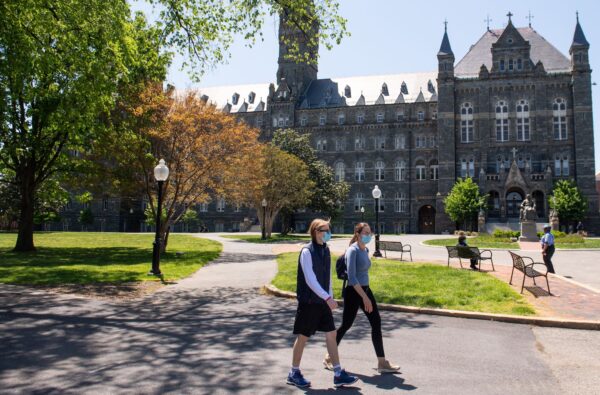 There have been other proposals floated by other senators, including Sen. Rob Portman (R-Ohio), who is seeking to give Americans who return to work $450 extra per week, which would be in addition to the salary they are earning. The move, according to him, would make it more lucrative to return back to work following months of shutdowns to curb the spread of the CCP (Chinese Communist Party) virus.
"The point is to have a bonus to go back to work, which helps everybody, helps the worker, helps the small business and helps the taxpayer," Portman told CNBC this week.
Senate Majority Mitch McConnell (R-Ky.) has said the next stimulus bill will be the last and likely won't include a monthly stimulus check. McConnell and Treasury Secretary Steven Mnuchin have both said that it's likely another stimulus measure will have to be passed.
"Unemployment insurance is extremely important, but it is not designed to encourage you to stay home; it is designed to get you through a trough until you can get back to work," McConnell also said. "I think you can certainly assume we will not be paying people a bonus for staying home in another bill."
And Mnuchin in May said that "there is a strong likelihood we will need another bill, but we just have $3 trillion we're pumping into the economy."