K.Nicole's Version of Bohemian Chic
September 13, 2014 6:00 am Last Updated: September 23, 2014 9:19 am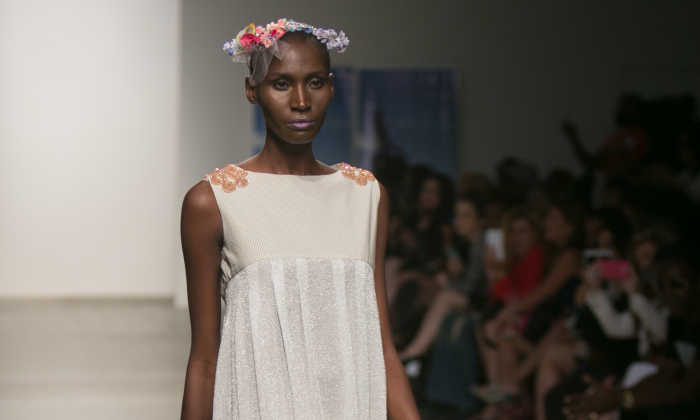 K.Nicole designers Kera Anderson and Nicole Styer presented their second collection since the brand's launch last year.
The ready-to-wear 2015 Spring/Summer collection finally took place on the last day of New York Fashion Week at Pier 59 Studios in New York, after the expectant audience was ushered to and fro a few times before the start of the show.
The theme of the collection was bohemian chic, featuring a play on textures and muted colors. It was less formal than their last show and even the two-piece outfits had an informal air.
Maroon and mauve were paired with teal. Army green, a popular color at the 2015 Spring collections, appeared as a cotton mesh combined with crisp white cotton.
Among the more formal pieces that stood out was a pink cotton skirt with an uneven hem, teal sash, and gray striped cotton crop top. A similar outfit with an A-line dusty-mauve skirt worked more coherently as the pink and gray crop top also carried the subtle mauve hue of the skirt.
The "let's play dress-up" tone was also evident in a short multicolored tweed jacket that was paired with white cotton mesh-knit pants. The two textures competed more than complemented each other, but worn separately they would make a different impact.
The theme of the collection was best encapsulated in a printed satin maxi dress with a high slit in the center of the skirt. It was an unlikely combination of white cotton with faint stripes in the bodice, a see-through lace yoke for the waist, and the mauve and maroon maxi skirt. The pearl tiara gave it an air of playfulness.
The collection was experimental and understandable for a young brand.