The Laguna Beach Police Department unveiled a new memorial that honors the department K-9 officers that have passed away on Sept. 21.
The memorial was released during the annual Laguna Beach fallen officer remembrance ceremony that occurs annually to remember officers that have been killed in the line of duty, such as officer John Coutchie in 2013 and Officer Gordon French who died in 1953.
This year's ceremony honored three police dogs who served the department: Gero, who served from 1988-1996, Max, who served from 1999-2003, and most recently Ranger, who served from 2015 until June of this year after being diagnosed with cancer in February.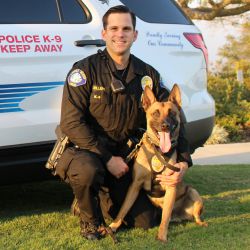 The new K-9 memorial features all three dogs' names and is located next to the Eternal Legacy memorial, which honors the fallen human officers. It was designed by artist Gerard Stripling.
K-9 Cpl. Zach Fillers, Ranger's handler, told the audience how much Ranger meant to him.
"I was hoping that he and I would become fast friends," Fillers said, as reported by the Daily Pilot. "What happened over the next seven years was the ride of a lifetime. We were together 24-7 at work and at home. We spent thousands of hours together, trying to become a great K-9 team, which was one of the most rewarding and frustrating things I've ever done.
"Imagine trying to get an animal, who only understands a foreign language, to do exactly what you want upon command when people's lives are at risk and absolute perfection is required. Not stressful at all."
K-9 Ranger was a Belgian Malinois who received several years of training in Holland prior to coming to the United States. Ranger began patrolling the City of Laguna Beach in January 2015 and was named to honor Coutchie, who was a United States Army Ranger.
As the remembrance was wrapping up, officers placed white flowers at the bottom of both memorials.