Justin Long Goes Full Walrus For 'Tusk'
September 17, 2014 5:20 pm Last Updated: September 17, 2014 5:21 pm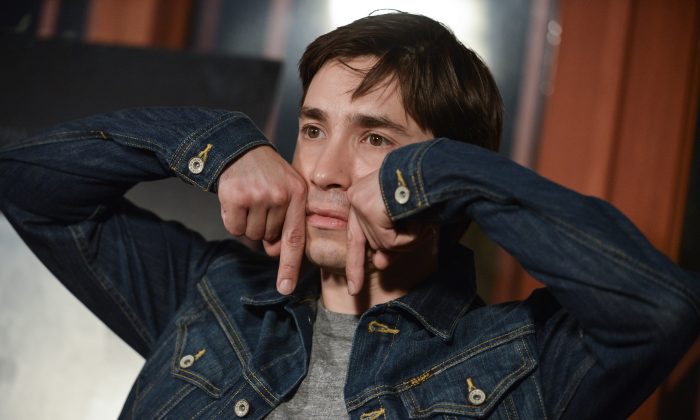 In a recent Reddit AMA session, actor Justin Long was subjected to answering all kinds of personal and otherwise questions about his new film, his life, and his career. 
The 36-year-old was most recently in Canada promoting his latest horror film "Tusk" at the Toronto International Film Festival.
"Tusk" tells the story of a podcaster who travels to Manitoba, Canada, to interview a mysterious seafarer. After the podcaster (Long) goes missing, his friends embark on a journey to find him only to discover that the seafarer has turned their friend into a monster. 
First came the hard-hitting questions. 
"Do you really go full walrus?" one Reddit user asked. 
"I don't want to spoil the movie – you gotta go see it! But yes. Yes, I do," Long said. In a separate answer, Long explained the experience of wearing the walrus suit. "…That walrus suit was not built for comfort. There was a big foam pad that I'd rest on in between takes or, if we had enough time, they'd roll me on my side to take the pressure off my scrawny little arms. It was a workout. For me, anyway," he wrote. 
Although Long is better known for his roles in comedies and dramas, his fans wondered what the real Justin Long acts like. 
"We've seen you play a bumbling stuttering nerd and we've seen you do fast talking smooth guy too, so which is the real Justin Long?" asked one fan.
"It depends on who I'm talking to. I like to think I'm somewhere in between," Long replied.
"If you had to get a different celebrity's face tattooed onto your face, whose face would it be, and why?" asked StynaLane.
"I would get all the Baldwin brothers as Russian nesting dolls…Stephen would, of course, be the smallest. Why? Because what a great conversation starter!" Long responded.
Long is also well known for his computer commercials where he represents the brand "Macintosh." A Reddit user jokingly asked him: "Listen, I'm thinking of getting a new computer. Do you have any advice as to what kind I should get?"
"I really do know very little about computers. But I could tell you how to respond to strangers who point at you at airports and say 'Hey, you're the Dell Guy from those movies,'" Long said. 
Long told another fan that he's been selected as a guest actor for the upcoming season of "Portlandia," where he will make an appearance. For him, it was the best job he's ever had. 
Long also revealed his undying love for ketchup. 
"The following question is a bit revealing about oneself and may require much thought…If you could squeeze any condiment out of your belly button, what would it be and why?" asked a fan. 
"Thank you for asking – I was wondering when somebody would. #ElephantInTheRoom," Long replied, following up with, "I forgot to answer. Ketchup. Because I think I like ketchup so much that were it to come out of my belly button, it still wouldn't disgust me enough NOT to eat it."
Another thing Long made known to the public is his undying love for monkeys after a fan asked him about his favorite animal. 
"Monkey. Easy. Being around monkeys genuinely makes me happier than when I'm around humans (even friends and family)," Long replied. 
To read the full AMA, click here.