Supreme Court Justice Ruth Bader Ginsburg returned to work on Feb. 15 for the first time since her surgery in December 2018, according to the court.
The Supreme Court press office said that Ginsburg, 85, the oldest justice, was attending the court's closed-door conference.
The justices will decide whether to add new cases in addition to finalizing opinions in cases that were argued before them late last year.
Ginsburg missed Supreme Court arguments for the first time in January and wasn't seen in public for months, stoking speculation about her health and whether her time on the court might be coming to an end. If so, President Donald Trump would get his third Supreme Court nomination, following confirmations for Justices Neil Gorsuch and Brett Kavanaugh.
She reportedly attended a performance in Washington on Feb. 4, put on by her daughter-in-law but few attendees spotted her, leaving rumors swirling about her current condition. The next night, she was among the justices who skipped Trump's State of the Union speech. Justices Kavanaugh, Gorsuch, Elena Kagan, and John Roberts attended.
James Ginsburg, Ginsburg's son, said prior to the performance that his mother has been recovering, walking one mile a day and working with her trainer again.
Ginsburg has undergone a number of medical procedures in recent years. In 2014, she underwent a heart procedure to have a stent placed in her right coronary artery. She also broke two ribs in a fall in 2012 and has survived two other bouts of cancer.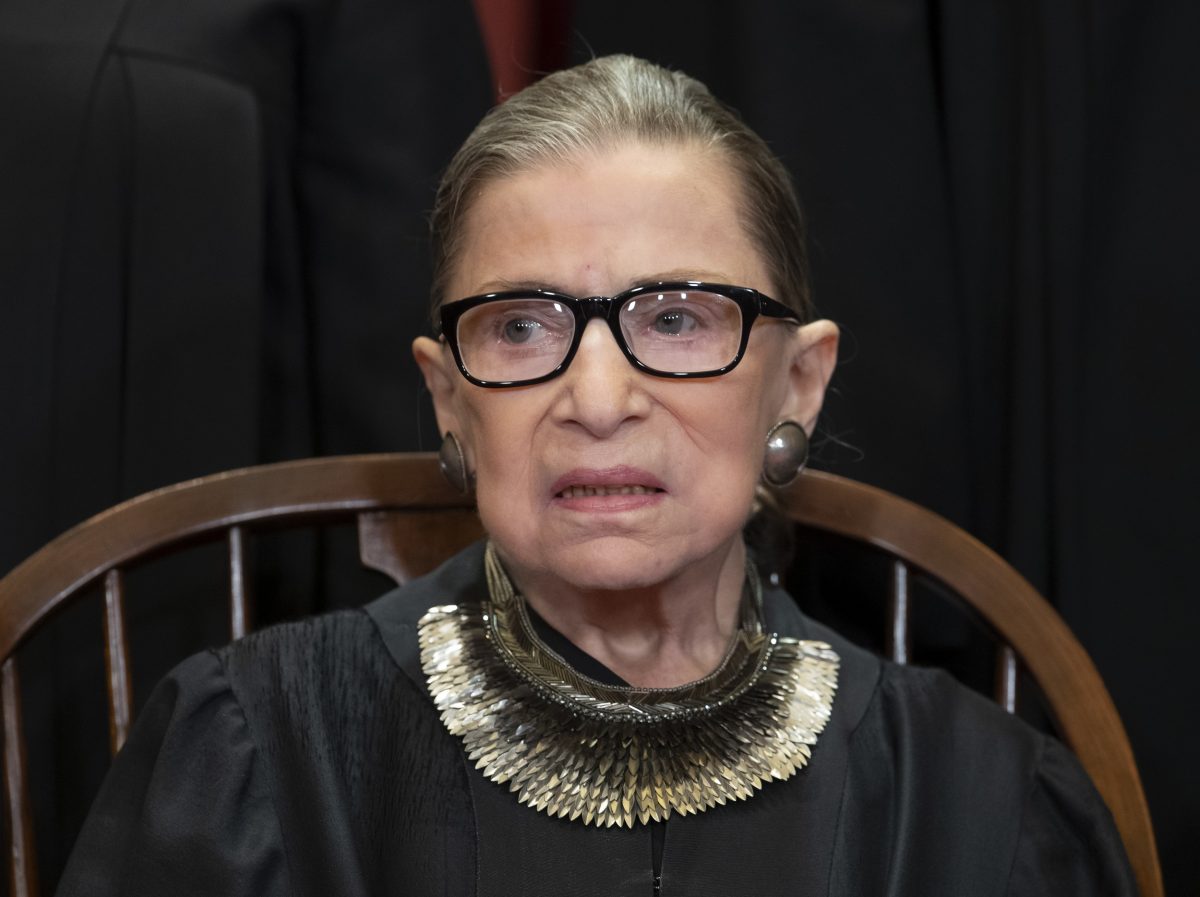 Ginsburg, appointed by former President Bill Clinton in 1993, previously vowed to serve until at least 2020.
"I'm now 85," she said in August, according to CNN. "My senior colleague, Justice John Paul Stevens, he stepped down when he was 90, so think I have about at least five more years." She also said that people shouldn't try to set term limits for Supreme Court justices.
Ginsburg has already hired law clerks for at least two more terms.
Ginsburg is by far the oldest justice. Only one other is even above the age of 70, Stephen Breyer, who is 80.
Gorsuch is currently the youngest member at 51. Kavanaugh is 54, Kagan is 58, Sonia Sotomayor and Roberts are 64, Samuel Alito is 68, and Clarence Thomas is 70.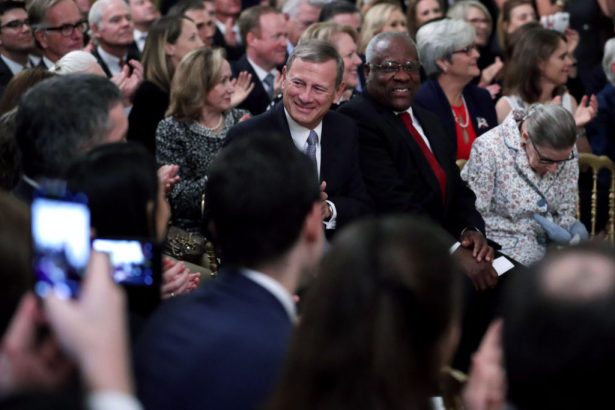 Hollywood A-Listers Sign Get-Well Card
Steven Spielberg, Lady Gaga, Spike Lee, and Glenn Close have a message for Supreme Court Justice Ruth Bader Ginsburg: Get well soon.
They and three dozen Hollywood A-listers, from Bradley Cooper to Quincy Jones, have signed a card that was being overnighted to Ginsburg on Thursday.
In the card, Lee refers to Ginsburg as the "Judge of Brooklyn." Regina King wrote that she is the true, "Super Diva" in reference to a shirt Ginsburg wears in the documentary "RBG." Laura Dern wrote, "You are our grand reminder to use voice + fight for truth."
Director Barry Jenkins even stopped to do a plank in honor of Ginsburg's famed workouts after signing.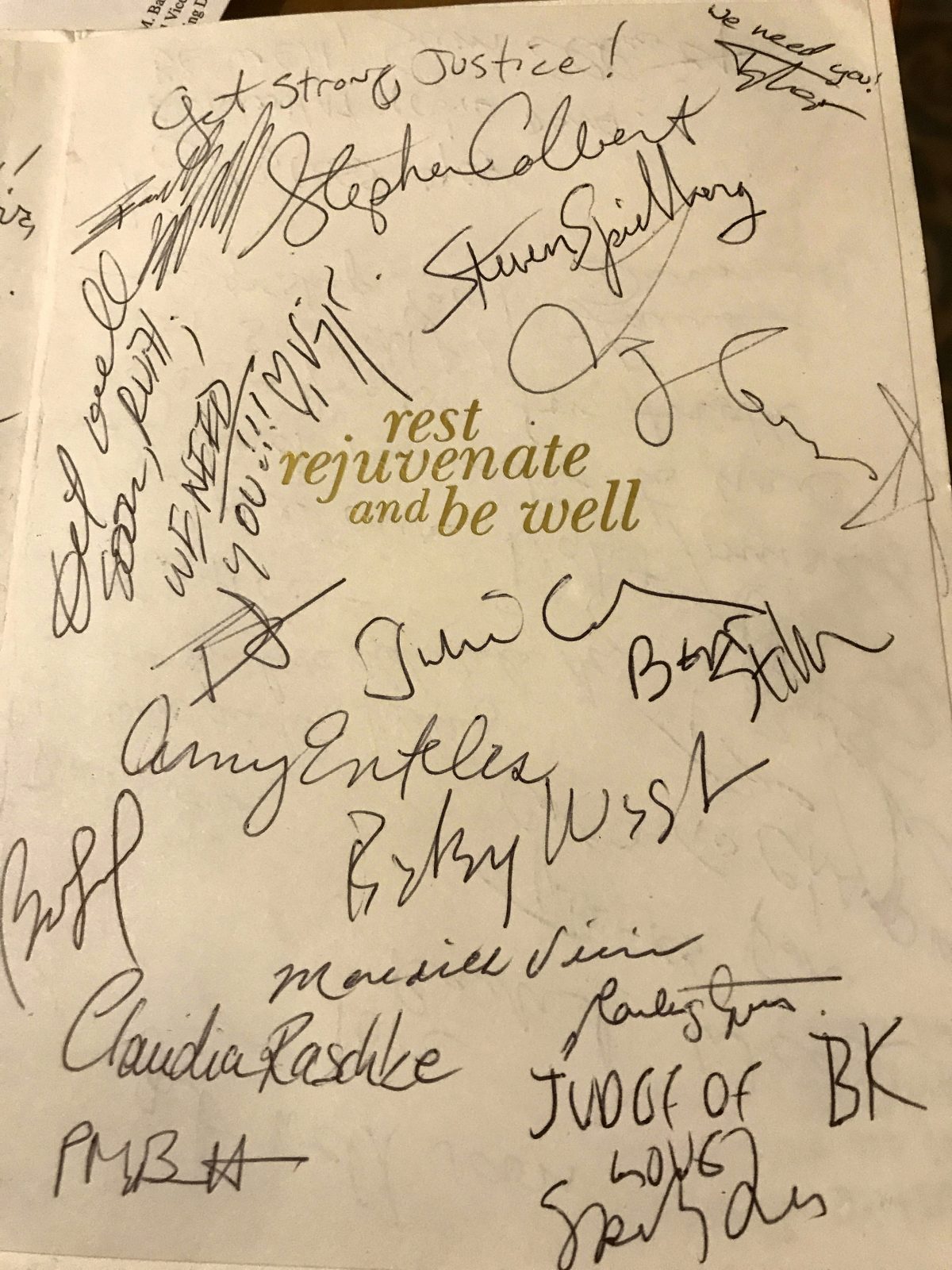 Other signatories include Amy Adams, Ron Howard, Ted Danson, Helen Mirren, Stephen Colbert, and Meredith Vieira.
The card was spearheaded by "RBG" filmmakers Julie Cohen and Betsy West, who toted it along with them to starry awards season events over the past few weeks including the Directors and Producers Guild Awards, the Oscar nominees luncheon, BAFTA and the Critics' Choice Awards.
"After Justice Ginsburg's surgery in December, pretty much every actor or filmmaker we met would ask us to pass on their personal good wishes to her," Cohen and West said in a statement. "We know RBG is a huge movie buff—from big Hollywood epics to small indie films—so we thought she'd get a kick out of a get well card from some of the biggest names in the film world."
"RBG" is up for best documentary at the Academy Awards on Feb. 24.
The Associated Press contributed to this report.
From NTD News