Fast food is being sold in dozens of hospitals across the United States, a doctors' group found in a study of more than 200 public hospitals.
Chick-fil-A has at least 20 stores inside of hospitals, McDonald's has at least 18, and Wendy's has at least 5, according to the Physician's Committee for Responsible Medicine.
The report notes that patients, doctors, and others used to be able to smoke cigarettes in hospitals, after purchasing them at shops inside the facilities, and it compares the present situation to the former health hazard. 
"The previous generation dealt with cigarettes. Now it's time to tackle meat, cheese, and all the fat and cholesterol they are packing into patients' arteries," said Physicians Committee President Neal Barnard, M.D., in a statement. "Hospitals need to end contracts with fast-food chains selling Big Macs, chicken nuggets, and double bacon cheese burgers."
A major problem associated with fast-food businesses is some of the contracts stipulate that leases with the fast-food chains will be broken if they don't reach $1 million in sales per year. And the monthly rent in some of the locations, such as Ben Taub General Hospital in Texas, will rise as food sales increase.
At Georgia Regents Medical Center/Children's Hospital of Georgia, McDonald's is even allowed to deliver meals straight to hospital beds. 
The findings come as an investigation by The Sun revealed that 128 stores in British hospitals, such as Burger King, Costa Coffee, and Greggs, sell junk food.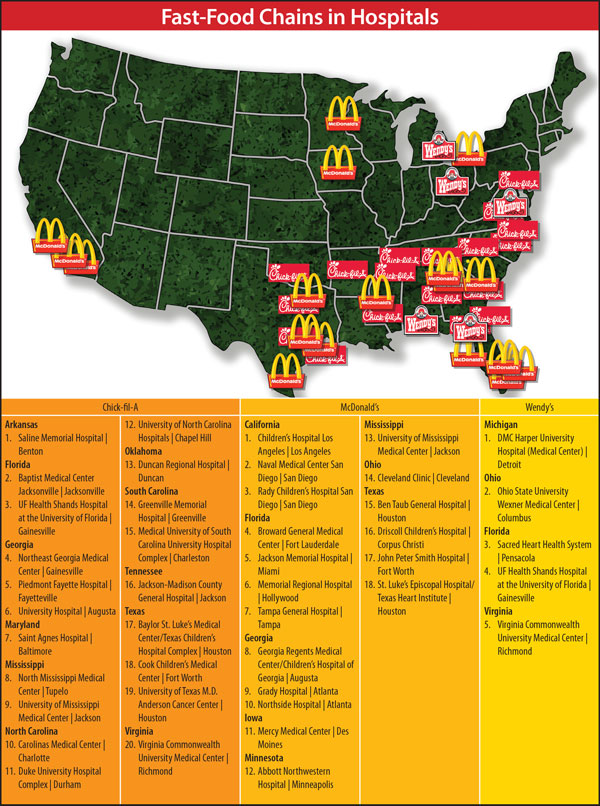 "The junk food industry's aggressive and irresponsible marketing has even been allowed to hijack the very institutions that are supposed to set an example: our hospitals," noted Aseem Malhotra, M.D., a cardiology specialist at the Royal Free Hospital in London, in a report in the British Medical Journal titled "It's Time to Ban Junk Food on Hospital Premises."
"We read every week, in The BMJ and other leading medical journals, of research detailing the perils of sugar and fizzy drinks," Dr. Sally Norton, a medical consultant, told the Daily Mail. "We frequently hear laments about the cost to the NHS of the epidemic of obesity and type 2 diabetes, which is threatening to engulf us. And yet, the National Health Service, which I understood to be an organization that promotes and supports health (rather than just treating disease), is actually contributing to the problem."
There is some good news—at least four hospitals in the United States have removed junk food recently, amid a growing trend among hospitals to carry more fruits and vegetables, sometimes from their own blossoming gardens.