Juliann Ashcraft, Widow of Ariz. Firefighter, Talks About Final Text Messages
July 3, 2013 3:15 pm Last Updated: July 3, 2013 3:55 pm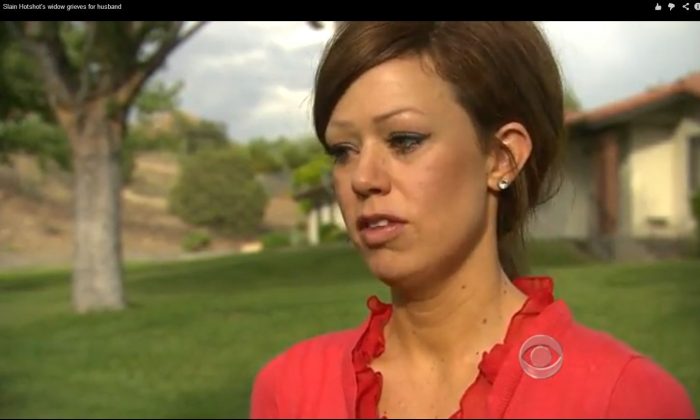 Juliann Ashcraft, the widow of slain Arizona firefighter Andrew Ashcraft, talked about the final text messages she was sent by her husband earlier this week just before he died.
In an interview on the "Today" show, Ashcraft talked about what messages the two shared. Ashcraft was a member of an elite Arizona firefighting crew who was mostly decimated on Sunday battling a fire in Arizona.
"He sent a photo of where he was sitting and what the fire looked like for them, at their lunch spot," Ashcraft said.
She said she texted him photos of their kids swimming, and he responded by sending back a photo of the fire.
"It still did not look as catastrophic as it turned out to be, but it was interesting to have that perspective, to know what life was like for him on the fire lines and know what he risked day in and day out," she told the show.
When texting her husband, she replied that the fire "looks like an inferno," to which he replied that "we could really use a little rain down here," according to the Los Angeles Times.
After she asked if he was sleeping "down there," he did not reply.
Andrew Ashcraft was part of a team of 19 firefighters who were deployed to contain the fast-burning Yarnell Hill Fire, which has destroyed hundreds of buildings in Arizona.
"I would find the tallest mountain and shout how great they are," Ashcraft told CBS "This Morning" about the crew of fighterfighters. "That's what I want people to know: They are heroes, that they are loved, that they will be missed and that they're still going to live on in our lives and the lives of our kids."
The couple had four children together.
"He was the most amazing man," she added. "The best person I know. A contagious smile, a heart of gold. That's why he did what he did, because he want to protect the community where he lived."
 Speaking with CBS, she described losing her husband.
"You know there are moments when I think of him and I smile because I love him so much and then I feel guilty for smiling, because I'm still in this shock. All the while, I have these precious babies that I just would just give anything to have a mother and father to tuck them in," she said.
Deborah Pfingston, the mother of Andrew Ashcraft, told ABC-15 that his fire crew "wanted to protect, they wanted to help. They wanted to go out and be strong together."
The names of the 19 members of the Granite Mountain Hotshots were released earlier this week. To get into the crew, members must be able to pass a rigorous physical examination. 
After 19 bodies of the crew were recovered, it was reported that a 20th member survived.