Here's a paradox of American judiciary: Federal judges are expected to be independent, but are assumed to be biased. Were they appointed by a Republican or a Democrat? Do they lean left or right in their interpreting the law?
After the last two months, we may need to add another polarity: Is the judge pro- or anti-Trump?
President Donald Trump has been locked in court fights over his immigration policy, an area of rare judicial intrusion where the executive normally enjoys broad discretion.
On Feb. 3, the District Court in Washington froze an executive order issued by Trump that aimed to pause immigration from seven Muslim-majority nations. Trump argued the temporary ban was necessary to allow time to overhaul immigration screening methods, as the existing methods were ineffective for screening immigrants from countries with unstable or uncooperative governments.
The court deemed the order too broad, applying to people who already had a visa and, during the first days, even to green card holders. But the court also expressed concern that Trump issued the order to discriminate against Muslims.
This concern was not so much based on the wording or implementation of the order itself, but rather on Trump's statements during the election campaign that called for temporarily banning Muslims from entering the United States.
That sent shivers down the spines of some legal experts.
The judge appeared to endorse a rationale "that Trump is a bigot, and thus his winning presidential campaign in fact impeaches him from exercising key constitutional and statutory powers, such as administering the immigration laws," said Eugene Kontorovich, law professor at Northwestern University School of Law, in a Washington Post op-ed.
When Trump issued a new "watered-down version" of the executive order, addressing the legal issues of the first order, Hawaiian District Judge Derrick Watson blocked it again, doubling down on the anti-Muslim argument.
"It is undisputed that the Executive Order does not facially discriminate for or against any particular religion," the judge stated in his March 15 decision, but he still concluded the order "was issued with a purpose to disfavor a particular religion, in spite of its stated, religiously-neutral purpose."
Watson again invoked Trump's campaign statement about temporarily banning Muslim immigration. He also included a quote from Trump's advisor Rudy Giuliani.
"When [Trump] first announced it, he said, 'Muslim ban'," Giuliani told Fox News on Jan. 28. "He called me up. He said, 'Put a commission together. Show me the right way to do it legally'."
Trump, the judge opined, never changed his mind about the temporary Muslim immigration ban and only sought from Giuliani legal pretext for it.
But did Trump want to pause Muslim immigration to prevent radical Islamic fighters from sneaking into the United States, or did he want to do it because he thought there was something wrong with Islam or Muslims in general?
The judge preferred the latter and, as evidence, offered the following excerpt from Trump's March 2016 CNN interview:
"I think Islam hates us," Trump said. "Is there a war between the West and radical Islam, or between the West and Islam itself?" CNN's Anderson Cooper asked him. "It's very hard to separate. Because you don't know who's who," Trump replied.
However, the Judge may have narrowed his excerpt of the interview too much.
Here's a more complete account of what Trump said:
"Do you think Islam is at war with the West?" Cooper asked him.
"I think Islam hates us," Trump replied. "There's something there, there's tremendous hatred there. There's an unbelievable hatred of us."
"In Islam itself?" Cooper followed.
"You're going to have to figure that out," Trump said.
Related Coverage
Cooper further asked, "Is there a war between the West and radical Islam, or is there a war between the West and Islam itself?"
"It's radical, but it's very hard to define," Trump said. "It's very hard to separate because you don't know who's who."
It seems Trump was talking about hatred towards the United States within the Islamic community, but reserved judgment on whether the religion of Islam is at fault.
A 2011 Pew Research survey showed that Muslims around the world do, in general, hold a negative view of the West. On the other hand, most condemned terrorism.
Trump's attitude towards Islam remains open to interpretation.
"President Trump expressed his deep respect for the Religion of Islam, considering it one of the divine religions that came with great human principles kidnapped by radical groups," said a senior adviser to the Saudi Deputy Crown Prince Mohammed bin Salman in a statement after Salman met Trump on March 14, Bloomberg reported.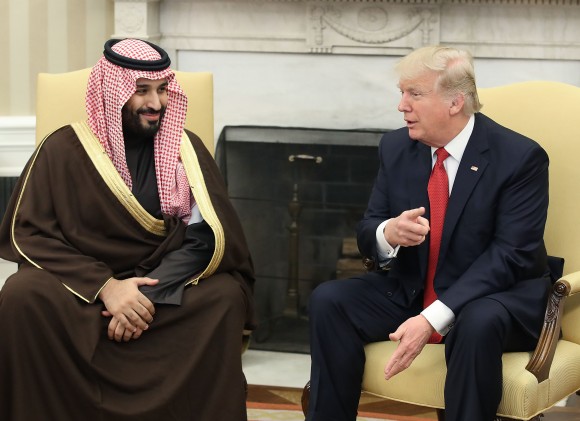 If Trump actually were to issue a ban on Muslim immigration, Muslims in the United States, who are protected by the Constitution, could attempt to sue him for creating an atmosphere in society that suggests there's something wrong with Islam—discrimination against the religion in violation of the Constitution's Establishment Clause, which states, "Congress shall make no law respecting an establishment of religion, or prohibiting the free exercise thereof."
But since Trump's new order didn't mention religion, the court "tarred Trump with the brush of bigotry by citing statements that were not connected with the executive order at issue," said Josh Blackman, constitutional law professor at the South Texas College of Law in Houston, in a Politico op-ed.
Would the court, on similar grounds, block drone strikes against Islamic terrorists in Syria? Blackman asked.
The only link between Trump's "Muslim ban" comments and Trump's executive orders seems to be Giuliani's comments.
"It is insane to think that the president's signature policy so far—on which he campaigned and was elected to the highest office in the land—ostensibly boils down to how Giuliani framed an impromptu answer on cable news," Blackman said.
He believes the court's decision stemmed from judges' opinions of Trump, rather than his policies.
"Consider a counterfactual where Giuliani skipped Fox that day. Would the policy now be ruled constitutional?" he asked rhetorically. "I suspect the courts would still have struck down the orders, meaning Giuliani's statement is 'mere surplusage'—an irrelevant distraction that carries no legal weight. What matters to these judges is Trump, and Trump alone."