An Orange County, Calif. judge suspended court proceedings July 8 against Aminadab Gaxiola Gonzalez, the man accused of killing four people and injuring another, pending a mental competency evaluation.
The proceedings marked Gonzalez's first court appearance since a March 31 mass shooting in Orange that ended when he was shot in the head by police. He could be seen in court behind a barrier in a wheelchair, wearing a white helmet.
Ken Morrison, Gonzalez's attorney, said during the proceedings that he doesn't believe Gonzalez is currently competent enough to assist counsel in his own defense. He's likely unable to understand the nature of the criminal proceedings against him, Morrison said.
Morrison asked that Gonzalez's competency be checked by doctors throughout the next four weeks to determine if he will be fit for trial. The prosecution, which included Orange County District Attorney Todd Spitzer in the courtroom, didn't object to a competency evaluation.
The judge suspended court proceedings against Gonzalez, and the court will reconvene Aug. 6 after he has been evaluated by two doctors, one on the defense side and one on the prosecutorial side.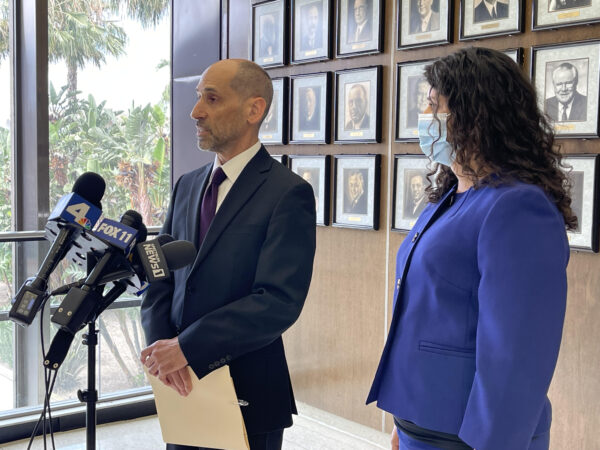 Morrison spoke to reporters outside the courtroom to explain the situation further.
"Today was the first time that Mr. Gaxiola Gonzalez was medically cleared for transport to court for his arraignment," Morrison said. "The court has concluded that Mr. Gaxiola Gonzalez is at this time mentally incompetent to assist in his own defense. Furthermore, we believe that he may even not be able to understand the proceedings against him. As a result of that, the judge at least temporarily suspended criminal proceedings."
However, it doesn't mean the case is over, he said.
"Suspending criminal proceedings means that it's basically just frozen for the moment so the court can essentially fact-find to determine whether, in fact, somebody is mentally incompetent," Morrison told reporters. "And if the court determines the person is competent, or at some point is restored to competency, then the criminal proceedings can pick up where they left off. … Everybody has a constitutional right, of course, to understand the charges filed against them."
Gonzalez is accused of entering the offices of Unified Homes in Orange on the evening of March 31 and using bicycle-type locks to secure the gates leading into the office building. He allegedly proceeded to open fire on employees, killing four, including a 9-year-old boy, and critically injuring another.
The victims include 28-year-old Genevieve Raygoza, her 50-year-old father Luis Tovar, and 9-year-old Matthew Farias. Leticia Solís was also killed. The mother of Matthew and Genevieve, Blanca Tamayo, survived the shooting after being shot in the head, and has since been released from the hospital.
Gonzales has been charged with multiple counts of murder and attempted murder. He's also facing a special-circumstance allegation of multiple murders, which makes him eligible for the death penalty if convicted.
Families of the victims were present for the court proceedings.
Gonzalez didn't speak during the proceedings, nor was he asked any questions. It is unclear how well he is able to communicate due to his injuries.
Alec Torres, 38-year friend of Luis Tovar, told reporters after court that it's disappointing to have to wait so long for answers, but he understands that the court system can be slow.
"Everybody would like to have justice served. It's just a matter of time waiting for that," Torres said.
"I suspect it will be a good four or five years before it's all settled if it does go to trial.
"It's heart-wrenching because we want answers as to why this occurred, we want the answers as to what the investigation holds."