The judge presiding over the trial of former Minneapolis police officer Derek Chauvin on April 12 rejected a motion from the defense to sequester the jury.
Chauvin's lawyer, Eric Nelson, asked Hennepin County Judge Peter Cahill to order that jurors be isolated because of violence that erupted on April 11 after a black man was shot by a police officer during a traffic stop and died in Brooklyn Center, a suburb of Minneapolis.
"This is obviously a high-profile case. This is a case that evokes a lot of emotion for a lot of people. Ultimately, your honor, the question becomes, will the jury be confident to make a decision regardless of the potential outcome of their decision?" Nelson said.
"The emotional response that that case creates sets the stage for the jury to say, 'I'm not going to vote not guilty because I'm concerned about the outcome.'"
"This incident last night highlights—and I think brings it to the forefront of the jury's mindset—that a verdict in this case is going to have consequences," said Nelson, who said he believes the jury should have been sequestered since the beginning of the trial. "They've been exposed to that already."
At least one juror lives in Brooklyn Center, which is about 10 miles northwest of Minneapolis.
Nelson also asked the court to voir dire jurors to ask whether they had heard of the shooting and to see whether, if they had, the events would have any impact on their decision-making process. And he recommended jurors be cautioned daily to avoid all media.
Steve Schleicher, one of the state's prosecutors, argued against the motion.
"I don't believe that sequestration would be a remedy that would be appropriate or, frankly, effective in this manner. This is a different case. It's a different department. It is an officer-involved shooting. It is something that happened nearby," he said.
"World events happen. Things continue to happen in this state, despite the fact that we're all here in trial. That's just what happens, and we can't have every single world event that might affect somebody's attitude or emotional state or anything be grounds to come back and re-voir dire all the jurors."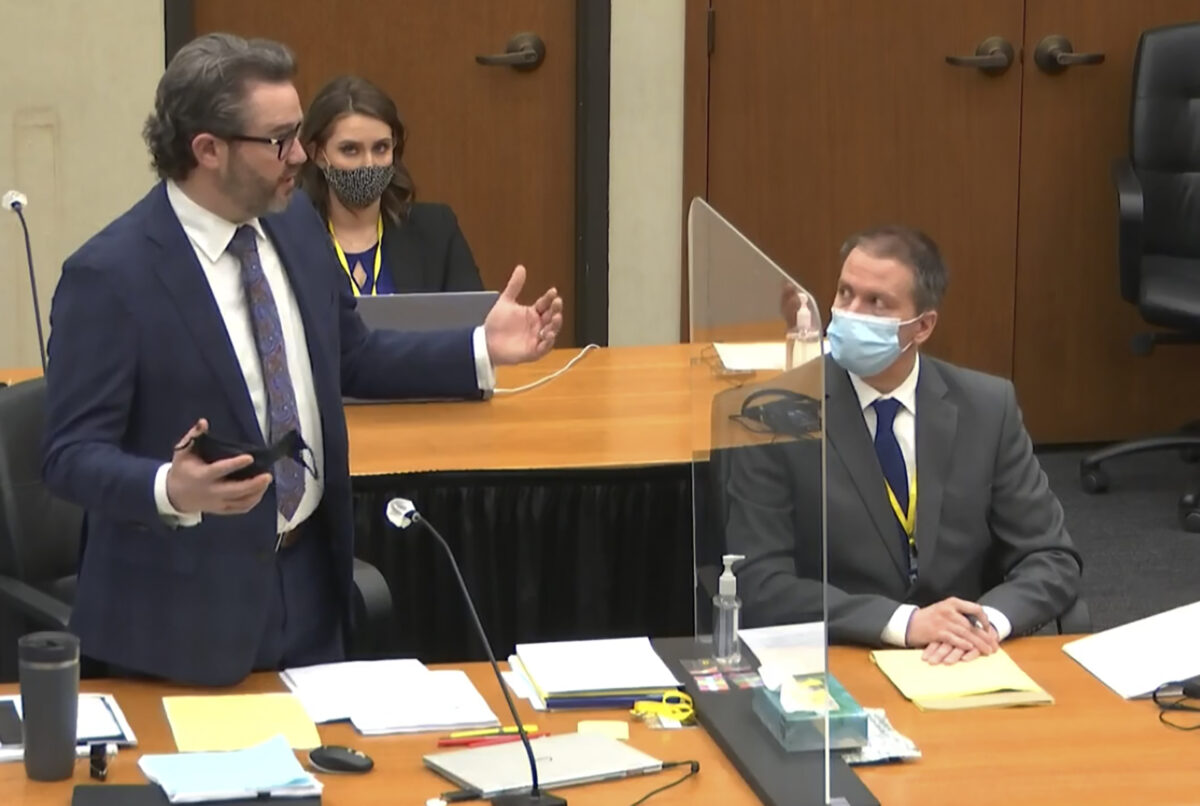 Cahill, the judge, denied all of Nelson's requests.
"This is a totally different case. And I realize there's civil unrest, and maybe some of the jurors did hear about that," he said.
"The reason why, in my initial order, I said we were not going to sequester but we might go to it in the middle of trial if—the concern there was despite keeping jurors anonymous, that somebody may find out who one of the jurors is and then reach out and have an inappropriate attempt to tamper with the jury. We have no indication that's happened in this case."
The judge said he worried about the impact of sequestration.
"I understand the argument from the defense that this now puts them even more ill at ease. But I think sequestration would only aggravate that. 'Oh, I heard about civil unrest and now the judge is putting us into sequestration. There must be a greater threat to our security,'" he said.
There are plans to isolate jurors on April 19, when closing arguments take place and the jury weighs whether to convict or acquit.
Chauvin is on trial for second-degree murder, third-degree murder, and second-degree manslaughter in the May 25, 2020, death of George Floyd.