A federal judge declined to give jail time to former Democratic IT aide Imran Awan on Aug. 21, saying he has "suffered enough" at the hands of politicians "at the highest levels of government." In addition, the Department of Justice said it did not find any evidence that supported criminal charges.
Awan choked back tears, saying, "We want to thank the prosecution, the FBI, and the Capitol Police," while his lawyer submitted a letter referring to President Donald Trump, Sen. Chuck Grassley, and other Republicans as "deranged," "pathetic," and "without a shred of decency."
Judge Tanya Chutkan gave Awan three months of supervised release. Awan's attorney had hoped to avoid the supervision, indicating Awan wanted to return to Pakistan. "By ending this today, you will allow Hina [Alvi, Imran Awan's wife] to build her family wherever she chooses and allow Imran to visit his father's grave and secure his legacy," the attorney said.
The lawyer, former Hillary Clinton aide Chris Gowen, said Awan was motivated by love for his father, who was dying in Virginia when Awan flew to Pakistan. Awan, he said, was in a "panic" to get money to urgently build a charity hospital, described in court as a "women's shelter." He described the urgent moves as "securing his father's legacy."
The story is at odds with a 2009 Pakistani newspaper article, police reports, and lawsuits in Pakistan, as well as interviews. Those allege Awan tried to cut others out of a fraud-plagued real estate deal and secure a massive inheritance in the form of a major real estate complex, known as a "colony."
A dozen farmers accused Awan and his father of stealing their land and subdividing it to build the development. The 2009 article said that Awan used political "muscle" stemming from his job in Congress to attempt to frame his alleged victims. Later, Faisalabad Agricultural University faculty apparently paid for some of those plots, but said that they, too, were ripped off.
Zafar Iqbal, a university professor and president of the faculty association, told The Daily Caller News Foundation (DCNF) that Awan and his father refused to turn over the deeds, and that in January 2017, Imran cautioned them that he "has got powerful political connections."
In addition to two separate groups of victims, the Awans had two partners in this land deal—Rashid Minhas and Shabbir Ahmed—both of whom were allegedly cut out of the partnership. Minhas said that when he went out of town, they seized his share of the proceeds.
Ahmed's widow, Bushra Bibi, said in the 2009 article that, immediately after a car crash killed both Ahmed and the Awans' mother, Awan threatened her with "dire consequences" to force her to give up her share, and framed her brother-in-law. A support letter submitted by a former aide to Rep. Robert Wexler seemed to contradict the widow's own statements, claiming "Imran would send money every month to the widow and children of the driver to help take care of them."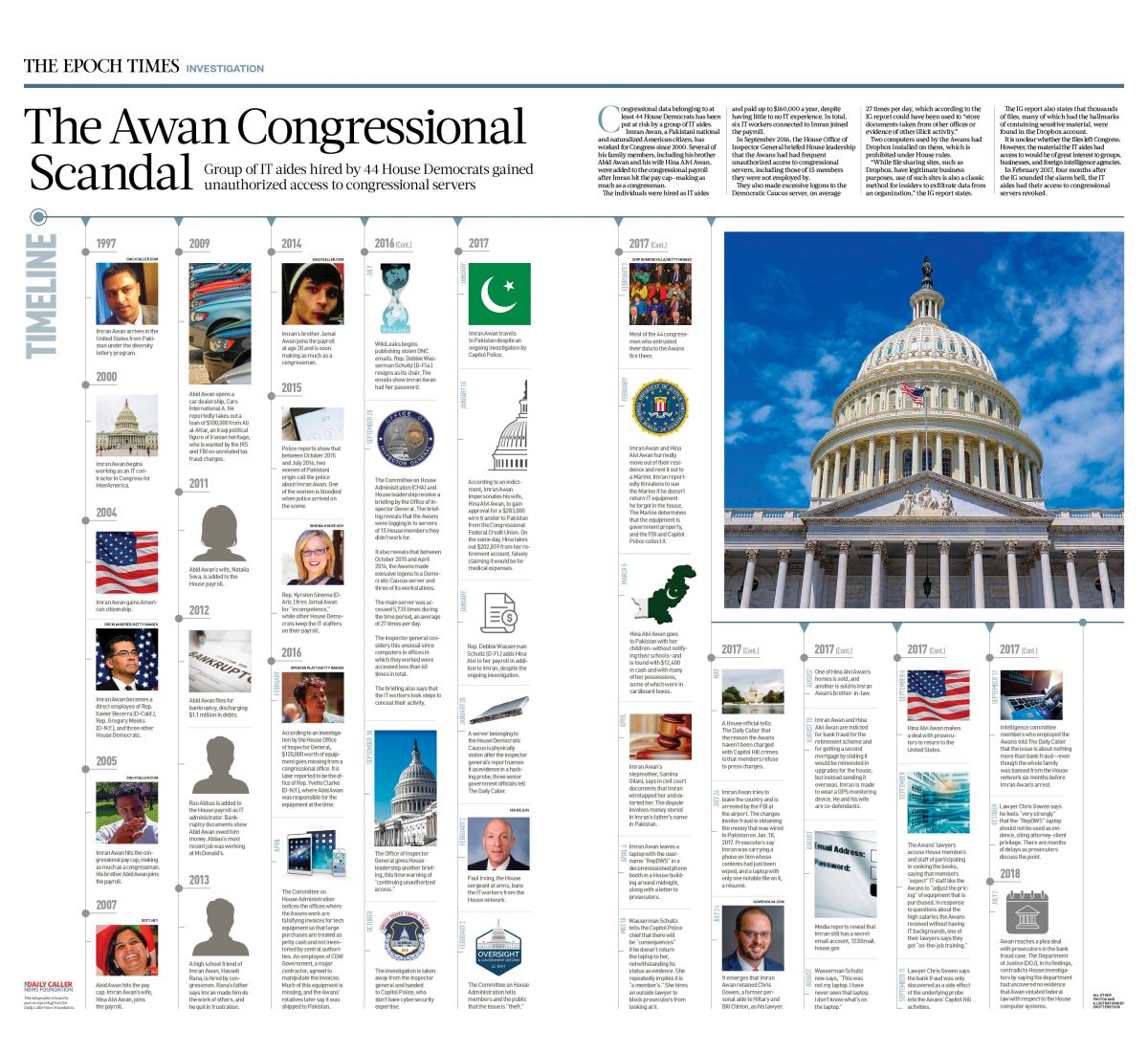 Awan's stepmother, Samina Gilani, said in Virginia civil court that he held her "in captivity" and wiretapped her home in order to force her to give him power of attorney over her dying husband, which would give Awan access to the land as an inheritance.
Awan's sister submitted a letter saying he wanted to "build a school for orphans, a mosque for the village to pray in, and a maternity clinic," and Awan tearfully asked the judge to "let me walk out of this courtroom to be with my family."
Gowen didn't note that Awan's wife and co-defendant, fellow former Democratic aide Hina Alvi, filed a lawsuit against him in Pakistan in September 2017, alleging that he "threatened [her] of dire consequences, he also threatened to harm the lives of family of [Alvi]." The charges against Alvi were dismissed as part of Awan's plea deal.
That blowup stemmed in part from Alvi's anger that Awan was simultaneously married to a second woman in Virginia, Sumaira Siddique. Police records show Siddique called the police on Awan multiple times in 2016 and that she was found bloodied on one occasion. She called again in July 2016 and said she was being kept "like a slave." She fled to Pakistan days later, where gunmen shot out the windows of her home, the DCNF previously reported.
Numerous relatives told the DCNF that Alvi is Awan's first cousin and that he brought her to the United States immediately after he received citizenship and then married her in Virginia, giving her citizenship as well.
Gowen said Democrats did not want to fire Awan even though the Democratic-appointed inspector general found that he made "unauthorized access" to House computers. "The employers had no interest in letting them go and were forced to let them go because of a politicized investigation," Gowen said, appearing to blame Phil Kiko, the Republican chief administrative officer of the House who wrote a letter calling for their ban.
Multiple former Democratic chiefs of staff, including those of Rep. Ted Deutch and Rep. Gregory Meeks, wrote letters of support for Awan, and one even said he would still entrust data to him, even though the Capitol Police said in a July 3, 2018, statement that they found he'd committed "numerous violations of House IT internal controls."
Imran and his family were banned from the House computer network in February 2017 after the House's top law enforcement officer wrote that Awan is "an ongoing and serious risk to the House of Representatives, possibly threatening the integrity of our information systems," and that a server containing evidence had gone "missing." The inspector general said server logs showed "unauthorized access" and procurement records were falsified.
The Department of Justice said it could substantiate only the bank fraud charge, despite investigators' findings and other apparent violations in public records—such as the hiding of LLCs, one of which took $100,000 from an Iraqi government minister—on House ethics disclosure forms.
Though media outlets reported prosecutors as having "debunked" "conspiracy theories," the DOJ never explained the discrepancy between their legal conclusion and the evidence at hand, including falsified invoices.
Content created by The Daily Caller News Foundation is available without charge to any eligible news publisher that can provide a large audience. For licensing opportunities of our original content, please contact licensing@dailycallernewsfoundation.org