A federal judge sentencing a Missouri man on a petty misdemeanor charge for his actions at the U.S. Capitol on Jan. 6 told him that he and his two companions were guilty of insurrection.
Before he pronounced the sentence on Paul S. Westover, 53, of Lake St. Louis, U.S. District Judge James E. Boasberg said, "What you and others did on Jan. 6 was nothing short of insurrection in an attempt to topple the government that had been lawfully and legally elected and maintain in power those who had lost the election."
Westover was part of a trio of Missourians photographed holding a piece of a wooden sign from the office of House Speaker Nancy Pelosi (D-Calif.).

He was given 45 days in jail and ordered to pay $500 in restitution in a plea deal for one count of parading, demonstrating, or picketing in a Capitol building, a petty misdemeanor. Prosecutors had asked the judge to issue a 90-day jail term.
Boasberg made it clear that he saw Westover and the two co-defendants as having culpability beyond their cases.
While the "parading" charge carries a maximum six-month jail term—"rebellion or insurrection" is a felony with a maximum 10-year prison sentence.
None of the more than 775 people arrested for alleged Jan. 6 crimes have been accused of rebellion or insurrection.
Boasberg also sentenced William D. Merry Jr., 63, of St. Louis to 45 days in jail, nine months of supervised release, and 80 hours of community service for one count of theft of government property. Prosecutors had sought 120 days in jail.
Merry's niece, Emily Hernandez, 22, of Sullivan, Missouri, was given a 30-day jail term, one year of supervised release, 80 hours of community service, and was ordered to pay $500 in restitution for one count of entering and remaining in a restricted building or grounds. Prosecutors had recommended 45 days in jail.
The three co-defendants were charged with entering Pelosi's office on Jan. 6, 2021. After watching a man pry off the wooden sign above Pelosi's office door and smash it on a wall, Merry said, "Look at that!" and directed his niece to "get a piece of that," according to prosecutors.
The trio posed with the piece of sign for a film crew from the British ITV television network. Hernandez was later photographed outside the Capitol holding up the souvenir. Prosecutors said the photos were among the most recognizable images from Jan. 6, 2021.
'Intent on Storming It'
Prosecutor Jessica Arco said Merry was captured on video talking about his intentions before the trio got near the Capitol.
"It's the first time I've ever been to the White House, and I'm storming the mother (expletive)," Merry said on the video, confusing his location.
Regarding the video, Arco said, "Before any rioter had even ascended the stairs to the Capitol building, Mr. Merry was intent on storming it."
Merry induced his then-21-year-old niece to commit a crime, and therefore was more culpable than Hernandez, according to Arco.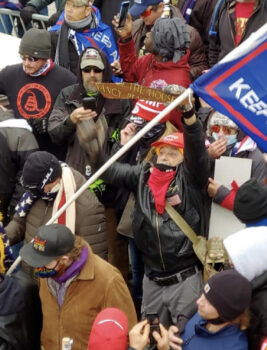 "He was supposed to keep her out of harm's way, but instead he led her directly into it," she said.
The comments that drew the most attention out of the 15 videos submitted as evidence were from Merry, who picked up a telephone in the Rotunda and pretended to place a call. Prosecutors discovered the footage after Merry had signed a plea agreement.
"I've got an emergency," he said on the call. "Nancy Pelosi is a [expletive]. Let it all be known that Nancy Pelosi is a [expletive]."
Merry said he was ashamed for using such language.
"I know what I did was wrong," he told Boasberg. "I've got no excuses."
Merry had asked the judge to give him home detention instead of jail because of his medical issues, including diabetes and a need for twice-weekly intravenous vitamins. He said in the past five years, he suffered a brain aneurism and overcame cancer.
Boasberg noted that Hernandez was "very young and impressionable" and was led by her uncle on Jan. 6, 2021, but that didn't excuse her behavior.
'People Like You Didn't Think Twice'
"You weren't 12. You weren't 13 when this happened," Boasberg said. "You were 21. You were an adult. You were old enough to vote, old enough to fight for our country, and you went into the Capitol and you were part of that insurrection that day. You were happy to steal items from the Capitol as you left."
Boasberg told Hernandez if not for the mob that she was a part of, a lot of bad things would never have happened.
"People aren't traumatized and have their life turned around … like the police officers, people whose job was simply [being] there to guard the Capitol and to protect the representatives that we all voted for," he said. "And yet some of them died and suffered serious consequences in their lives because people like you didn't think twice about what you were doing."
No police officers died on Jan. 6, 2021. The four people who died that day were all Trump supporters who came to the former president's speech at the Ellipse and later walked to the Capitol.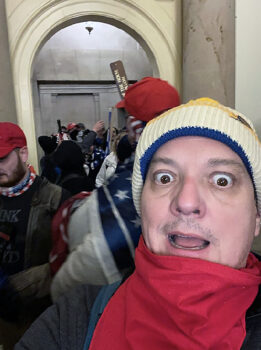 Ashli Babbitt, 35, was shot and killed outside the Speaker's Lobby by Capitol Police Lt. Michael Byrd.
Rosanne Boyland, 34, died just outside of the Lower West Terrace tunnel after police pushed protesters out of the tunnel and caused them to pile on top of one another. Boyland was also beaten with a wooden stick by Metropolitan Police officer Lila Morris.
Kevin Greeson, 55, died on the Capitol grounds of a heart attack brought on by cardiovascular disease, the Washington medical examiner ruled. A witness said shortly before collapsing, Greeson was struck in the head by a projectile from munitions police launched into the crowd.
Benjamin Phillips, 50, died of atherosclerosis, heart disease characterized by fatty plaques that build up in the arteries, the medical examiner ruled.
Capitol Police officer Brian Sicknick died on Jan. 7 after suffering a stroke. The medical examiner said the death was from natural causes.
Hernandez faces felony charges in Missouri for a January auto accident in which 32-year-old Victoria Wilson was killed. On the eve of the first anniversary of Jan. 6, 2021, Hernandez was intoxicated, driving the wrong way on a Franklin County street when she crashed into a vehicle driven by Wilson's husband, according to police.
Merry and Westover won't have to surrender for their jail terms until at least May 11. Hernandez was ordered to surrender on or after June 15.