Singer and longtime Trump advocate Joy Villa announced that she registered as a Republican in a USA Today op-ed on Oct. 14. "Why? Because the extreme left is out of control," she said.
Villa revealed that she voted for Barack Obama in 2008 as an independent. She also voted for Donald Trump in 2016 from the independent line. But the singer now decided to register as a Republican. "I'll let you in on a secret: I'm actually a registered Republican for the first time in my life," she wrote.
The singer stated that changes from the Democrats pushed her to the other side. "They are no longer the moderates or centrists of old," she said, "I believe the leftist culture is now made up of socialist university professors, confusion of genders, attacks on families, believing public opinion over facts, the news media's twisting of what was said, hatred of men and white Americans and the slander of anyone they don't 100 percent agree with."
Villa also said she was less judged by her skin color and gender after coming out as an open conservative two years ago.
"The right is guilty of extremist diatribes, too. But I've seen much less of it from them," she added.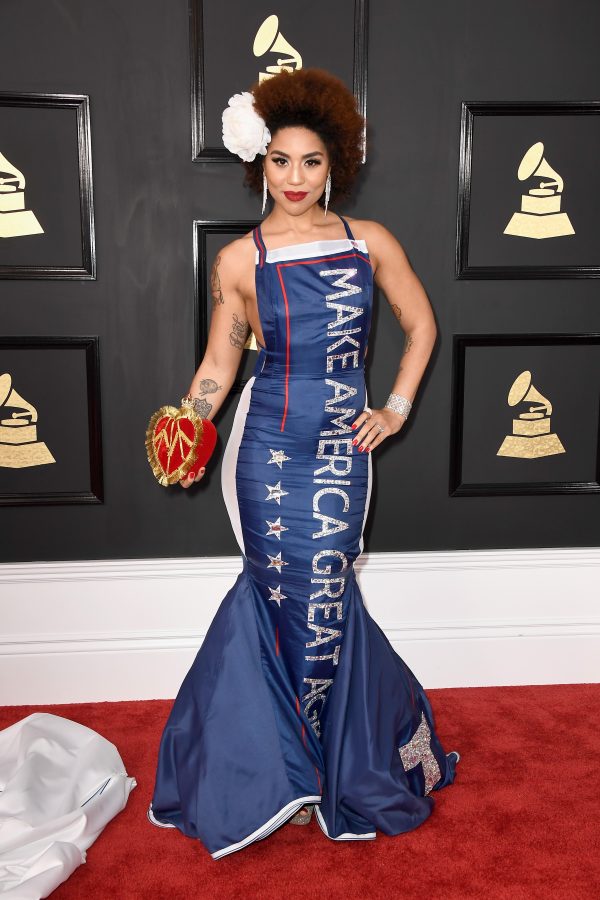 Villa has been a longtime Trump supporter. She famously stunned the red carpet at the 59th Grammy Awards on Feb. 12, 2017, by wearing a Trump-themed "Make America Great Again" dress. She also turned up at the 60th Grammy Awards on Jan. 28 with a pro-life dress.
Violent Rhetoric Condemned
More prominent Democrats have been using violent rhetoric against Republicans in recent months.
Eric Holder, attorney general under President Barack Obama, told a crowd that they should not be civil to Republicans but to kick them instead, during a campaign event for Georgia Democratic gubernatorial candidate Stacey Adams.
"Michelle [Obama] always says, 'When they go low, we go high,'" He said, "No. When they go low, we kick them."
Holder later explained he doesn't want people to do things that are illegal, although physically assaulting people is illegal.
The exhortation is the latest from Democratic leaders telling people to confront elected officials amid a wave of violence and threats against GOP leaders.
On Oct. 9, Hillary Clinton told CNN, "You cannot be civil with a political party that wants to destroy what you stand for, what you care about."
President Donald Trump condemned the remarks in an interview with Fox News on Oct. 10. "When I hear Holder making a statement like he did today, I think it's a disgrace," he said. "And Hillary, I really understand. She just doesn't get it. She never did. She never will. And that's why she lost the election."
Scalia's Daughter-in-Law Goes Republican
Villa is not the first high-profile public figure openly goes to Republican in recent days, especially after the Supreme Court Justice Brett Kavanaugh's confirmation.
Adele Scalia, the daughter-in-law of deceased Supreme Court Justice Antonin Scalia, an immigrant, announced on Oct. 5 that she's switching from Democrat to Republican due to the way Democrats treated Kavanaugh during his confirmation.
Scalia said in an op-ed published in a blog by The Federalist that she has been a political moderate and held a number of views, including on gun control, that "made me sympathize strongly with Democratic perspectives and occasionally led to arguments with my husband and father-in-law," she wrote.
But the treatment of Kavanaugh has convinced her to side with Republicans. "[The Democrats] are not who they claim to be," she wrote.
Zack Stieber from NTD.tv contributed to this report.
From NTD.tv