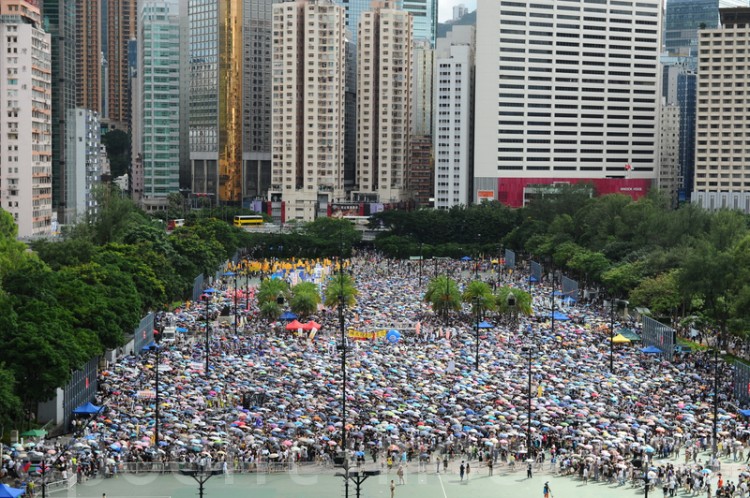 Massive crowds of demonstrators greeted Chinese leader Hu Jintao as he visited Hong Kong on July 1. Since the territory was handed back to the People's Republic of China on July 1, 1997, the march has been a tradition. This year, over 400,000 demonstrators participated—twice as many as last year—according to Civil Human Rights Front, the main organizer of the annual event.
The Chinese Communist Party's (CCP) growing influence over the political administration in Hong Kong has fueled discontent from the people. Demonstrators held banners and yelled a wide range of messages, from asking for rehabilitation for students who suffered in the 1989 Tiananmen Massacre, to yelling against human rights violations in the mainland. Since Hong Kong is the only democratic Chinese city, demonstrators believe their voice can help fellow citizens subjected to human rights abuses in the mainland.
During his visit, Hu swore in newly appointed leader Leung Chun-ying at a well-attended inaugural ceremony. Leung is considered to be loyal to the communist government; many attendees were surprised that he delivered his inaugural speech in Mandarin, and not Hong Kong's native dialect, Cantonese.
Later, Leung headed over to a community hall in On Ting District for a discussion panel. Angry protesters surrounded Leung as he got out of the car, prompting him to later leave the panel via the back stairs before the discussion ended.
Hu made remarks during the ceremony: "While we recognize Hong Kong's achievements 15 years after the handover, we must also be conscious of the deep disagreements and problems in Hong Kong society," Hu said. An attendee responded with shouts of "put an end to single-party rule" and "redress June 4." Police removed the attendee, identified as Ken Tsang, a representative of the Civic Party.
Journalists were also censored during Hu's visit. Police removed Rex Hon, a reporter with Hong Kong's Apple Daily, after he questioned Hu about reparations for the June 4 Tiananmen crackdown.
Mak Yan-ting, chairperson for the Hong Kong Journalist Association voiced her opinion at a press conference: "We want to let the police know clearly that we do not accept their censor of the way we ask questions, what we report, and which voice we wish to focus on. Our job is to ask the questions. They do not have the right to interfere with that," she said. "It doesn't matter whether they are testing the water or giving political orders, they should know that the media industry and the society will not accept it."
Read the original Chinese article.
The Epoch Times publishes in 35 countries and in 19 languages. Subscribe to our e-newsletter.