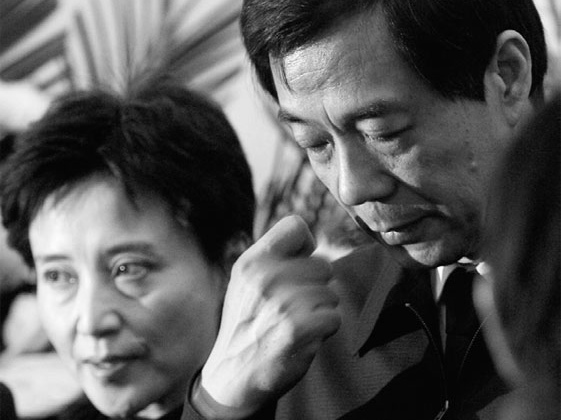 More than a decade ago, Chinese writer Jiang Weiping, recipient of a 2001 International Press Freedom Award from the Committee to Protect Journalists, published an article accusing Bo and his attorney wife of corruption. For this, Jiang was convicted of exposing state secrets and inciting subversion and was sentenced to eight years in prison in 2002. Released in 2009, he now lives in Canada with his family.
Jiang has written a number of articles and books, including "A Biography of Bo Xilai," which all expose Bo and his family for their alleged involvement in corruption and several murder cases.
---
Latest News: Crackdown Hits China's Internet
Get the RSS feed. Get the Timeline of Events. Who are the Major Players?
---
The following are edited excerpts from Jiang's writings.
How Bo's Wife Enriched Herself
Bo Xilai and his family moved to Dalian City in 1988. After his wife Gu Kailai obtained her lawyer license, she opened a law firm and began accumulating great wealth with the help of Bo's power.
Gu's law firm needed 20 to 30 staff members to keep up with the number of cases handled each day. Gu usually won the cases she accepted. Big entrepreneurs used her as their legal counsel for arranging monetary tributes [bribes] to the mayor, Bo Xilai.
Gu's business card listed offices in Beijing, Dalian, Hong Kong, and New York. Her businesses expanded into many areas, including real estate consulting. Most domestic and foreign companies wanting to invest in Dalian consulted with Gu. On the surface, they paid Gu consulting fees, but in fact they were paying to win Bo's favor, because Bo decided who could purchase a parcel of land.
Gu was in control of all the major projects, including land transfers, foreign investment in Dalian, and construction contracting, from which she earned over 10 billion yuan (about US$1.6 billion) a year.
Lifestyle of the Super-Rich
Official media said Bo's family lived a simple life, but the reality was just the opposite. Starting in 1988, Bo moved his family to a naval community for high-ranking naval officers at Tiger Beach in Dalian. The family enjoyed fresh air, beautiful scenery, and soldiers on guard 24 hours a day.
Making friends with neighbors also helped Bo climb the Party ladder. The perks were huge, and he did not have to pay for anything out of his own pocket.
---
Click this tag or www.ept.ms/ccp-crisis to read about the most recent developments in the ongoing power struggle within the Chinese communist regime. Intra-CCP politics are a challenge to make sense of, even for veteran China watchers. Here we attempt to provide readers with the necessary context to understand the situation. Get the RSS feed. Get the Timeline of Events. Who are the Major Players? 

---
In addition, Bo owned many properties in Dalian, including another villa near the ocean and three apartments in Dalian City, which he did not return even after he was promoted to Governor of Liaoning Province and China's Minister of Commerce.
In the early 90s, Gu bought commercial properties in the Asian Games Village in Beijing and opened law offices in Hong Kong and New York. In 1997, she obtained a green card for Singapore, and in 2000 she sent her 12-year-old son Guagua, and a huge amount of assets, overseas.
Bo was believed to have been the first "naked" Chinese official, referring to a cadre who moves his spouse, children, and assets abroad, as he owned numerous properties in New York, Hong Kong, Singapore, and Vancouver.
The Ma Junren Case
One highly controversial and very lucrative defense case that Gu took on was that of famous Chinese track coach Ma Junren. It was the exposure of details in this case that landed writer Jiang Weiping eight years in prison.
Ma Junren had trained several world-class middle and long-distance female runners. Ma and his athletes are called "the Ma family army," and they were suspected of having used performance-enhancing drugs. Six of his athletes were dropped from China's team for the Sydney Olympic Games after failing blood tests in 2000.
In 1998, Bo hired someone to ghost-write the book "I Fight the Lawsuit for Ma Junren" for his wife Gu.
Gu made heavy use of the media to promote her book, saying she would free Ma from the legal charges against him. However, 13 years have passed, and she has done very little to help him.
Continued on the next page: Punishing Whistle Blowers