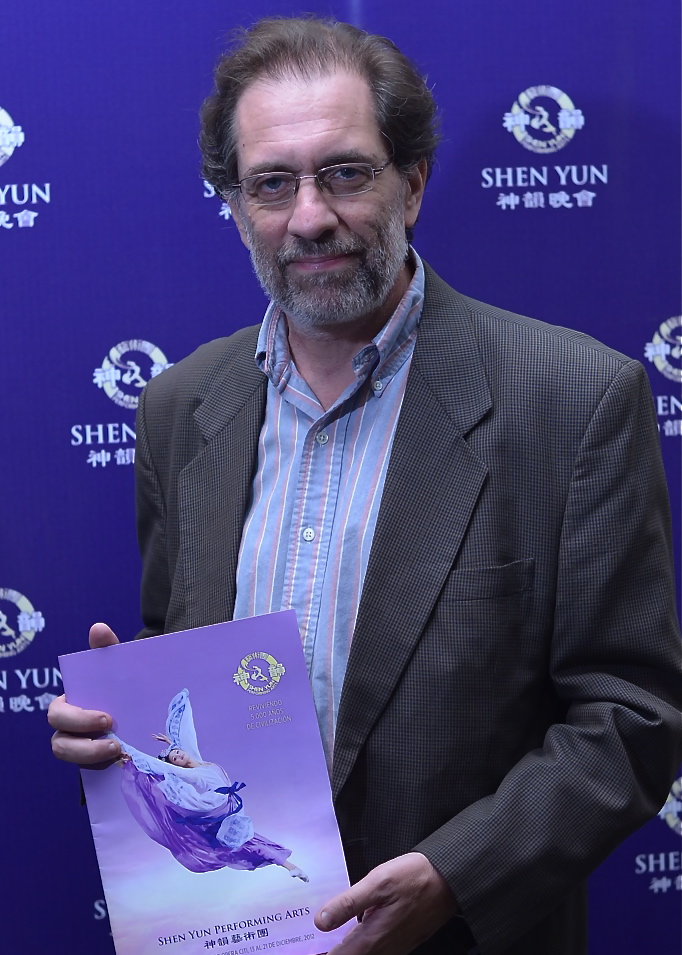 BUENOS AIRES—Journalist Marcelo Stelitano, who works for the newspaper 'La Nación' as well as Continental Radio, was in awe of the diversity and rich history of traditional Chinese culture Shen Yun presented at Teatro Ópera Citi on Dec. 15.
"What impressed me is the varied and colorful palette of artistic expressions and the panoramic images that China [has]," said Mr. Stelitano. The Shen Yun International Company presented 5,000 years of traditional Chinese culture through the medium of classical Chinese dance and music.
"The combination and amalgamation, the integration of different manifestations, very varied and different from each other, it was what dazzled and surprised me the most," Mr. Stelitano said.
"China has 55 officially recognized ethnic minorities, and their distinct ways of life reflect discrepancies in local topography, climate, and religious tradition. It is no surprise that these factors are also deeply embedded into each ethnicity's dance style," according to the Shen Yun website.
Mr. Stelitano said he was charmed by the Tibetan and Mongolian dances. According to the Shen Yun program book, the unique movements of each ethnic and folk dance reflects the particular spirit and character of the traditional group.
In a Tibetan dance called Dancing for the Gods, the dancers' footwork and long waving sleeves "showcase the energy, power and grace of traditional Tibetan dance, expressing a spirited beauty in the face of adversity," says the program.
Mr. Stelitano also said he appreciated the orchestra, which is rare to find in present day performances. The orchestra blends traditional Chinese instruments with Western instruments. "The ensemble at once expresses both the grandeur of a Western orchestra and the distinct sensibilities of China's 5,000-year-old civilization," according to the Shen Yun website.
Shen Yun's digitally animated backdrops, which project landscapes of China's diverse geography, also appealed to Mr. Stelitano. He said he felt pleased by the way the elements of the performance worked together.
"The spectacle is very attractive—very successful combinations of image, sound, music and projections," he said.
Mr. Stelitano said he would recommend Shen Yun to anyone who wanted to learn more about Chinese culture, because it could answer "all questions."
With reporting by Andres Auzunbud and Justina Wheale
Shen Yun will be in Buenos Aires at the Teatro Ópera Citi through Dec. 21.
New York-based Shen Yun has three companies that tour the world each year on a mission to revive 5,000 years of traditional Chinese culture.
For more information, visit ShenYunPerformingArts.org
The Epoch Times publishes in 35 countries and in 19 languages. Subscribe to our e-newsletter.