Tropical Storm Jose is now a Category 1 hurricane again, according to a 5 p.m. ET update on Friday from the U.S. National Hurricane Center in Miami.
The agency said it's "possible" there will be tropical storm watches around the U.S. East Coast "on Saturday."
Much of New England is in Jose's "cone of uncertainty," according to to the NHC forecast model.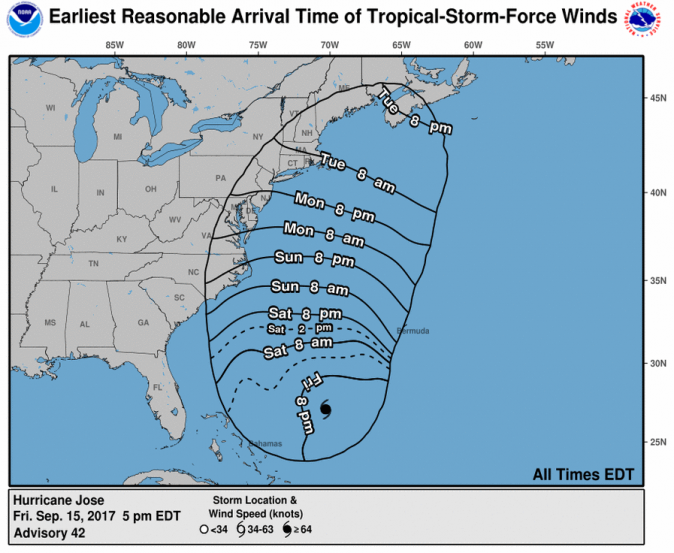 Jose, which weakened to a tropical storm earlier in the week, has been making a strange loop around the Atlantic Ocean, missing the islands that Hurricane Irma slammed last week.
It has winds of 75 mph, and it is moving northwest at 10 mph. There is some possible strengthening forecast until Saturday, with weakening beginning Sunday, weather officials said.
Right now, there are "no coastal watches or warnings in effect," the agency stated.
But, the NHC stipulated, "Interests from North Carolina northward to New England on the east coast of the United States should monitor the progress of this system."
"A tropical storm watch may be needed for a portion of the coast of North Carolina on Saturday," it warned.

Rip currents and high surf could impact the U.S. East Coast, the Bahamas, Bermuda, and the northern coast of Puerto Rico, according to The Weather Channel in a report on Friday afternoon.
Jose became a hurricane more than a week ago, strengthening to a Category 4 on Sept. 8, with wind speeds of 150 mph.
Forecasters are also keeping their eyes on two other weather systems in the Atlantic, Tropical Depression Fourteen—which could become Tropical Storm Lee on Friday. It has 35 mph winds and is located about 430 miles southwest of the Cabo Verde islands.
Another system is located 1,200 miles east of the windward islands, and it could become a tropical storm or hurricane with the name Maria next week.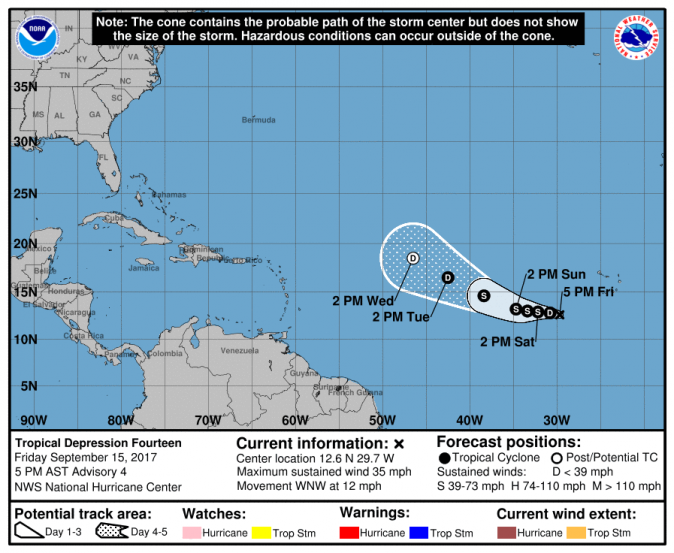 "In a few days, we'll have three swirling out there," said meteorologist Ryan Maue, according to USA Today. "Hurricane Jose, Tropical Storm Lee, and probably Hurricane Maria."
Maria, he said, "could be a really big problem for the Islands in the Caribbean reeling from Irma."