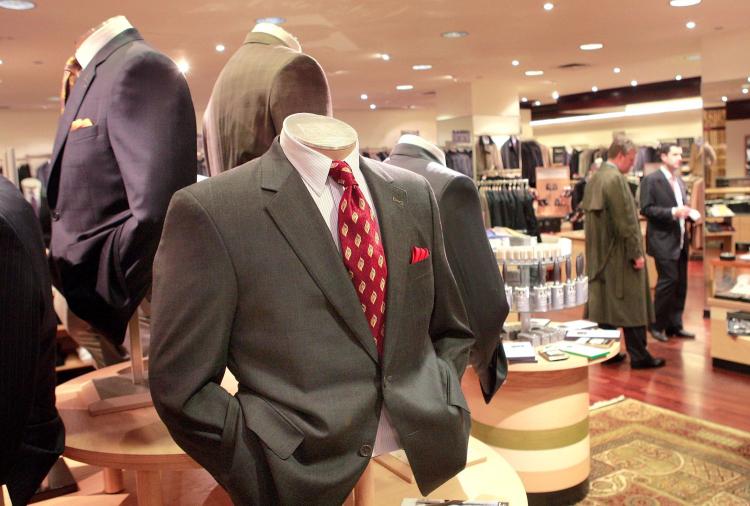 This week, the Hampstead, Maryland-based men's clothing chain announced a new promotion targeting men who need new suits but are afraid of job security.
JoS. A. Bank plans to give refunds to any customer who buys a suit but subsequently loses his job. The even better deal? The customer gets to keep the suit too.
"We believe we are the only national men's apparel company offering this special program to its customers," said R. Neal Black, CEO of JoS. A. Bank.
"We understand the uncertainty everyone is facing," Black said. "We want to help the customer look good at work, and if he loses his job, to be dressed appropriately as he meets with his next employer. It's like giving all of our customers a bit of unemployment insurance."
According to the company, the offer applies to any suit purchased during its $199 sale from this week through April 9. If the customer involuntarily loses his job through July 1, JoS. A. Bank would refund the price up to a maximum of $199.
Analysts expect JoS. A. Bank to lose money in some transactions, but increase overall revenues, store traffic, and company reputation. Black declined to disclose projected losses.
JoS. A. Bank may be the first clothing retailer, but not the first company to offer such a promotion.
Guaranteed Refunds
Hyundai Motor America saw its January sales rise 14 percent as other automakers' sales suffered, mostly due to its much-talked about sales promotion of offering customers refunds should they lose their jobs.
According to the company, Hyundai's guarantee covers buyers of a leased or financed vehicle who may involuntarily lose a job, be transferred to another country, file for bankruptcy, or become disabled.
Discount airline JetBlue launched a similar promotion. The "JetBlue Promise Program" promises if customers book travel in advance, and lose their jobs prior to the travel date, the company offers a full refund of the fare.
"This price promise allows them to book early and take advantage of our low fares without worrying they will lose their money if they need to cancel their trip due to job loss," JetBlue Executive Vice President Robin Hayes said in a statement.
The company recently expanded the promotion to cover its "Getaways" vacation packages booked through the airline.