Former San Francisco 49ers quarterback Colin Kaepernick still hasn't received an NFL job offer, but he might have helped another player's chances.
Wide receiver Jordan Veasy worked out with the Cleveland Browns on Monday, according to NFL reporter Howard Balzer, coming about two weeks after he participated in the Kaepernick workout in Georgia.
Veasy, from Alabama, played football for the University of California, Berkeley, before he was drafted by the Tennessee Titans last year. He was later waived by the team and has played on practice squads for various teams, including the Jacksonville Jaguars, Indianapolis Colts, and Buffalo Bills.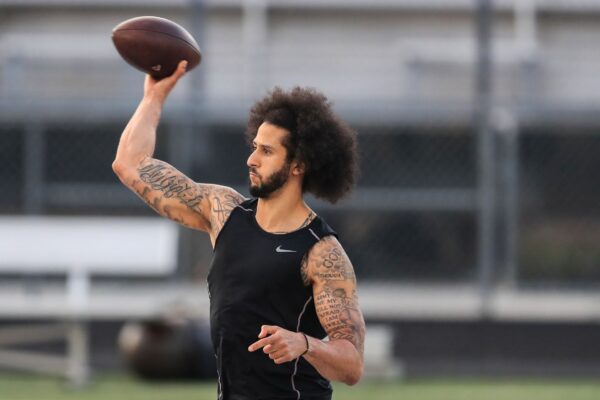 It's not clear if Veasy will be signed by the Browns.
Kaepernick, meanwhile, sent video footage of his workout to teams that did not attend his workout at a local Atlanta high school earlier this month. ESPN's Adam Schefter reported that no team has expressed interest in Kaepernick.
He reported there is "zero. Absolutely zero" interest in Kaepernick, 32, who last played about three years ago.
"The workout last week did absolutely nothing to enhance the chances that Colin Kaepernick is going to wind up with another team," ESPN's Adam Schefter said earlier in the week.
"There hasn't been a team that has requested a visit. There hasn't been a team that has expressed interest in signing him. So, despite the fact that one week ago we saw Colin Kaepernick work out at the high school down in the Atlanta area, it has not translated into any results, and though the league wanted to try to help out, at least said it was trying to help out, nothing's come of it. Colin Kaepernick's wait continues and it looks like it's going to be continuing for a very, very, very long time," he remarked, according to Bleacher Report.
When Kaepernick entered the league, he dazzled opposing defenses with his electrifying play, ultimately leading the San Francisco 49ers to a Super Bowl loss against the Baltimore Ravens. Several years later, he drew controversy when he took a knee in protest during the playing of the national anthem. The backlash from NFL fans was immediate and overwhelming, and many said they would boycott the league in its entirety.
Following the workout, the NFL criticized the former 49ers quarterback for moving the location at the last minute. But it stressed that Kaepernick, who previously filed a lawsuit against the league, would not be denied the opportunity to be picked up by an NFL team.
"I've been ready for three years. I've been denied for three years. We all know why. I came out here today and showed it in front of everybody. We have nothing to hide. We're waiting for the 32 owners, the 32 teams, (Commissioner) Roger Goodell, all of them to stop running, stop running from the truth, stop running from the people," Kaepernick told media outlets after the workout.