North Shore local Moana Jones Wong and 11-time world champion Kelly Slater took out the Billabong Pro Pipeline in double-overhead-plus conditions at the famed break on the North Shore of O'ahu, Hawaii over the weekend.
Jones Wong, a wildcard entry to the event, overcame 5-time world champion and Olympic gold medalist Carissa Moore, also of Hawaii, while American Kelly Slater defeated Hawaiian Seth Moniz, who is less than half his age.
Jones Wong, a goofy-footer who first surfed Pipe when she was 12, looked confident in her semi-final against Australian Tyler Wright on Sunday, pulling a 7.67 for her third wave, and gaining a back-up score of 6.33.
Wright blitzed a Backdoor (right-hand) gem to score 8.33 but didn't complete enough rides to get a solid back-up score, so Jones Wong took the heat 14 to 9.76 to secure a spot in the final.
Carissa Moore took out her semi-final against Lakey Peterson of the U.S. in a low scoring heat to earn her place in the all Hawaiian decider, world champ against local wildcard.
Jones Wong came out firing, landing a 6.67 and a 5.33 in the first ten minutes of the final with solid barrel rides at Pipeline. Her fourth wave would have been in the excellent range as she took off well behind the peak and spent a lot of travel time in the barrel, but she was clipped just before the exit.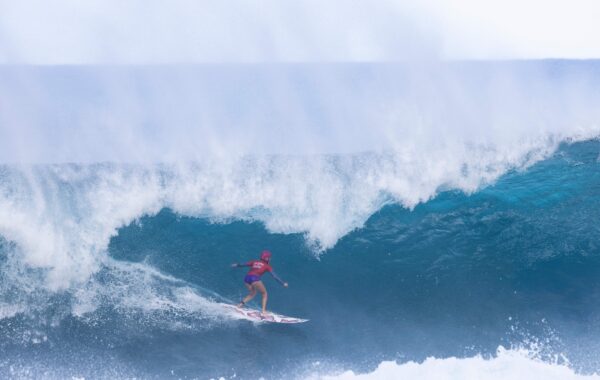 However, she scored a 7.67 on her last wave, with a critical drop and subsequent barrel, increasing her score to 14.34.
Moore chose Backdoor waves but couldn't exit any of the barrels, consequently achieving no high scoring rides, which meant a convincing victory for Jones Wong.
Jones Wong made history, as she is the first winner of a women's Championship Tour event at Pipeline. In previous years, while the men were at Pipeline, the women surfed Honolua Bay, Maui.
"I can't believe, I'm losing it right now," Jones Wong told WSL from the water immediately after the Final.
"This is the best moment of my life. I never thought I would accomplish this."
"Carissa is my favorite surfer, she's my hero, I can't believe this. It's insane. I always wanted to have a final at Pipe with Carissa," she continued.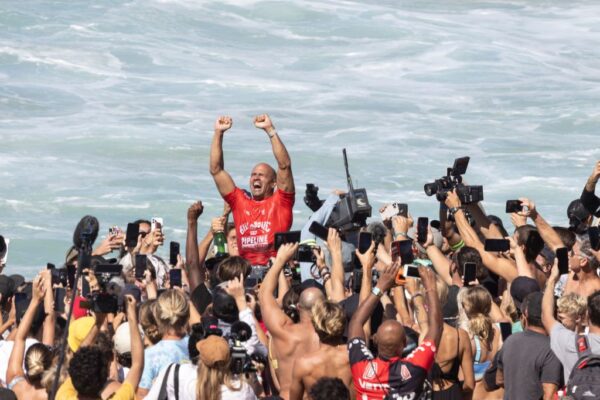 Meanwhile, in the men's division, one week shy of his 50th birthday, Kelly Slater put on a dazzling show on Saturday against the talented and fearless Seth Moniz to win his 8th Pipeline Championship Tour (CT) event, the first of which was 30 years ago.
In Slater's lead up to a berth in the final, he had a convincing win over Olympic bronze medalist Kanoa Igarashi of Japan in the quarter-finals and a narrow victory over Brazilian Miguel Pupo in the semi-final.
Moniz had his work cut out for him in his quarter-final, up against event favourite John John Florence, who took it to Moniz, but with a score of 17.93, consisting of a 9.6 and 8.33, Moniz was too good for Florence on the day.
Then Moniz took down Brazilian Caio Ibelli in the semi-final to book a meeting with Slater in the final.
Both Moniz and Ibelli took some heavy wipe-outs in the semi, and this meant Moniz entered the final with less petrol in the tank than he would have liked, but his courage didn't falter.
Moniz wiped out again on his first wave of the final as his fins disengaged from the wave face, while Kelly's first was a Backdoor barrel that clamped shut before he could exit.
Neither surfer made exits on the next few barrels, but then a Backdoor gem came Slater's way. Taking off deep, one pump on the quad-fin and away he went, clearing chandelier after chandelier to complete one of the best barrels of the day, which earned him a score of 9.
Slater continued to charge Backdoor, getting a backup score of 8.17 and leaving Moniz in a tough position.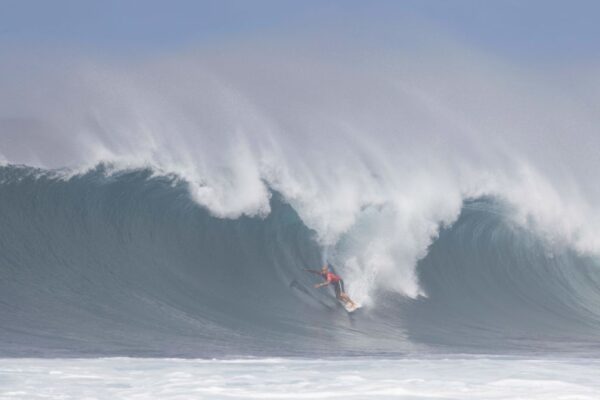 Then, with about two minutes to go, Slater took a critically late drop into a Backdoor pit whose lip might have taken him out had he not shaved his head that morning.
Moniz responded, when on a wave in the same set, he slotted into a monstrous and equally critical Backdoor barrel, making it out and leaving the judges to think about how high to score both surfers' waves.
Slater earned a 9.77 and Moniz a 9.43, bringing the totals to 18.77 and 12.53.
There wasn't enough time for Moniz to get back into the lineup for another shot, and Slater won yet another Pipeline CT event.
During the presentation Slater thanked all the surfers in the event, who pushed each other to achieve their best, with a special thank you to Moniz.
"We did have a moment before the heat," Slater said.
"He said 'Push me, let's do this,' and I said 'Let's go.'"
Slater said there was no underestimating Moniz because he knows what he's capable of, but fortunately, it all came together for himself on the day.
'"It seemed so meant to be and you've just got to roll with it when that happens," he said.
"You can't explain it, but everything just feels right."
The wins take Slater and Jones Wong to the number one position on the Championship Tour, with the second leg set to commence at Sunset Beach, O'ahu on Feb.11.