UK Prime Minister Boris Johnson has revealed that a £23 million ($31.24 million) fund has been created to compensate businesses whose exports have been delayed by excessive red tape following Britain's exit from the European Union.
The government said this extra cash was on top of a £100 million ($136 million) investment in the industry over the next few years and nearly £200 million ($272 million) provided to the Scottish government to minimize disruption.
The funding announcement came as more than 20 shellfish trucks parked on roads near the British parliament and Johnson's Downing Street residence on Monday to protest against the post-Brexit bureaucracy that has throttled exports to the EU following the creation of a full customs border.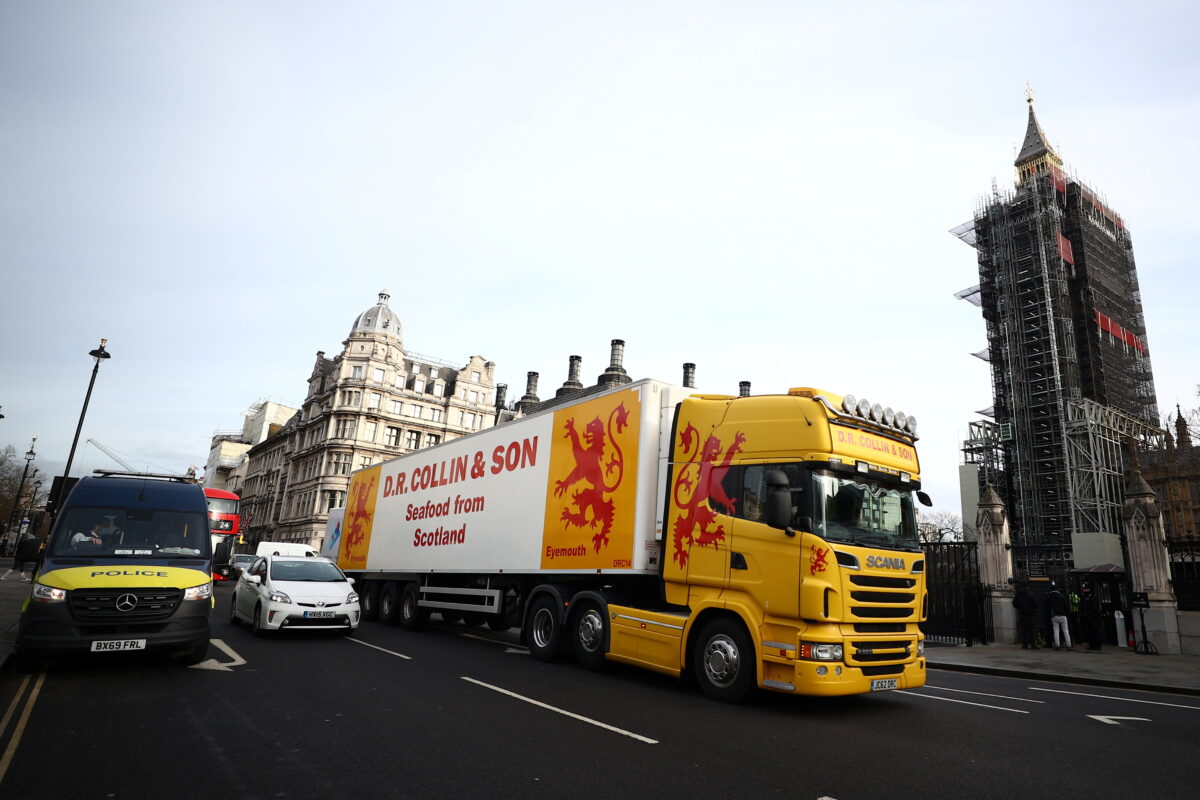 Though British trade with the EU remains free of tariffs and quotas, many fishermen have been unable to export to the bloc since catch certificates, health checks, and customs declarations were introduced at the start of this year, delaying their deliveries and prompting European buyers to reject them.
The trucks with slogans such as "Brexit carnage" and "incompetent government destroying shellfish industry" were parked just meters from Johnson's 10 Downing Street office in central London.
Police were asking drivers for details. They said in an email to The Epoch Times that though no arrests had been made "15 people, who were either drivers or passengers in those vehicles, have been reported for COVID related offenses."
"Those involved have been reported and the question will be considered as to which prosecution under COVID regulations is appropriate," they added.
However, in a statement emailed to The Epoch Times, Alistair Sinclair National Coordinator of the Scottish Creel Fishermen's Federation (SCFF) said the protesters should be applauded.
"Every community around the coastline of Scotland should be encouraged to applaud the actions of this vital demonstration from within the seafood supply chain that supplies Europe with the finest seafood in the world," he said.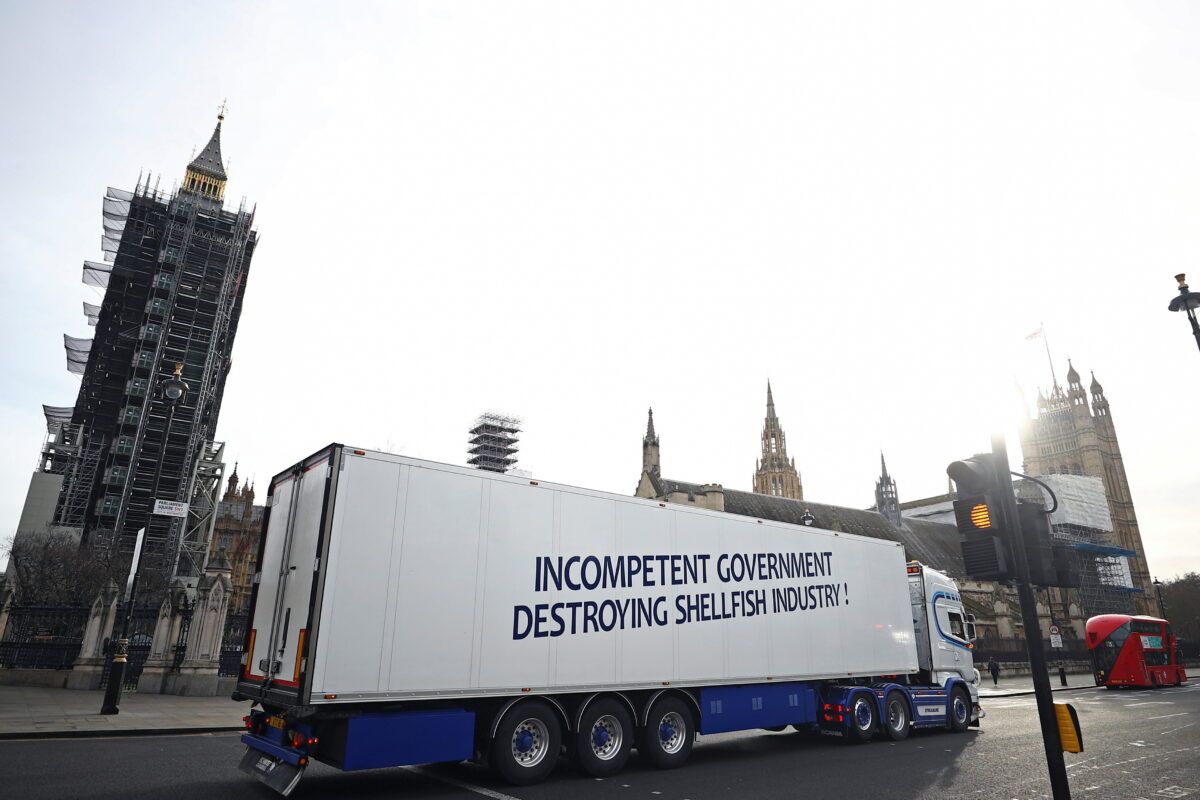 Meanwhile, Alasdair Hughson the SCFF's chair and owner of Keltic Seafare said that "It is inevitable that the UK Shellfish industry would want to make its voice heard loud and clear on this matter."
He said that businesses already struggling to survive were now being blamed for not completing paperwork correctly amid "guidelines which are unclear and changing all of the time."
"If this debacle does not improve very soon we are looking at many established businesses coming to the end of the line," he said, with "knock-on effects for all who depend on them, including the hundreds of small fishing businesses in extremely fragile communities around our coasts."
Meat exports have also been affected by the delays over paperwork.
"Alongside seafood, fresh meat is one of the most time-critical perishable products," the British Meat Processors Association (BMPA) said in a statement.
"Every hour a lorry load of meat is delayed increases the chance of that order either being reduced in price, canceled and returned or, in the most severe cases, thrown away and ending up in landfill," the BMPA said.
Its CEO Nick Allen said that on Jan 11 one exporter had reported six lorry loads of meat valued at £300,000 ($408,000) waiting for customs clearance into the Republic of Ireland, with one of those loads having at that time already waited five days.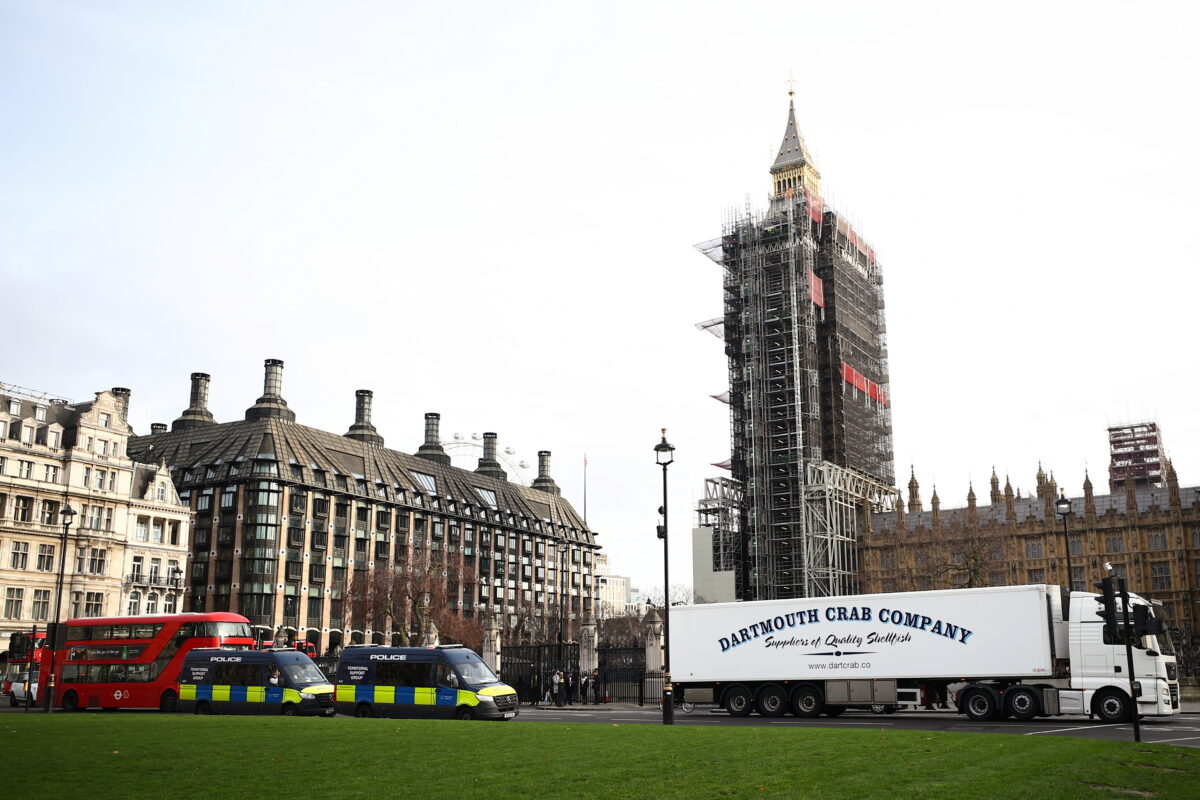 He called for the modernization of the customs documentation.
"We are calling for the current customs and certification system to be modernized and digitized, as the existing paper-based system is a relic from the last century and simply not fit for purpose," he said.
From October last year, the government ran a "Time is running out" campaign telling businesses to urgently prepare for Brexit and Britain's tax and customs authority, HMRC, wrote to 200,000 businesses that trade with the EU, setting out the new customs and tax rules they would be governed by and advising on how to deal with them.
But the government's new fund is to compensate firms who "through no fault of their own have experienced bureaucratic delays, difficulties getting their goods through where there is a genuine buyer on the other side of the channel," Johnson said.
A UK government spokesperson said in a statement emailed to The Epoch Times that it is working with EU countries to address paperwork issues and its priority is to "ensure that goods can continue to flow smoothly to market."
They said it recognizes the fishing industry is "facing some temporary issues following the end of the Transition Period, some of which are the responsibility of devolved administrations and some the responsibility of UK Government."
The Scottish government did not respond to a request for comment.
Reuters contributed to this report.