The UK government on Tuesday announced a new plan to tackle crimes, but the plan was met with the cold shoulder of a disgruntled police force, which said a few days ago that it has lost confidence in Home Secretary Priti Patel.
The home secretary last week announced that police officers whose salary is over £24,000 ($33,300) are subject to a pay freeze, sparking anger among the police. Senior police officers have said that the pay freeze is "insulting," after the force was "hung out to dry during the pandemic."
The new "Beating Crime Plan" includes "contactable, named police officers" for neighbourhoods; league tables for 101 and 999 call answering times; monitoring of burglars and thieves around the clock upon release from prison; trialing the use of alcohol tags to detect alcohol level of released drink-fuelled offenders; making community service "more visible" by using offenders to clean up public spaces, and relaxing the restrictions of police "stop and search" powers.
It also includes new funding to train youth workers; increase targeted patrols, lighting, and CCTV; and work with councils to "design out crime."
Prime Minister Boris Johnson said the plan is the government's action to keep its promise of backing the police and making people safer.
Ken Marsh, chairman of the Metropolitan Police Federation representing rank-and-file officers in the capital, criticised the "named officer" plan as unworkable.
"If that officer is on a shift pattern or off sick or on holiday, that just puts added pressure on that officer," he told the PA news agency.
"It doesn't work in that way. You can't start singularly naming officers because by the sheer nature of their work … If they're not at work, what happens then?"
Reacting to Johnson's promise to back the police, Marsh said: "Well he's not backing us all the way, is he? He's treating us in a derisory way."
"What do we get at the end of it? As usual, absolutely nothing," Marsh said. "His words are hollow and my colleagues are fed up with it now."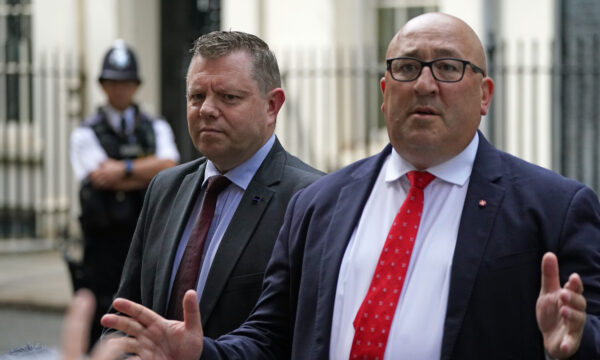 Labour Party leader Sir Keir Starmer ridiculed Johnson's plan as an "ill-thought-through gimmick," saying it sounds great but won't work.
The chairman of the Police Federation said he fears officers are being "set up to fail" by the government's new plan due to a lack of investment in policing and the criminal justice system.
"If you want a police service that the public [deserves], you've got to invest in it," John Apter, who represents 130,000 police officers in England and Wales, said at Downing Street after delivering a letter to No 10 detailing officers' concerns over the pay freeze.
"Policing at the moment, despite what we're being told, is not being invested in, but that goes for the whole criminal justice system. The whole criminal justice service, whether that's the courts, the Crown Prosecution Service, policing, is not being funded as it should be," Apter said.
"We can't deliver what we want to and some of the announcements today that the prime minister's made, as laudable as they might intend to be, I fear they set us up to fail. That's a real concern."
Pay Freeze
Apter previously said "quite categorically" that the officers he represents had no confidence in the current home secretary after the announcement of the pay freeze, saying offices had been "hung out to dry by the media, by some politicians, and by so-called, self-proclaimed experts on policing" while enforcing the government's CCP (Chinese Communist Party) virus restrictions.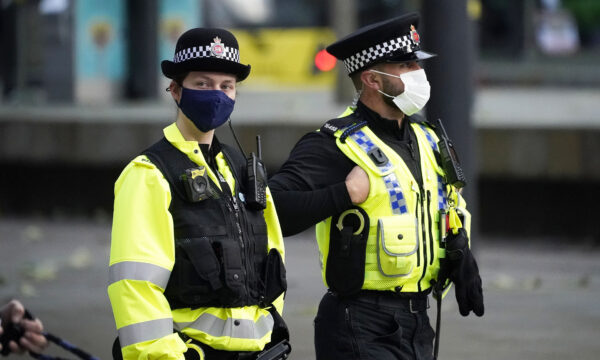 "We often hear the home secretary praise police officers but our members are so angry with this government," he said. "They have been on the frontline of this pandemic for 18 months and will now see other public services given pay increases while they receive nothing."
Apter said the pay freeze is "the final straw" for the police. He also said the federation had "tried its level best" to cooperate with the government, which he said "cannot be trusted or taken at face value in the way we would expect."
Responding to the criticisms, Johnson said the government is "investing massively in the police."
"When I stood on the steps of Downing Street two years ago, I said I wanted another 20,000 officers on the streets of our country. And we're now almost half the way there," he said during an interview with broadcasters at Surrey Police HQ in Guildford.
"We're putting £15.8 billion ($22 billion) into supporting our police. But, of course, it's been a tough time financially for the whole country, we've had to deal with the cost of the pandemic, about £407 billion ($565 billion) supporting jobs and livelihoods across the country," he said.
"What we're now seeing today is plans to back the police, but also to back the public, so that if you're the victim of a crime, you have a named police officer that you can go to wherever you live, who will attend you, who will make sure that the police deal with your crime."
The prime minister said people need officers who understand what's going on in the neighbourhoods.
"We're also backing the police with more body-worn cameras, with more Tasers and more protections against those who assault police officers in the course of their duty," he added.
PA contributed to this report.