Former Secretary of State John Kerry reacted strongly to a report that he was considering a late entry into the 2020 Democratic field, saying he was not going to run for president.
An NBC employee claimed that Kerry was speaking on the phone at a hotel in Des Moines, Iowa, about the possibility of Sen. Bernie Sanders (I-Vt.), 78, winning the Democratic primary. Kerry allegedly told the person he was speaking to that to run for office he'd have to leave the board of Bank America and not make paid speeches.
Kerry, 76, posted a tweet on Sunday after the report was published denying any notion that he'd run for president.
"As I told the reporter, I am absolutely not running for President. Any report otherwise is [expletive] (or categorically) false," Kerry wrote on Twitter.
"I've been proud to campaign with my good friend Joe Biden, who is going to win the nomination, beat Trump, and make an outstanding president."
Kerry later deleted the tweet and re-posted it without the expletive.
Kerry told NBC, which did not post any quotes of what an employee allegedly heard regarding Kerry running for president, that the employee's version of what Kerry said "is a complete and total misinterpretation based on overhearing only one side of a phone conversation."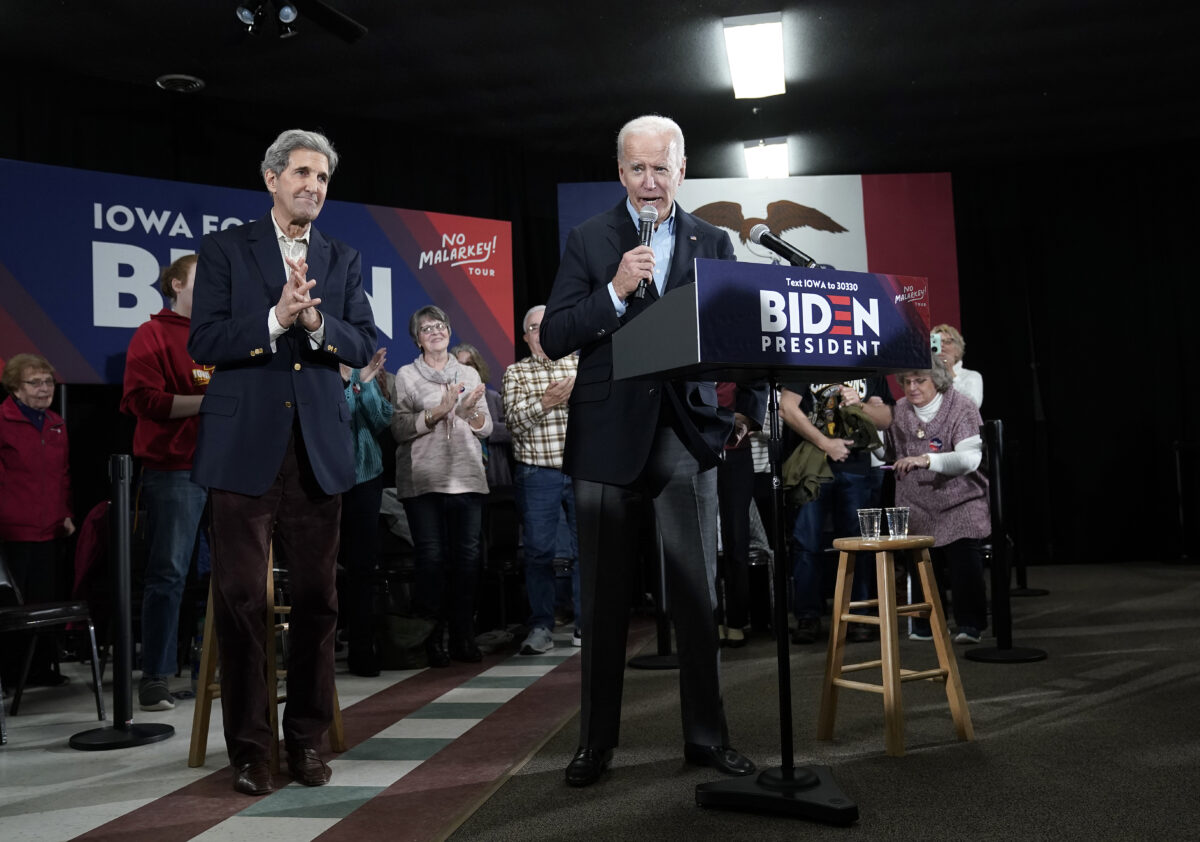 "A friend who watches too much cable called me wondering whether I'd ever jump into the race late in the game if Democrats were choosing an unelectable nominee. I listed all the reasons I could not possibly do that and would not—and will not under any circumstances—do that," Kerry said.
Kerry ran for president in 2004 but lost to incumbent President George W. Bush. He was a U.S. senator from 1985 to 2013 and was secretary of state during President Barack Obama's second term in office.
Kerry has spent time this cycle campaigning for Joe Biden, who was vice president during the Obama administration. Kerry attended events with Biden in Iowa and New Hampshire.
Kerry told supporters in late January that he was in New Hampshire campaigning on behalf of Biden, calling the former vice president "the best candidate to beat Trump, unite us, and restore the soul of our nation."
Kerry endorsed Biden late last year, issuing a statement that read, in part: "He'll be ready on day one to put back together the country and the world that Donald Trump has broken apart."
The Iowa caucuses are on Feb. 3 and the New Hampshire primaries are next week.