Pennsylvania Lt. Gov. John Fetterman, the Democratic nominee in the state's high-profile U.S. Senate contest, said Tuesday that he won't debate Republican rival Mehmet Oz in early September as he recovers from a stroke in May.
According to a statement obtained by The Hill, Fetterman, who won the Democratic nomination while in the hospital, cited a statement made earlier on Tuesday by Oz's campaign, which Fetterman described as making fun of his stroke.
The statement by Oz's campaign outlined a list of concessions it's willing to make to entice Fetterman to take part in a debate next week on KDKA-TV.
Oz's campaign promised, in an apparently mocking tone, that the Republican candidate won't "intentionally hurt John's feelings" during the debate.
The Republican's campaign also promised to allow the Democrat to "have all of his notes in front of him along with an earpiece so he can have the answers given to him by his staff, in real time."
"At any point, John Fetterman can raise his hand and say 'bathroom break!'" the statement continued. "If the topic of his pardoned murderers comes up, we will allow extra time for him to explain that second-degree murder is 'not as bad as' first-degree murder."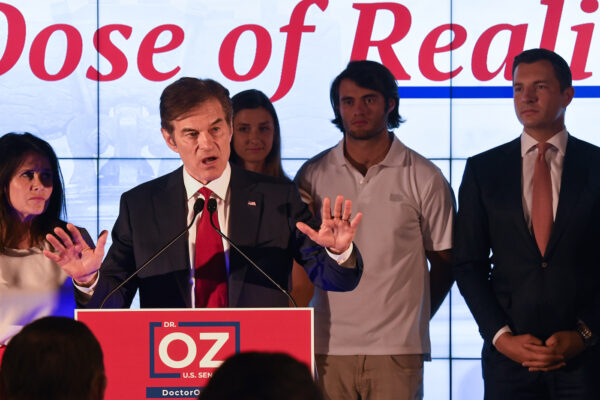 Response
What Fetterman appeared to find particularly offensive was the final concession that Oz's campaign was willing to "pay for any additional medical personnel he might need to have on standby."
This, he said, made it "abundantly clear" that Oz and his campaign "think it is funny to mock a stroke survivor." Fetterman said he won't participate in the debate, describing it as a "farce."
"I will not be participating in a debate the first week of September, but look forward to having a productive discussion about how we can move forward and have a real conversation on this once Dr. Oz and his team are ready to take this seriously," Fetterman added.
Fetterman was admitted to hospital after suffering a stroke on May 13, just hours before he was scheduled to appear at a campaign event at Millersville University.
He underwent surgery in May to implant a pacemaker with a defibrillator to help him recover from his stroke, which he said was caused by a heart condition called atrial fibrillation.
The Democrat returned to the campaign trail in mid-August. The stroke has left him sometimes reaching for words, he has said in interviews, which could affect how he would perform in a debate.
Fetterman 'Afraid' to Debate Oz
Earlier on Tuesday, the Oz campaign's communications director, Brittany Yanick, accused Fetterman of being a "lying liberal" who is afraid to face Oz in a debate.
"I mean, if I had to defend releasing convicted murderers and not paying my taxes 67 times, I'd be pretty worried too. I guess John Fetterman is afraid of debating Doctor Oz," Yanick said.
Oz was endorsed by former President Donald Trump. The Pennsylvania political race is considered an important presidential battleground, with voters almost evenly split between Democrats and Republicans.
With the midterm campaign season about to kick into high gear, Oz has agreed to five televised debates hosted by local media affiliates in Pittsburgh, Greater Lehigh Valley, Philadelphia, and Harrisburg.
Fetterman's spokesman, Joe Calvello, previously told The New York Times that Fetterman intended to debate Oz but didn't commit to a specific number of debates.