A jogger severely injured by a pickup truck in a hit-and-run accident in Huntington Beach has concerned citizens renewing calls for better marked crosswalks in the coastal California city.
An eyewitness told The Epoch Times that the unidentified jogger was struck by a black Chevy pickup on Heil Avenue, between Goldenwest and Edwards streets, just before 5 p.m. on Nov. 11.
The driver of the truck panicked and fled from the scene, leaving his wife and baby in the vehicle. Police later arrested the suspect.
Huntington Beach resident Angela Hall told The Epoch Times that she was "one of the first people" on the scene, arriving moments after the accident to find the jogger "conscious and screaming."
"Basically my car drove up to where I couldn't go any further, or I would have driven over his body," Hall said. "I didn't know if he was alive or dead at that time."
She said the driver of the vehicle was heading east on Heil Avenue, and believed the victim was "jogging across the crosswalk," when the accident occurred.
"He hit him so hard, the guy flew. His shoes flew off, and it looked like the truck that hit him—the driver's truck that hit him—had hit a car, it was so dented in from hitting his body."
Hall said at first she didn't know what to do.
"I had my baby in my car, and I wasn't sure if I could even get out, but there was like really nobody there with him, and so I did get out to go help," she said.
"He had a broken leg, and he was bleeding from his head and his ears. There were a couple nurses actually on the scene that had witnessed it or driven up on it that were helping him."
The Epoch Times was not able to confirm the extent of the victim's injuries.
Hall said there were "quite a few good Samaritans" that left their vehicles to lend assistance to the victim and put blankets on him.
"We all ran to do our parts, to get jackets or anything that we could put under his head so it wasn't like laying on the cement, because he was bleeding profusely from his head. … His leg was completely shattered. So we were just trying to keep him still and put a jacket under his head," she said.
Hall said the driver got out of his vehicle in "panic mode," with his hands over his head. He then took off on foot, leaving his wife and baby behind, before police arrived on the scene and began questioning witnesses about the event.
"He was circling, pacing around, going, 'Oh my god, Oh my god. I don't know what to do.' And then he started heading east on Heil towards Goldenwest, and he never came back. And then the police and paramedics eventually showed up."
Hall said the jogger was conscious when paramedics arrived, loaded him on the gurney, and put him in an ambulance.
Huntington Beach Lt. Ryan Reilly confirmed the incident to The Epoch Times, and said police eventually caught up with the suspect.
"There was a hit and run at Heil and Fountain yesterday. The suspect is in custody," Reilly said on Nov. 12.
According to the case number provided by the police, the suspect has been identified as 37-year-old Israel Ponce Perez. The suspect was booked at 7:10 p.m. on Nov. 11 on a charge of hit and run resulting in death or injury.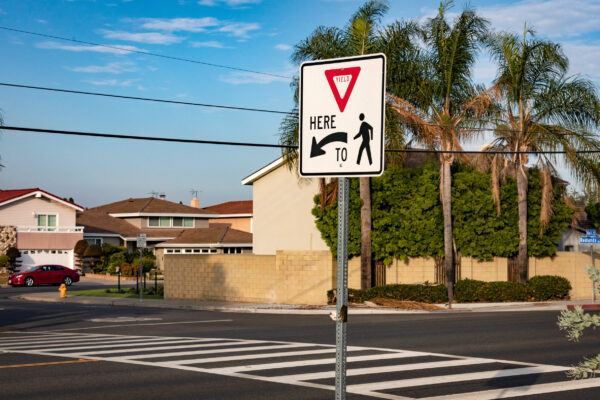 Many area residents commented that the crosswalk where the accident took place is dangerous because there are no lights around it, making it difficult to see pedestrians.
"People came out from their houses to see all this going on. Multiple people said 'I've almost been hit at this crosswalk as well because drivers go so fast down here,'" Hall said.
She said a few other people at the scene remarked that it's very hard to see pedestrians in the crosswalk "because it doesn't have a light up," preferring the better-lit crosswalks found on the Pacific Coast Highway in Laguna Beach.
"You see all the lights up and it definitely helps," she said.
Ron, who lives in the neighborhood but declined to give his last name, told The Epoch Times that he's worried about his children crossing the street where the accident took place.
"My kids go to school just up the street, and sometimes there is no crossing guard at the crosswalk for them. It makes us really nervous," he said, before adding hopefully, "Maybe they will put a stop sign in here."
Earlier in the day on Nov. 11, a 79-year-old pedestrian was struck by a vehicle and killed on Pacific Coast Highway in Huntington Beach.
The fatality occurred shortly before 5:11 a.m. south of Brookhurst, according to police. The victim was identified as Juan Martinez Tovar of Santa Ana.
The victim was walking in the lane of traffic when he was struck by a 2013 Toyota Matrix traveling northbound. The 59-year-old male driver from Newport Beach remained on the scene and was cooperative.
Police said the investigation is ongoing, and encourage anyone with information about the collision to contact Huntington Beach Police Traffic Investigator D. Demetre at 714-536-5670.
John Fredricks of The Epoch Times contributed to this report.