An MNSBC host blamed Russia for the death of Jeffrey Epstein, who was pronounced dead on Aug. 10.
Epstein, 66, was in prison awaiting trial on sex trafficking charges.
Joe Scarborough, co-host of "Morning Joe" and a former Florida Congressman, took to Twitter to speculate that Russia was behind the death.
"A guy who had information that would have destroyed rich and powerful men's lives ends up dead in his jail cell. How predictably…Russian," he wrote.
A guy who had information that would have destroyed rich and powerful men's lives ends up dead in his jail cell. How predictably…Russian.

— Joe Scarborough (@JoeNBC) August 10, 2019
THIS 👇👇👇🇺🇸🇷🇺 https://t.co/1DV1r4sfEB

— John Heilemann (@jheil) August 10, 2019
"He reportedly tried to kill himself two weeks ago. And is allowed to finish the job now? [Expletive]. Powerful Democratic and Republican figures breathing a huge sigh of relief—as well as a Harvard professor or two," he added.
Another MSNBC analyst said, without evidence, that Epstein's reported suicide has some kind of connection to Russia.
"Epstein suicide. Sure. Seems likely. Probably what happened. Hey, folks, we're Russia now. Enjoy it," wrote Brian Koppelman, co-creator of the "Billions" show on Showtime and a longtime movie producer with credits including "Ocean's Thirteen," on Twitter. MSNBC national affairs analyst John Heilemann shared the post, adding: "THIS."
Epstein was found dead and appeared to have committed suicide, law enforcement sources told a number of outlets, including TMZ, ABC, and the Associated Press.
The financier was on suicide watch after a previous attempt last month.
He was arrested in early July on charges of sex trafficking. Authorities said he forced young girls to have sex with him. He paid them and gave them extra if they recruited other girls for him to sexually abuse and exploit, according to charging documents.
Court documents relating to Epstein were unsealed on Friday and revealed that Virginia Giuffre, who said she was one of Epstein's sex slaves, was ordered to have sex with Prince Andrew, Harvard lawyer Alan Dershowitz, former New Mexico governor Bill Richardson, and former U.S. Sen. George Mitchell.
All four men have denied the allegations.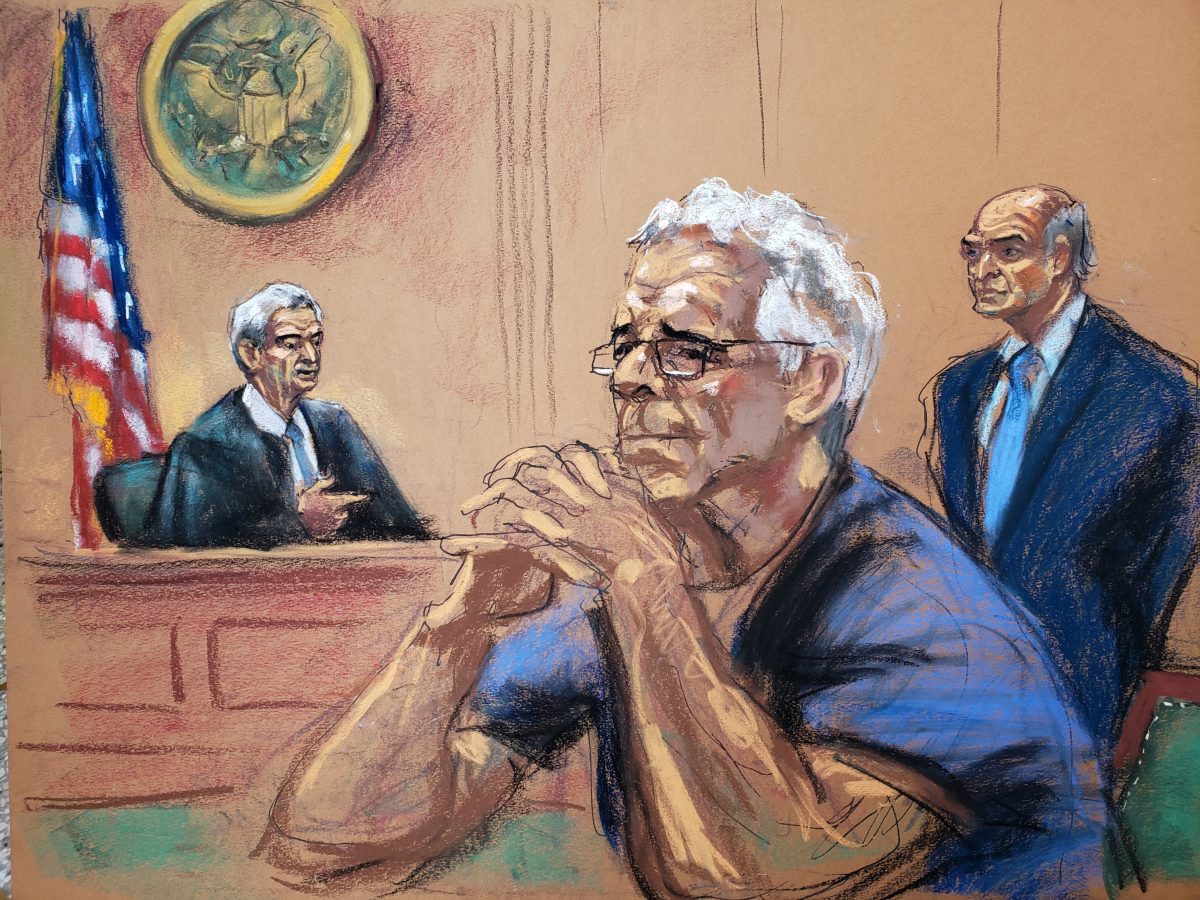 Epstein Dodged Questions on Abuse
Epstein repeatedly refused to answer questions to avoid incriminating himself, according to the court records.
Epstein's responses emerged in a partial transcript of a September 2016 deposition stemming from a defamation lawsuit. The transcript was included in hundreds of pages of documents placed in a public file by a federal appeals court in New York.
The deposition happened almost three years before Epstein's July 6 arrest on sex trafficking charges in a case that has brought down a Cabinet secretary and launched fresh investigations into how authorities dealt with Epstein over the years. The 66-year-old pleaded not guilty before he was found dead.
Epstein was asked in the videotaped deposition whether it was standard operating procedure for his former girlfriend, Ghislaine Maxwell, to bring underage girls to him to sexually abuse.
Epstein replied "Fifth," as he did to numerous other questions, citing the Constitution's Fifth Amendment that protects people against incriminating themselves.
He also was asked whether Maxwell was "one of the main women" he used to procure underage girls for sexual activities.
"Fifth," he replied.
And he was asked whether Maxwell met one of the females she recruited for massages at the Mar-a-Lago resort owned by President Donald Trump in Palm Beach.
"Fifth," he replied.
Asked if he was a member of Mar-a-Lago in 2000, he replied once again, "Fifth," according to the transcript.
After Epstein's arrest, Trump said that he knew Epstein but said he "had a falling out with him a long time ago."
Giuffre said in her deposition that claims about Trump made in a 2011 Daily Mail story weren't true.
The court records contain graphic allegations against Epstein, who is accused in Manhattan federal court of trafficking young girls internationally to have sex with prominent American politicians, business executives, and world leaders. The papers portray Epstein as a sex slave-driver with an insatiable appetite for underage girls.
"My whole life revolved around just pleasing these men and keeping Ghislaine and Jeffrey happy," Giuffre said. "Their whole entire lives revolved around sex."
The Associated Press contributed to this report.