As a financial planner-turned-film producer, Joe Knopp never envisioned going into politics.
That changed last December, when the Air Force veteran became former U.S. congressman Jim Renacci's running mate as the duo seeks to unseat Ohio's Republican Gov. Mike DeWine and Lt. Gov. Jon Husted in the May 3 GOP gubernatorial primary.
Knopp made that decision after turning down an offer from former Ohio state Rep. Ron Hood, another candidate challenging DeWine.
Knopp gained acclaim as the producer of films such as "Unplanned," "I Can Only Imagine," and "The Trump I Know." He said he was approached by Hood and Candice Keller, who is also a former Ohio state representative, about "either running for governor or joining the ticket as lieutenant governor."
Hood, who served in the Ohio House of Representatives from 2013 to 2021, ran in a special Congressional election to represent Ohio's 15th District last year and finished a distant third in a race won by Trump-endorsed Mike Carey.
Keller completed two terms in the Ohio House from 2017 through 2020 before an unsuccessful bid for Ohio's state Senate in 2020. She's the founder of an advocacy group called Patriot America.
While Hood and Keller are known for their anti-abortion and pro-gun rights stances, Keller has a record of being a political lightning rod. The southwest Ohio native has found herself at the center of multiple political skirmishes—often because of her own inflammatory statements.
When she was a state legislator, Keller faced backlash for a Facebook message she posted in the immediate aftermath of a mass shooting in Dayton that left nine people dead on Aug. 9, 2019.
"After every mass shooting, the liberals start the blame game," she wrote. "Why not place the blame where it belongs?"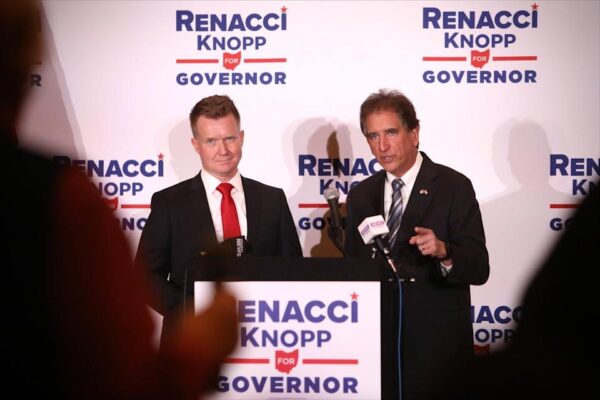 She went on to blame the tragedy on transgender individuals, homosexual marriage, drag queen advocates, children raised without a father, relaxed laws on illegal aliens, "snowflakes who can't accept a fully-elected president," professional athletes "who hate our flag and National Anthem," and former President Barack Obama for promoting a "disrespect of law enforcement," among other factors.
"Did I forget anybody?" Keller said. "The list is long. And the fury will continue."
Keller was admonished by Democrats and Republicans for the post. Jane Timken, who is vying to replace retiring Sen. Rob Portman in the Ohio GOP U.S. Senate race, was Ohio Republican Party chair at the time and called for Keller to resign.
"Some want to politicize these events, and I cannot condone such comment and behavior." Butler County Republican Party executive committee Chairman Todd Hall said after the post by Keller, whose district included Butler County, which is located between Cincinnati and Dayton.
Knopp said he felt uncomfortable with Hood and Keller, and that led to him declining their invitation to be part of a gubernatorial ticket.
"Ron said that felt like he was called by God to be governor or lieutenant governor. After he lost the congressional race to a candidate who was supported by former President Donald Trump, he said, 'You can't win without a Trump endorsement.'
"He perceived I could bring that," Knopp said. "He said he didn't care if I ran for governor or lieutenant governor. He told me, 'I can bring the money if you get the endorsement.'
"After a period of time, I concluded that Ron and Candice were not the people I wanted to partner with," Knopp said. "I felt like we were not aligned in character and faith."
Renacci, who served in the U.S. House of Representatives from 2011 to 2019, announced his gubernatorial candidacy in June 2021. Then he started vetting potential lieutenant governor candidates, and among them were Hood and Knopp.
"During an early conversation with Joe, I told him how Candice Keller kept saying there is someone from southwest Ohio who is conservative and will enter the governor's race. Joe told me, 'Jim, that's me,'" Renacci said with a grin.
The lieutenant governor's search was narrowed to Hood and Knopp, and the latter was Renacci's choice.
"I was looking for an outsider as my lieutenant governor, somebody who started with nothing and understands what it is to work hard, to not be handed anything," Renacci said. "Joe is no ordinary Joe. His movies are inspirational and his life is inspirational."
Knopp's personal story is what intrigued Hood, Keller, and Renacci, and it relates to how his journey led to the Ohio gubernatorial race.
Homeless on the streets of Philadelphia, Knopp and his two sisters stole food to eat and slept in abandoned homes for refuge from the frigid winter.
He was 5, and it's a memory that's never faded.
"My early childhood was surrounded by a lot of abuse and addiction. It was common for the police to be at our house. When I was 5, the police arrived and separated my mom, my two sisters, and I from my father, and we have not seen him since," Knopp said.
"My mom was not in a position to raise us, and we lived on the street. That is when we had no choice but to steal food to eat, and many times we had to find abandoned homes for shelter."
One Sunday, Knopp recalled, he and his sisters saw a sign at a church describing how free donuts and orange juice were served at Sunday School.
Wes Whitehead, a Philadelphia architect, saw Knopp and his sisters at church and took notice of the three children who weren't accompanied by parents and wore dirty clothes. He took the siblings to an orphanage.
Most children lived there for a year or two until their parents "got it together," Knopp said. The Knopps saw a different outcome. Their mother never was able to take care of them and they lived at the orphanage through high school graduation.
After high school, Knopp enlisted in the U.S. Air Force and was stationed at Wright-Patterson Air Force Base in suburban Dayton. He remained there for six years, earned a finance degree at night, and eventually opened a financial planning firm. That's when a film-producing friend called from Hollywood.
Daryl Lefever, a feature film controller whose studio credits include "X-Men" and "The Polar Express," decided to focus on producing Christian-themed films.
"He needed help securing financing for Christian films. I was the only finance guy that he knew," Knopp said. "He called me to help figure out how to get inspirational movies made."
Knopp and Lefever teamed to create "Woodlawn," a movie released in 2015 that tells the story of a gifted high school football player who experiences racial tension on and off the field. In 2018, they released "I Can Only Imagine," which follows the life of MercyMe lead singer Bart Millard and is among the top 10 highest-grossing faith-based films of all time.
Knopp explored ideas for his next project. At the time, the abortion issue was in the news after New York passed a progressive abortion law and Virginia approved a late-term abortion law.
He served as the producer of "Unplanned," a 2019 documentary that chronicles the life of Abby Johnson, who converted to being a pro-life activist after having been an abortion clinic director.
That film introduced Knopp to the political scene. He was invited to the White House by Vice President Mike Pence and met Lara Trump, who is Donald Trump's daughter-in-law.
Lara Trump is a TV producer, and Knopp saw her from time to time at events.
"She would tell me stories about their family and about women President Trump hired on his campaign team and in his businesses. They were stories media would not share," Knopp said. "One common saying I kept hearing is 'I wish people knew the Trump I know.'"
That sparked an idea for the next story Knopp would tell. The result was "The Trump I Know," a documentary that depicts President Donald Trump from the perspective of Lara Trump and other women in the Trump family, administration, campaign, and business world.
Knopp included a one-on-one interview with Trump, who he said became the first sitting president to appear in a documentary.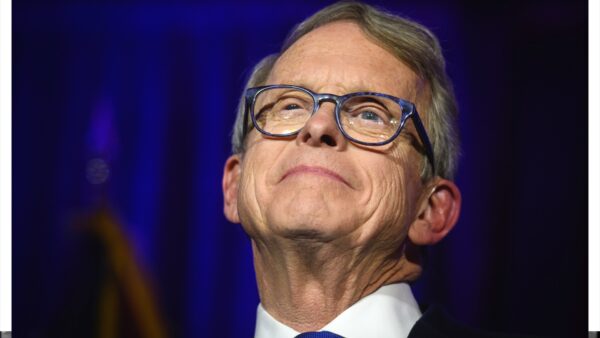 Knopp traveled the country speaking at "America First" and pro-life events. The calendar turned from 2020 to 2021, and like many Ohioans, Knopp was displeased with DeWine's handling of the COVID-19 crisis.
The governor followed then-Ohio Department of Health Director Dr. Amy Acton's projections about the virus, leading to economic devastation for many Ohio businesses and communities. That motivated Knopp to enter the political arena, appearing at events with Keller and, a few times, Hood.
Before Renacci made a decision about his running mate, he says Keller and Hood often praised him publicly and on social media. That changed, he said, when a press conference was held in early December introducing Knopp as the lieutenant governor candidate.
"I was shocked they jumped in the race not long after I chose Joe, because they were so supportive of both of us before that point," Renacci said.

On Feb. 1, Hood and Keller announced that they had gathered the required number of signatures and were entering the gubernatorial race.
Hood has been a no-show at many campaign events, although Keller has been more visible. When the Ohio Debate Commission reached out to Hood to participate in a GOP gubernatorial debate scheduled for March 29, he never returned emails or calls, according to Jill Zimon, the organization's executive director.
"We've never had a candidate not at least return an email or a phone call," Zimon said.
After announcing their candidacy, Keller told reporters, "Ron Hood and I look forward to stopping all mandatory vaccinations, mandatory face masks, and all lockdowns and shutdowns in Ohio."
"Our president, Donald Trump, showed us what constitutional conservative leadership can produce in a nation. We need more of that."
A March 28 poll from the Committee for a Better Ohio showed Renacci leading DeWine by double digits. Out of the 1,342 likely Republican primary voters surveyed, 46 percent selected Renacci, while 30 percent supported DeWine, and 20 percent backed farmer and restaurant owner Joe Blystone; 4 percent picked Hood.
Many supporters of the three challengers believe that two of the candidates should drop out so they don't split the vote to DeWine's benefit. Blystone, Hood, and Renacci have similar platforms when it comes to protecting gun rights, opposing COVID-19 mandates and abortion, and keeping critical race theory and similar ideologies out of Ohio schools.
A Yellow Springs native, DeWine was hired out of law school as the assistant prosecuting attorney in his native Greene County. Four years later, he was elected as Greene County prosecutor. He has since served in the state Senate from 1980 to 1982, as a U.S. representative from 1982 to 1990, as lieutenant governor from 1990 to 1994, as a U.S. senator from 1994 to 2006, and as the's state attorney general from 2011 to January 2019, when he was inaugurated as governor.
Hood's political experience centers around his time as a state representative, while Renacci is an entrepreneur who served as a city councilman and then mayor of Wadsworth, which is 33 miles south of Cleveland, before running for Congress.
He was motivated to seek election in Ohio's 16th Congressional District in 2009, when the Obama administration assumed control of General Motors and shuttered dealerships nationwide, including Renacci's business in northeast Ohio. He served in Congress from 2011 to 2019.
Renacci initially campaigned for governor in 2018 but eventually, at the request of President Trump, decided to run for U.S. Senate. He won the Republican primary but lost to Sherrod Brown in the general election.
Blystone, who has never held or pursued elected office, was born in East Liverpool, Ohio. He operated an automotive equipment business before transitioning to farming in Canal Winchester, building one of the largest sheep farms in Ohio before eventually switching to cattle. The current Blystone Farm property, which started as a packing house, now features a restaurant, bakery, general store, and special events venue. It remains a working cattle farm and packing house.
In 2020, Blystone emerged as an outspoken opponent of DeWine's COVID-19 mandates.
DeWine declined an invitation by the Ohio Debate Commission to take the stage with Blystone, Hood, and Renacci on March 29. He told reporters that Ohioans already know where he stands on issues. Renacci said he would only appear if DeWine did, claiming that "a gubernatorial debate without the governor is not a gubernatorial debate." Blystone accepted the offer, while Hood was the lone candidate to not respond.
While the primary for congressional seats and state legislative districts is delayed because of disagreements surrounding redistricting maps, Ohioans will head to the polls on May 3 to vote in gubernatorial and U.S. Senate races. The winner among Blystone, DeWine, Hood, and Renacci will face former Dayton Mayor Nan Whaley or former Cincinnati Mayor John Cranley, the Democratic Party candidates. Brookville pastor Niel Petersen is gathering signatures to get his name added to the ballot as an independent.