Democratic presidential candidate Joe Biden appeared on Tuesday in public for the first time since fracturing his foot.
Biden's campaign initially said the 78-year-old twisted his ankle while playing with his dog over the weekend. The campaign later released a statement from his doctor, who said a scan revealed two small fractures in his right foot.
Kevin O'Connor, the doctor, said Biden will likely need to wear a walking boot for several weeks.
Biden exited a vehicle outside the Queen Theater in Wilmington, Delaware, near his home, on Tuesday afternoon. He pointed to the walking boot and raised his leg high in the air.
Asked how he is feeling, Biden said, "good, thank you for asking," and gave a thumbs up.
Along with the black boot, Biden wore a blue suit, and a black mask.
Biden was entering the theater to gave an address to the nation. He has been announcing people he intends to nominate to key positions if he wins the presidency.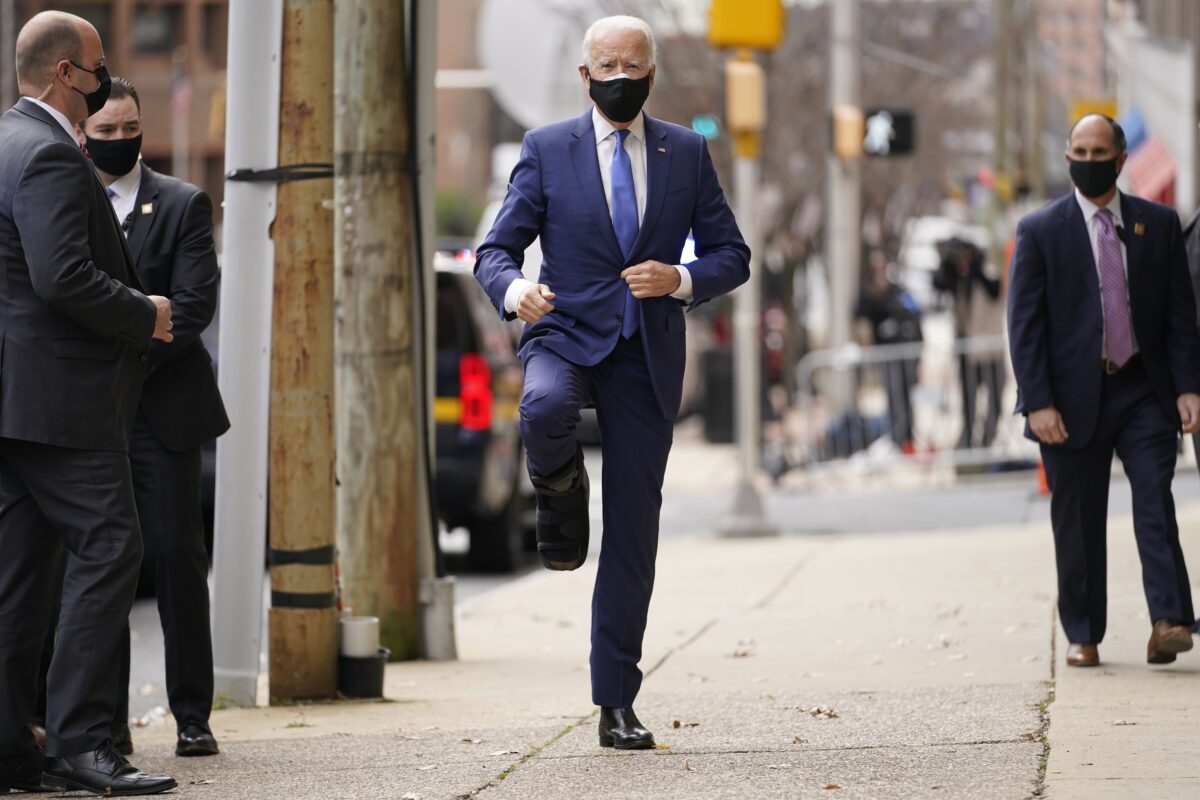 Biden has declared victory over President Donald Trump.
Trump, his campaign, and others have filed a flurry of lawsuits in battleground states. Because of the contested election, The Epoch Times is not calling the race at this time.
Biden didn't mention his accident in his prepared remarks. Trump said on Twitter that he hopes Biden gets well soon.
The foot incident was another example of how the Biden campaign treats the press. The campaign has refused to engage with some outlets and has barely responded to others.
Reporters following the candidate reported having their view purposefully blocked so they couldn't see Biden leave the vehicle and enter the doctor's office. Biden's team wouldn't let reporters off the van.
Biden was captured by reporters leaving the office, where he was treated for the injury.
"Initial x-rays did not show any obvious fracture, but his clinical exam warranted more detailed imaging. Follow-up CT scan confirmed hairline (small) fractures of … Biden's lateral and intermediate cuneiform bones, which are in the mid-foot. It is anticipated that he will likely require a walking boot for several weeks," said O'Connor in a statement released by the campaign.
Biden spent about two hours inside, leaving around 6:30 p.m.