Former President Jimmy Carter said that he hopes "there's an age limit" for the presidency—an apparent reference to former Vice President Joe Biden and Sen. Bernie Sanders (I-Vt.).
Both candidates would be 80 years old by the end of their first term if they were elected president.
The top four 2020 candidates are all septuagenarians.
Sanders is 78, Biden is 76, President Donald Trump is 73, and Sen. Elizabeth Warren (D-Mass.) is 70.
Carter, now 95, said on Sept. 17 that he didn't think he could perform the duties of the presidency if he were 80.
"If I were just 80 years old, if I was 15 years younger, I don't believe I could undertake the duties I experienced when I was president," he told the crowd after being asked whether he would consider running for the Democratic nomination.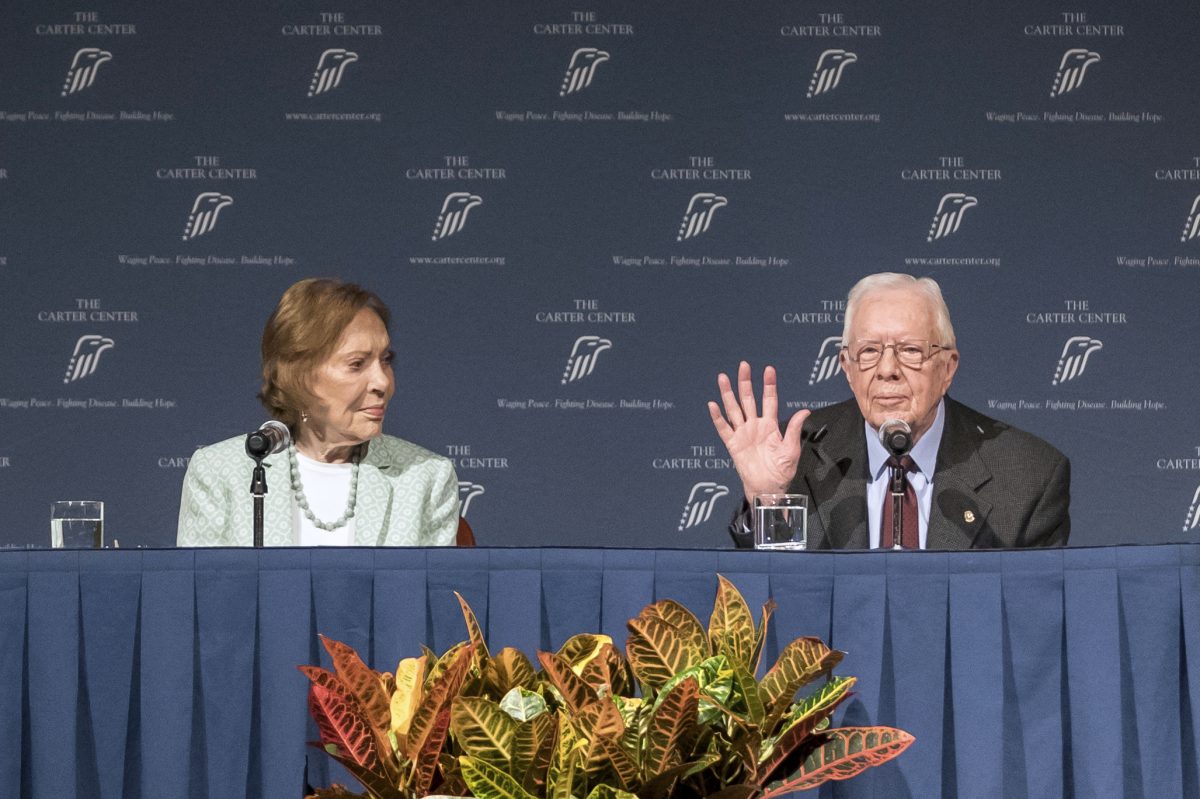 Carter was speaking at the Carter Center in Atlanta, as he does on an annual basis.
Carter was the 39th president and served from 1977 to 1981. He was in his 50s at the time and is now the oldest living ex-president.
"The things I faced in foreign affairs, I don't think I could undertake them at 80 years old. At 95, it's out of the question. I'm having a hard time walking," Carter said. He said he hasn't decided who to vote for.
"One of the major factors I will have in my mind is who can beat Trump," he said.
The age issue has dominated news coverage at times during the 2020 campaign, particularly for Biden, who has made a series of statements in recent months that mix up dates, people, and places.
Presidential hopeful Julian Castro targeted Biden at the debate last week, asserting Biden forgot something he'd said moments earlier.
"Are you forgetting what you said two minutes ago?" Castro said. "Are you forgetting already what you said just two minutes ago?"
"I can't believe that you said two minutes ago that they had to buy in and now you're saying they don't have to buy in," Castro continued. "You're forgetting that?"
Sen. Cory Booker (D-N.J.), another candidate, said he didn't agree with Castro's tone but said the former Obama administration cabinet secretary brought up some good points.
"There are definitely moments when you listen to Joe Biden and you just wonder," Booker said.
The Trump campaign seized on the phrase, with campaign manager Brad Parscale using it as a tagline for a video the campaign put out on Sept. 17 full of negative messaging against Biden, including a clip showing Biden telling parents to "make sure you have the record player on" at night.
You just wonder… pic.twitter.com/RZ3cShFfms

— Brad Parscale (@parscale) September 17, 2019
The Associated Press contributed to this report.