Jill Duggar and Derick Dillard have shared a series of pregnancy pictures after they announced Jill is expecting just months after getting married.
The Duggars notoriously have strict dating rules that include no holding hands until the couple is engaged and no kissing until the couple is married.
That didn't stop Jill, 23, and Derick, 25, from quickly creating a baby.
They revealed the news to People magazine earlier this month, with father Jim Bob revealing what happened.
"About 30 days after Jill and Derick got married they gathered everyone in the living room and shared the news," Jim Bob, 49, said.
"Everyone was clapping and cheering, and we were in shock, too."
Jill had taken several pregnancy tests but they came back negative. However, her sisters persuaded her to take one of her mom's tests while she and her new husband were visiting their parents' home.
"It was surreal," Derick said. "We were shocked. Both of us are so excited."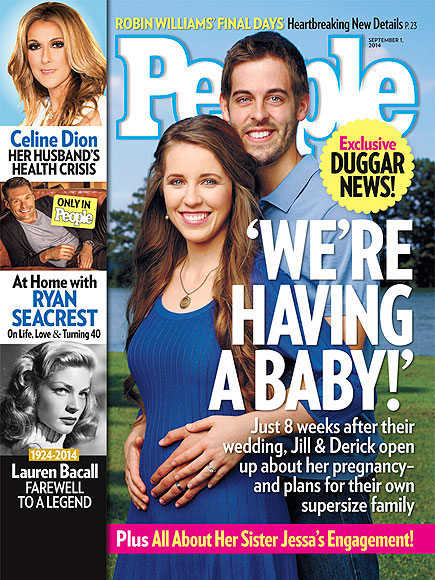 (People)

(Duggars Blog)

(Duggars Blog)
Jill said that the couple would leave it "up to God" as to how many children they have.
The Duggars are part of a Christian group that doesn't use birth control.
Jim Bob and wife Michelle are famous for having numerous children.
Season 19 of the Duggars show will premiere on TLC on Tuesday, September 2.
This season will feature Jill and Derick's wedding as well as focus on other Duggar couple Jessa Duggar and Ben Seewald.