Jiang Zemin's Son Involved in Major Corruption Scandal
October 31, 2007 12:00 am Last Updated: October 31, 2007 12:00 am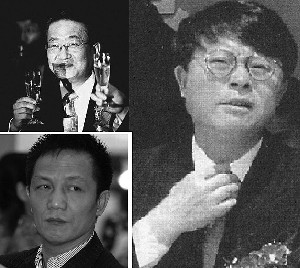 As the 17th National Congress of the Chinese Communist Party (CCP) concluded on October 21, the new Politburo Standing Committee candidates, who made their first public appearance on October 22, continued to engage in vicious internal party battles. The following day, developments in the case involving Zhou Zhengyi 1 —the richest person in Shanghai City—sparked a media uproar. Hong Kong news media reported that authorities dug up evidence which implicated Jiang Mianheng—former Chinese leader Jiang Zeming's son—in the crime scandal.
When President Hu Jintao and Premier Wen Jiabao revealed the Zhou Zhengyi case before the 17th National Congress, it came as a huge blow to Jiang Zemin and his gang. This case is closely tied to those of Liu Jinbao and Wang Weigong (once the secretary of China's former State Council Vice Premier, Huang Ju) in that each case involves bribery and the misappropriation of astronomical amounts of public money. Jiang Mianheng was found to be involved in all three cases. As for the Shanghai Zhao-Gu case exposed recently involving up to 1,200 billion yuan (US$160.6 billion), with the assistance of fellow cohort, Wu Zhiming, Jiang Mianheng was thought to be responsible for manipulating the deal from behind the scenes.
At present, Wu Zhiming—Jiang Zemin's nephew—is Shanghai Municipal Public Security Bureau Commissioner, as well as the city's Armed Police Political Commissioner. After Huang Ju passed away, and other members of the Shanghai Gang—a powerful group of political insiders led by Jiang Zemin—were jailed, Wu became the last valuable ally for Jiang Zemin's political control in Shanghai. Wu once ordered 3,000 armed police to fend off the Central Discipline Inspection Commission in an aggressive show of strength against Hu and Wen. Other intimidation tactics have been more serious as some say that Hu Jintao narrowly escaped assassination just before the 17th National Congress when he attended the Paralympics in Shanghai. The political situation it seems is still very dangerous in China's largest city.
As the fierce political in-fighting drags on, the Zhou Zhengyi case stands in the background, threatening to further implicate members of the Shanghai Gang. Many believe that as evidence continues to surface, the case may set off another major earthquake in official circles.
Obtaining Evidence of a Secret Meeting
According to the website of Beijing-based financial magazine Caijing (www.caijing.com.cn), Zhou Zhengyi was prosecuted on the Shanghai social security fund scandal, including his corporation—a bribery scandal involving Shanghai Nongkai Development Ltd., gave bribes and issued false value-added tax invoices. Zhou Zhengyi is being charged on two counts for this incident: bribery and the misappropriation of funds. Reports say that the trial will last several days due to numerous pieces of evidence.
Just before Zhou's case went to trial, the Hong Kong-based Information Center for Human Rights and Democracy in China quoted sources saying that Zhou met Jiang Mianheng in a bar before he was arrested on May 26, 2003. Jiang Mianheng disclosed some state secrets to Zhou, including details of the case of Liu Jinbao—former president of Bank of China in Hong Kong. 2 Authorities are said to have obtained volumes of recordings of this conversation.
Over One Hundred Corrupt Officials Implicated
When Zhou Zhengyi was arrested in 2003, Jiang Zemin still controlled China. Zhou, who was regarded as having committed a major offence, was given a meager three year sentence and was released in May 2006. When Chen Liangyu was dismissed from his post Zhou was arrested again. Either through death or incarceration, the once powerful Shanghai Gang was beginning to fall apart. When authorities question Zhou on his second arrest, he implicated many high ranking officials. One of the incidents involves bribing over one hundred different officials with 200 million yuan ($26.77 million) in total. The solidity of the evidence is owed to Zhou's good record keeping: Huang Ju, Chen Liangyu and Jiang Mianheng were all found to have taken the bribe.
Zhou confessed to bribing other officials who had provided assistance to him. These include Shanghai's vice mayor, bank subsidiary president, police bureau director, members of standing committee of the CCP Shanghai municipal committee, taxation bureau director, the Party secretary of bureau of state land and resources, industry and commerce bureau director and the Shanghai municipal office director.
Liu Jinbao's Embezzlement Assistance at the National Bank
Zhou Zhengyi's case directly pointed to all top-level officials within the Shanghai Gang. Jiang Mianheng, Chen Liangyu, Han Zheng and Wu Zhiming all had a very close relationship with Zhou. Liu Jinbao was promoted to head of Bank of China's Hong Kong branch after he was introduced to Jiang Mianheng through Zhou's wife, Mao Yuping. Immediately following Liu's promotion he gave a huge loan to Jiang Mianheng.
The scheme worked like this: Jiang Mianheng and Chen Liangyu arranged for Liu Jinbao to give Zhou Zhengyi an unsecured loan. In return, Jiang and Chen got money from Zhou. While large sums changed hands, all the loans were dead. It is said Jiang Mianheng's embezzlement was far more astonishing than Chen's.
Interrelated Cases, Parade of Nightmares
As cases surface one after another, Zhou Zhengyi, Liu Jinbao, Wang Weigong and most recently, the Shanghai Zhao-Gu securities case, the court becomes a parade of nightmares for Jiang Zemin and his son. After Wang Weigong was arrested in July, he confessed some details of corruption involving more than 30 officials. The CCP's Central Committee for Discipline Inspection had to form a special investigation team numbered 715, stationed in Shanghai to investigate the associated officials.
The Shanghai Bidding Scandal, Hands Behind the Curtain Grabbing Big Profits
The recent Shanghai scandal was found to involve 1,200 billion yuan. After an overseas website exposed details of the scandal the story became big news across China—more than 20 Chinese websites ran the report covering the case. The article indicated that Jiang Zemin, Jiang Mianheng and Wu Zhiming were directly involved in the scandal. Some websites were forced to remove the article because, many say, it touched a nerve among several high ranking officials. Other source reported that individuals related to the accused were chased down by the Shanghai Public Security Bureau who tried to kill them.
According to informed sources, Wang Weigong had a very close relationship with the Shanghai Stock Exchange before his arrest. These insiders say the bidding scandal case was most likely composed of evidence provided by the Party's 715 special investigation team.
Hidden Hands Manipulating Shanghai's Financial Market
According to Hong Kong's Trend Magazine, former Premier Zhu Rongji broke into tears when he spoke of the corruption and darkness haunting China's financial sector. Zhu mentioned that about one-third of the bad debt came from money that was either intentionally embezzled, fraudulent, falsified, bribe money, or simply lost. Shanghai was the area hardest hit by the debacle.
The article reports that the Chinese communist regime has launched six large scale investigations against the financial industry since 1995, but each search was fruitless because of the political protection that Jiang Zheming has enjoyed.
Corrupt officials such as Zhu Xiaohua, Wang Xuebing, Zhang Enzhao and Liu Jinbao have all incurred large amounts of bad debt. In fact, Zhu and Wang personally handled more than 430 bad debts, which in total reached 117 billion yuan ($15.66 billion). Some reports suggest that many of these bad debts were caused by Jiang Zemin and his son through their strategic communication and dealings with high ranking officials in the financial sector.
Earlier this year, news concerning Jiang Mianheng's involvement in various scandals could be found on all major search engines throughout the country—needless to say, Jiang was not elected as a Congressional Representative in the 17th National Conference earlier this month. During Zhou's trial, Hong Kong media reported that evidence used in the case reveals Jiang Mianheng's involvement in the scandal. As evidence against him builds, many are paying close attention to whether the Zhou Zhengyi case will move Hu Jingtao and Wen Jiabao to arrest Jiang Mianheng.
[1] Zhou Zhengyi, (born 1961), former Chairman of Shanghai Land Holdings Limited, former Chairman of Shanghai Nongkai Development Group. Ranked as the richest man in Shanghai by Forbes, Zhou is at the top of the most wanted list of The Hong Kong Independent Commission Against Corruption.
[2] Liu Jinbao (born 1952) was a former CEO of Bank of China (Hong Kong) Limited and vice Chairman of Bank of China, and Chairman of the Hong Kong Associate of Banks. Liu was sentenced to death on corruption charges on August 12, 2005.