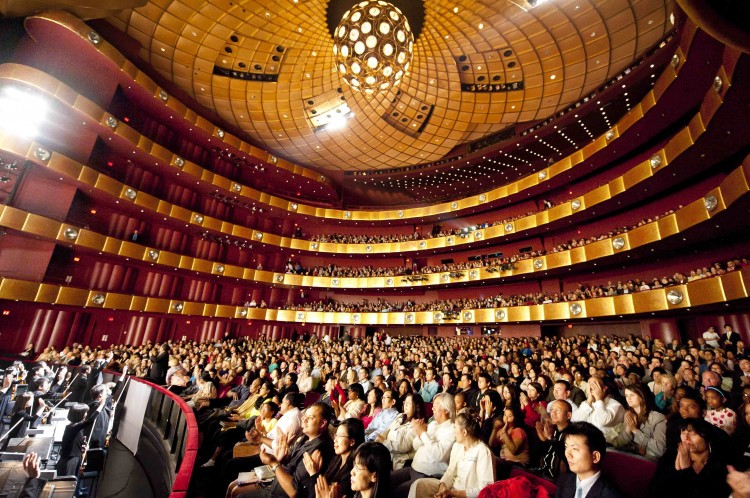 NEW YORK—In its third performance at Lincoln Center's David H. Koch Theater, Shen Yun Performing Arts left the audience in awe on Friday night, April 20.
Jeweler Stephen Maselli and his wife, Vanessa Maselli, were both struck by the performance.
"I'm impressed with the backdrops and the choreography. Having the backdrops work for the dancers is amazing. It's very effective," Mr. Maselli said.
While primarily a performance of classical Chinese dance, Shen Yun prominently features a digital backdrop that displays scenery filled with movement. There are scenes from ancient China, forests, mountaintops, pastoral landscapes, and others.
"With the scenery and the dances, with the narrators … it's good to see that they're walking us through the [performance]," said Mrs. Maselli, who added that Shen Yun's performers could project "emotion from the movement[s]" while they danced.
The couple were amazed by the costumes, which according to the company, are inspired from various Chinese dynasties and the country's ethnic groups.
"That was the first thing I noticed. I loved them. The costumes are amazing," Mrs. Maselli said.
There are a number of pieces in the performance that depict Falun Gong, a meditation practice that is persecuted by the Chinese regime. The practice is based on truthfulness, compassion, and tolerance and has been persecuted in the country since 1999.
"I feel sad that a culture of spiritual enlightenment is repressed in this day and age," said Mr. Maselli, who said he is a supporter of Falun Gong after seeing the group's peaceful protests and demonstrations. "They're put in jail for practicing. I oppose that kind of restriction from any government. People should be free to practice their spirituality and all cultures, and all religions," he said.
"People should be free to practice what they want," Mrs. Maselli chimed in.
Shen Yun's mission is to restore traditional Chinese culture and its spiritual values through the arts. Much of this culture, the company notes, was destroyed under six decades of communist rule.
"Spiritual enlightenment; everybody should have that freedom. No matter what country or what culture," Mr. Maselli said. He added that with the recent ascent of China's economy and military, it has "to understand the world's mentality" and allow religious freedom.
"You can quote me, 'China, let these people practice,'" he said.
Shen Yun currently cannot be performed in China due to its portrayal of the country's human rights situation, although the company has toured around the world in more than 100 cities since 2006, its website says.
Reporting by Hannah Cai and Jack Phillips.
Shen Yun Performing Arts, based in New York, tours the world on a mission to revive traditional Chinese culture. Shen Yun Performing Arts Touring Company will perform at the David H. Koch Theater at Lincoln Center through April 22.
For more information, visit ShenYunPerformingArts.org.