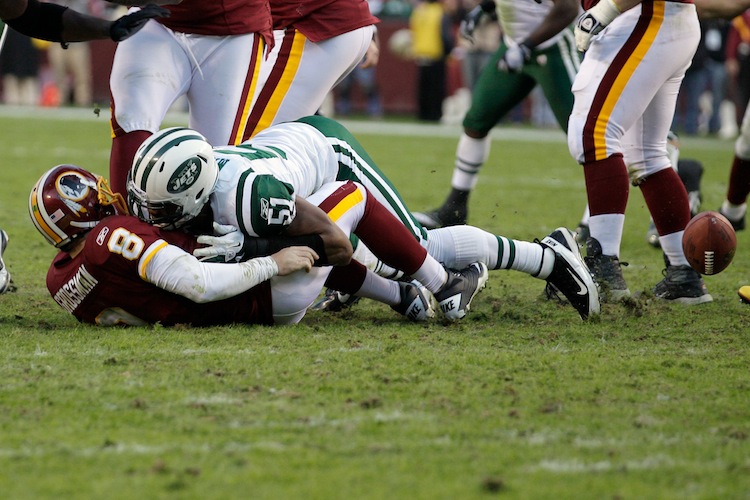 The New York Jets (8-5) take to the road this Sunday, needing a win in Philadelphia against the Eagles (5-8) to stay ahead in the race for the final playoff spot. The Jets dropped four of their six road games this season. "We have to get a win. That's the only reason we're heading down there," Ryan said Wednesday, on the team's website.
A victory would keep the Jets at least one game in front of three other wild card hopeful teams in Oakland, Tennessee, and Cincinnati, who all sit at 7-6. But they will have to do so without history on their side.
They have never beaten the Eagles in the 50-plus seasons as a franchise. Philadelphia has won all eight meetings, most recently a 16-9 defeat on Oct. 14, 2007. "I attribute that to they must have played against my dad (defensive wizard and ex-Eagles coach Buddy Ryan) or something. That's what I told the team, anyway," joked Ryan.
His father only coached against them once. Ryan has found other reasons to be optimistic this time of year, no matter who they play. "Everything we provide our players pays off this time of year—I think we're fresher than most teams we play," Ryan commented on his team's conditioning.
The conditioning will come in handy against the speedy Eagles. Quarterback Michael Vick averages 8.1 yards per rush on his 67 carries, while his 544 yards on the ground are second among quarterbacks to Cam Newton (554).
Meanwhile, his backfield mate, running back LeSean McCoy is just as dangerous, ranking second in the league with 1,172 yards rushing and first overall with 17 touchdowns—14 of them on the ground.
Clearly the Jets defense will have their hands full in trying to contain Vick in the pocket, to make him one-dimensional so they can key on McCoy. How Ryan will devise his defense to do that remains to be seen—maybe he willl consult his dad.