Jets, Giants Draft Predictions
April 28, 2013 3:49 am Last Updated: April 28, 2013 3:49 am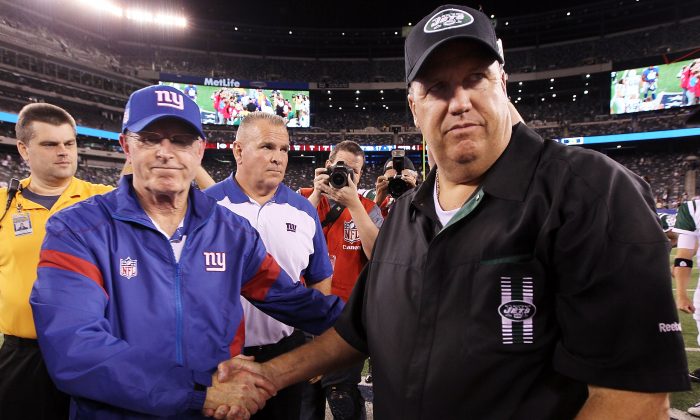 With the first round of the NFL draft coming up Thursday night, every New York sports fan's question is who will the Jets and Giants select? Let's first look at the disaster the Jets have become.
New York Jets team needs: Every position, save center. Sadly, there are a lot of holes here. The passing game has holes—at both ends. The running game needs more game-breaking speed, as well as more holes to get through, Darelle Revis left a huge void at corner, ditto for linebackers Bart Scott and Calvin Pace, and they could still use a better pass rush. That said, their biggest need is good, consistent play at the quarterback position.
The good news is that the Jets pick twice in the first round, at 9 and 13. The bad news is that this really isn't a quarterback-heavy draft. Reports have the Jets interested in Syracuse quarterback Ryan Nassib, who is projected to go anywhere from Buffalo at pick No. 8 or to slide all the way to the second round.
Who they'll take at 9: Barkevious Mingo, DE, LSU. Mingo is considered the top pass-rushing defensive end in the draft and would probably be a nice gift to defensive-minded coach Rex Ryan, who clearly didn't want Revis dealt. They would still need at corner; Mingo's teammate Tyrann Mathieu could be good value if they find him in a later round.
Who they'll take at 13: Chance Warmack, G, Alabama. The Jets have needs on the offensive line and Warmack may be the best guard available—especially for the run game. Should one of the top offensive tackles (such as Lane Johnson or Eric Fisher) slide this far, the Jets would be wise to look at them as well but both are not expected to be around at 13.
Although no one knows what new GM John Idzik will do Thursday, a trade down from the 13th spot to get his quarterback later in the round, while picking up another pick later in the draft, would be quite a coup.
New York Giants team needs: Linebacker, defensive backs, tight end and offensive lineman. Needs can be a little misleading here as the Giants gravitate more toward taking the best player possible with each pick—regardless of need. This draft has a number of good offensive lineman (the Giants line is getting a little old) and linebackers (they are thin here) so maybe this year the best player available will be at a position of need.
Who they'll take at 19: D.J. Fluker, OT, Alabama. This might be a reach here as there are as many as five offensive tackles expected to be taken in the first round, but if Fluker is around the Giants should get him. Considered one of the top run-blockers around, Fluker would certainly be able to battle for playing time early on. Should Fluker not be around, look for the Giants to land outside linebacker Jarvis Jones, of Georgia, who is an excellent pass-rusher and tackler.
The Epoch Times publishes in 35 countries and in 21 languages. Subscribe to our e-newsletter.