Lucky Jet Skiers Rescued by NY Firefighters
September 14, 2014 7:40 pm Last Updated: September 14, 2014 7:42 pm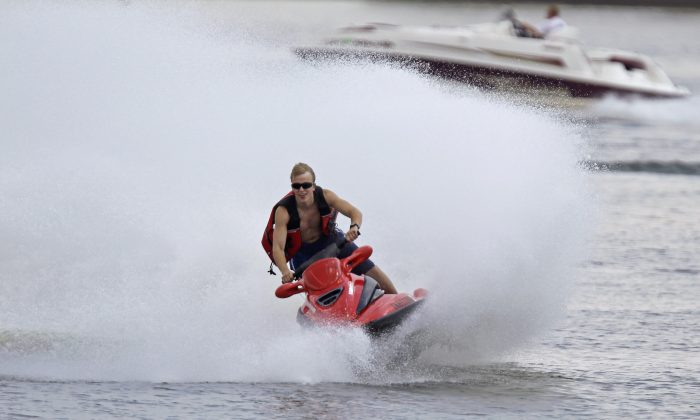 Two jet skiers were rescued Sunday morning after falling off their watercraft in the Ambrose Channel several miles west of Breezy Point in Far Rockaway. Neither suffered any injuries, which can be considered lucky, given the dangerous track record of Jet Ski accidents.
Police, Fire Department, and the Coast Guard responded to an 8:10 a.m. emergency radio transmission by a private vessel saying there was a person on an island in need of a rescue. 
The FDNY Marine 3 boat found the first victim at the West Bank Lighthouse, a small structure about five miles west of the Breezy Point. The second victim was found by an NYPD boat on the Swinburne Island, a tiny artificial island west of Coney Island, at approximately 8:55 a.m..
A police spokesperson said the second victim was uninjured, just "very cold."
The hospital's spokesperson, Maria Kavan, said both victims were admitted but no injuries were found and they were discharged. 
"Luckily these people were ok," she said. "It could have been much worse." 
Jet Ski Risk
Jet Ski accidents carry the highest risk of injury among all powered watercraft, according to the U.S. Coast Guard's 2012 Recreational Boating Statistics report.
The report lists over 4,500 boating accidents resulting in 3,000 injuries and 651 deaths that year. Jet skies were involved in 1,111 accidents resulting in 721 injuries and 58 deaths.
Two months ago Roldando Moreno, 45, suffered critical injuries after crashing his Yamaha WaveRunner into another boat in the Great South Bay offshore from Long Island.
Last year Willie Tom, 44, and Celine Fu Shi Hui, 29, both died in a Jet Ski accident during Fourth of July celebrations. The woman fell off the Jet Ski while the man jumped into the water to help her. Neither victim was wearing a life jacket.
In about three out of four fatal boating accidents, victims drowned, and almost 85 percent of those were not reported as wearing a life jacket.
The report states the actual number of accidents is actually higher because many people don't report them. 
The fatality statistics should be relatively accurate, as other sources, such as media reports, are factored in.
Boating in NY
New York had the third highest number of boating accidents in 2012, almost 200. Yet, that was more than three times less than in Florida and almost two times less than in California.
Operator inattention was listed as the most common contributing factor to boating accidents overall. In the deadly ones, the most common contributing factor was alcohol use.