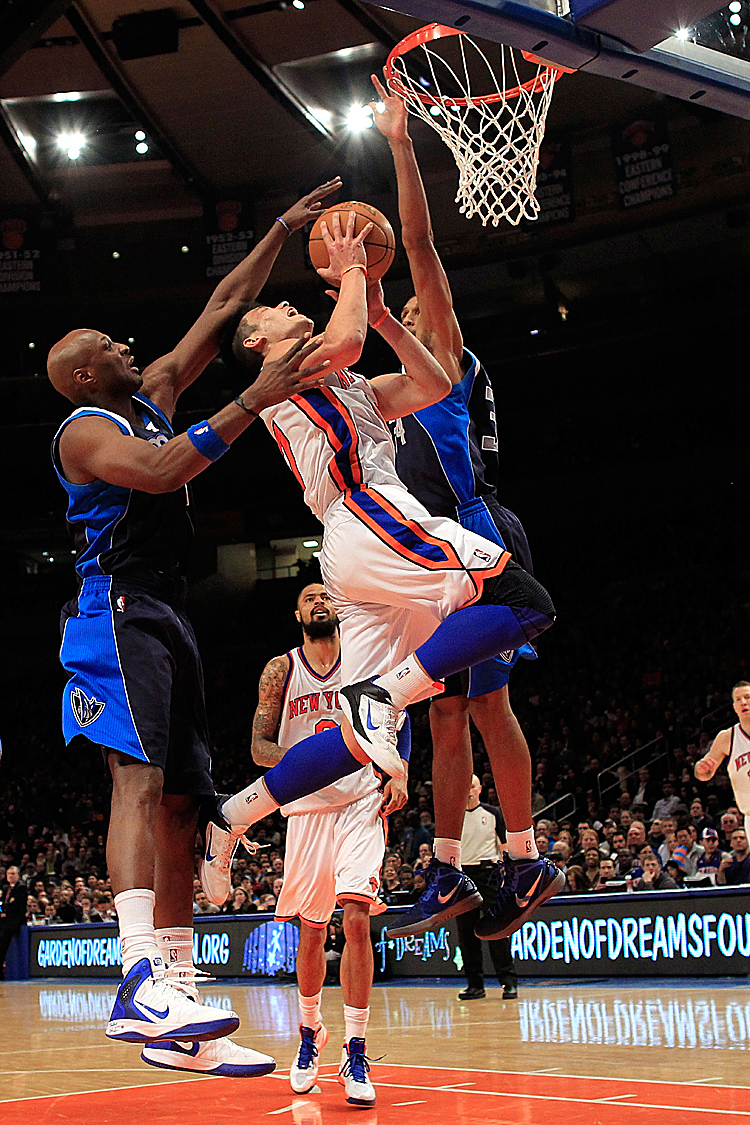 Star point guard Jeremy Lin continued his amazing run on Sunday as the Knicks overcame a 12-point deficit to defeat Dallas 104-97 at Madison Square Garden. The league's newest sensation contributed 28 points and 14 assists as the Knicks outplayed defending champs Dallas (20-12) in their best win yet.
Lin played in 46 of a possible 48 minutes, as the suddenly rejuvenated Knicks looked for him to spark the offense every possession.
The win for the Knicks (16-16) is their eighth in nine games since Lin's arrival to the rotation, with their lone loss being Friday night against New Orleans.
Lin is more than just a rotation guy and New York was especially in need of it midway through the third quarter.
Having quickly squandered a lead they held through almost the entire first half, Mike D'Antoni's team found themselves down 70–58 after a pair of Dirk Nowitzki free throws with 4:16 left in the third quarter.
To that point in the quarter, the Mavericks had outscored the Knicks 25–10 with the 7-foot Nowitzki accounting for 11 of those points. The star forward from Germany would finish with a game-high 34 points.
Center Tyson Chandler started the comeback with a dunk off a feed from new Knick J.R. Smith. Smith, a 6-foot-6-inch shooting guard, had been playing overseas during the lockout and just signed with New York on Friday.
Then, following a Dallas timeout, Jeremy Lin converted back-to-back driving layups—while being fouled on both of them—to close the gap to 73–65 and bring the MSG crowd to its feet.
After another Lin free throw and a pair of scores by J.R. Smith and Jared Jeffries, Jeffries turned around on defense and forced a bad pass in the backcourt that was intercepted by Lin, who quickly darted down the lane and dunked it to pull New York within 75–72 at the end of the quarter.
The comeback continued in the fourth.
Reserve forward sharpshooter Steve Novak, who was scoreless entering the final quarter, scored 14 points in the first 4:28 of play—12 of them off 3-pointers. Lin was credited with an assist on four of Novak's five jumpers as Lin's penetrations were collapsing the entire Dallas defense, leaving open shooters on the perimeter for him to find.
After the fourth of Novak's threes, Lin hit one himself to push the lead to 90–81 with 6:50 remaining, putting the Mavericks into a hole they never climbed out of.
For Dallas, Shawn Marion (14 points) and Jason Terry (13 points) were the only others besides Nowitzki to score in double-figures.
Lin's 28 points and 14 assists were team-highs, while center Tyson Chandler put up 14 points, grabbed a team-high 10 rebounds and blocked 3 shots.
Next up for the Knicks is a home game against New Jersey Monday night, where Carmelo Anthony may make his return after missing the previous seven games.
How Anthony, who thrives in one-on-one situations, will fit in with a new Knicks offense revolving around Lin's penetration has been the subject of debate during his absence. It's hard to see anyone not fitting in the wide-open offense now, let alone a tremendous shooter like 'Melo.