Jeremy Corbyn will not get his party whip back, Labour Party leader Keir Starmer confirmed on Wednesday.
This means the former party leader will not officially represent Labour in Parliament and would continue to be classed as an "independent" MP.
Corbyn's whip was removed from him on Oct. 29, when he was suspended from the Labour Party after he said the findings of the Equality and Human Rights Commission's (EHRC) investigation into allegations of antisemitism in the Labour Party "dramatically overstated" the problem "for political reasons."
A panel from the party's governing National Executive Committee reinstated Corbyn to the party on Tuesday, but whether he gets back the party whip is a separate issue.
"I have taken the decision not to restore the whip to Jeremy Corbyn," Starmer wrote in a tweet. "I will keep this situation under review."
Starmer said he made the decision because the process to readmit the former party leader does not have the confidence of the Jewish community.
"Since I was elected Labour leader, I have made it my mission to root out antisemitism from the Labour Party. I know that I will be judged on my actions, not my words," he said in a statement on Twitter.
"The disciplinary process does not have the confidence of the Jewish community. That became clear once again yesterday," he said.
"It is the task of my leadership to fix what I have inherited. That is what I am resolute in doing and I have asked for an independent process to be established as soon as possible."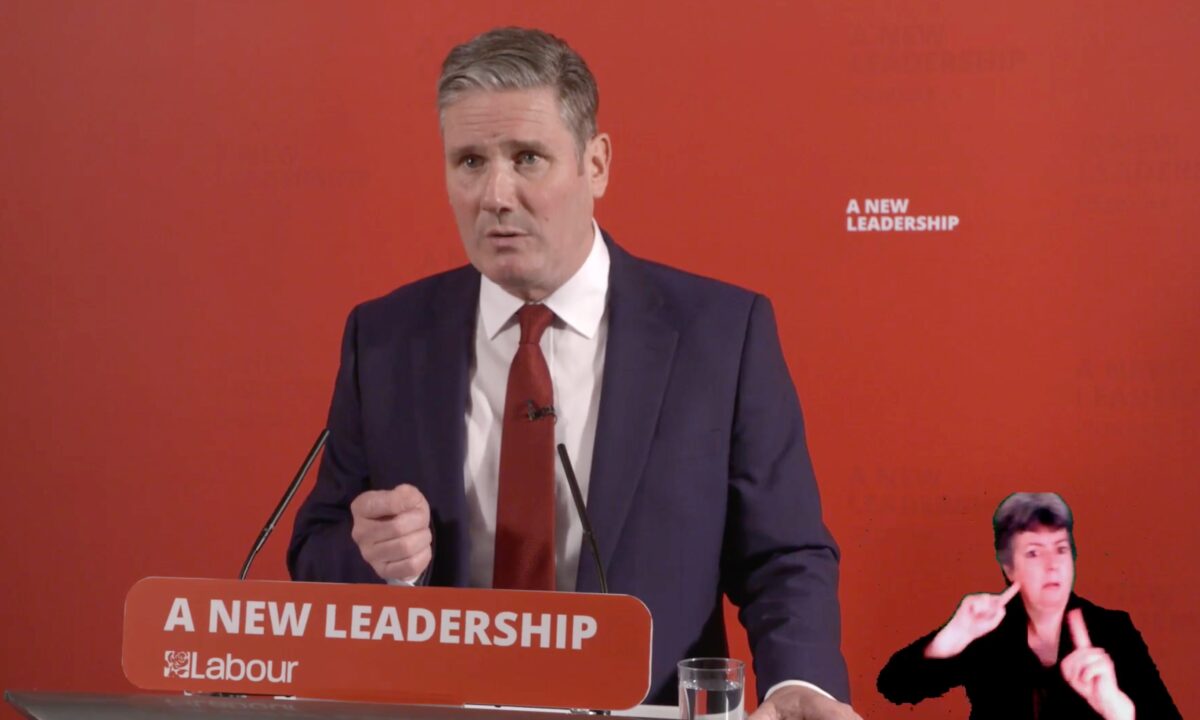 Starmer said he's not only the leader of the Labour Party, but also the leader of the Parliamentary Labour Party.
"Jeremy Corbyn's actions in response to the EHRC report undermined and set back our work in restoring trust and confidence in the Labour Party's ability to tackle antisemitism," he said.
Starmer said these are the circumstances that led to his decision not to restore Corbyn's party whip.
Corbyn has not yet commented on Starmer's decision.
Earlier on Thursday, Corbyn posted on social media a statement he submitted to the party on the day he was suspended, which he said was to clear up any confusion caused by his previous statement, which led to his suspension.
"To be clear, concerns about antisemitism are neither 'exaggerated' nor 'overstated'. The point I wished to make was that the vast majority of Labour Party members were and remain committed anti-racists deeply opposed to antisemitism," the statement reads.
"I regret the pain this issue has caused the Jewish community and would wish to do nothing that would exacerbate or prolong it," Corbyn said, and added that he fully supports Starmer's decision to accept all the EHRC recommendations in full, and pledged to "help the Party move on, united against antisemitism".
The Jewish Labour Movement said Corbyn's statement is neither sincere nor adequate.
The reinstatement of Corbyn was "a broken outcome from a broken system", Jewish Labour MP Margret Hodge wrote on Twitter.
"A factional, opaque and dysfunctional complaints process could never reach a fair conclusion. This is exactly why the EHRC instructed Labour to setup an independent process!" she wrote.
"I simply cannot comprehend why it is acceptable for Corbyn to be a Labour MP if he thinks antisemitism is exaggerated and a political attack, refuses to apologise, never takes responsibility for his actions & rejects the findings of the EHRC report. Ridiculous."
Journalist and political editor Stephen Bush on Tuesday said that the reinstatement of Corbyn is a result of Corbynites' influence.
"While Keir Starmer does have such a majority on the NEC [National Executive Committee] as a whole, he does not in its various subcommittees," Bush wrote in an opinion article in the New Statesman. "[T]he panel deciding this matter was 'hung', featuring two impeccable Corbynites and two Starmer loyalists, in addition to Alice Perry, who is regarded as a swing voter on the NEC."
The Suspension
The EHRC's investigation found the Labour Party in breach of the Equality Act (2010) for political interference in antisemitism complaints, failure to provide adequate training to those handling antisemitism complaints, and harassment.
The investigation was launched in May 2019, when Corbyn was party leader, following complaints from Campaign Against Antisemitism and the Jewish Labour Movement.
Corbyn stepped down after the Labour Party lost in the 2019 general election, the worst defeat Labour has suffered since 1935, partly because of the antisemitism allegations.
A less controversial Kier Starmer was elected in 2020 as Corbyn's successor to rehabilitate Labour's electability.
After the EHRC published its findings on Oct. 29, Starmer said the party he led "accepts this report in full and without qualification", while Corbyn said that he did not accept all the report's findings and that "the scale of the problem was also dramatically overstated for political reasons".
The Labour Party suspended Corbyn and removed his Labour whip shortly after his statement, "in light of his comments … and his failure to retract them subsequently".
Corbyn said he would "strongly contest" his suspension, calling it a "political intervention".
Reuters contributed to this report.