Jennifer Lopez Paid $10M for 'Serenading crooks and dictators,' Says Rights Group
'This is not about ignorance, it's about greed'
July 13, 2013 7:05 pm Last Updated: July 13, 2013 7:05 pm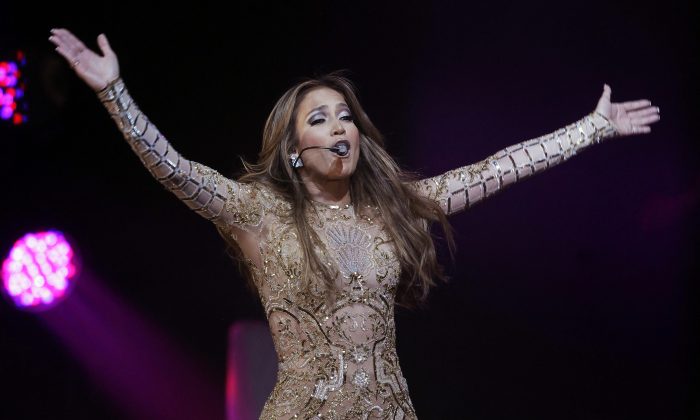 Jennifer Lopez has been paid at least $10 million for performing in front of dictators and "crooks" from Eastern Europe, Central Asia, and Russia, a human rights group said Friday.
Lopez made headlines recently when she apologized for singing "happy birthday" to Turkmenistan autocrat Gurbanguly Berdimuhamedov in late June. Her representative tried to do damage control, but according to the Human Rights Foundation (HRF), she feigned ignorance.
"What those covering this story have missed is that J.Lo and her management have misled her fans and the public," HRF president Thor Halvorssen said in a statement. "J.Lo has repeatedly mingled with and entertained some of the world's worst thugs and their cronies. The 'Jenny-from-the-block-who-doesn't-Google' clarification may be credible in one instance, but it beggars belief in light of a pattern of repeated behavior. This is not about ignorance, it's about greed."
According to the organization, Lopez was paid $2.5 million to sing at a FIFA soccer tournament in Azerbaijan and was greeted by the wife of the president, whom HRF describes as a "dictator." Lopez and the Azeri government later came to an agreement to start a music festival starting in 2014.
She also performed extensively in Belarus, described famously by Secretary of State Condoleezza Rice and others as "the last true remaining dictatorship in the heart of Europe" under Alexander Lukashenko. HRF said it was not able to find out how much she made in the Eastern European country.
HRF said Lopez was slated to sing happy birthday to Alexander Yolkin, a Russian bureaucrat accused of corruption, but he was arrested the day before his birthday and the event was called off. Russian media said she was paid $2 million, which were reportedly derived from "kickbacks and bribery schemes," said HRF, and it's unclear if she returned it.
She was also paid $1 million by an Uzbek industrialist, Azam Aslanov, to perform at his son's wedding. One of the guests was Chechen strongman Ramzan Kadyrov, who is accused of egregious human rights violations. According to the rights group, she was paid $1.4 million for the wedding.
HRF also disputed Lopez representatives' claims over the circumstances surrounding performing for Berdimuhamedov. It said the event was supported by "the China National Petroleum Corporation , an oil company owned by the Chinese regime, underwrote the event for a reported $2.5 million fee and is itself under scrutiny for human rights violations in Burma."
"Performers are frequently blinded by greed and they willfully sidestep reality and become part of the public relations machinery of the world's worst people. They should be disqualified from having any moral standing to opine about matters involving human rights or business ethics," Halvorssen said.
 "The J.Lo story is a case study in how human rights defenders can successfully marshal the notoriety of a celebrity to engage in public exposure of dictatorship and corruption," he added. "This is also a study in how engaging in classic denials and failing to address matters head-on simply leads to more scrutiny."