Former Sen. Jeff Sessions (R-Ala.) is reportedly considering a run for the U.S. Senate seat in Alabama he vacated to become President Donald Trump's attorney general.
Three Republicans who weren't identified told The Associated Press that Sessions is exploring the possibility, including making phone calls discussing the potential bid. Multiple Republicans familiar with the matter told Politico that Sessions is considering a campaign.
"We are hearing that Sessions is seriously considering running for Senate again and that polling indicates he would be in very good shape. The Club for Growth has in the past and would once again encourage him to run for that Senate seat," David McIntosh, president of the Club for Growth, said.
"We were enthusiastic way back early on, that Sessions, when he retired from the attorney general spot, might go back to the Senate. At that point, he didn't want to think about that because he was just finishing up one job. I'm very encouraged he's now seriously considering it."
Sessions has until 5 p.m. on Nov. 8 to declare his candidacy; the primary vote is slated for March 3, 2020.
Sessions, 72, would be vying with a slew of Republican candidates in the primary race, including Rep. Bradley Byrne, state Rep. Arnold Mooney, and Alabama Secretary of State John Merrill.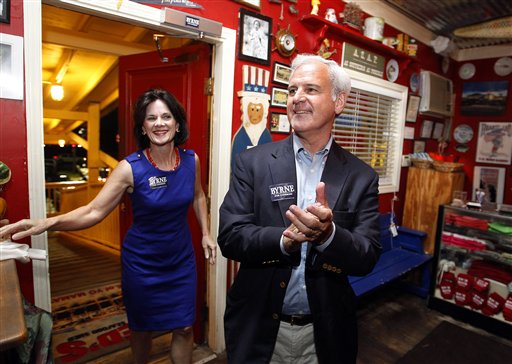 But Sessions would likely become one of the top candidates if not the top.
"I suspect Sessions would become an immediate front-runner if he were to enter the race," said David Hughes, a political scientist at Auburn University in Montgomery, told The Associated Press.
Merrill said Sessions entering "would change the dynamic of the race dramatically" and force each candidate to decide what to do.
Sessions won the 2014 race without opposition and the 2008 election with more than 63 percent of the vote.
Trump fired Sessions on Nov. 7, 2018. That day, the president said in a statement: "We thank Attorney General Jeff Sessions for his service, and wish him well!"
But Trump also expressed negativity when speaking about Sessions, who recused himself from the Trump–Russia investigation.
"The Russian Witch Hunt Hoax continues, all because Jeff Sessions didn't tell me he was going to recuse himself…I would have quickly picked someone else," Trump wrote on June 5, 2018. "So much time and money wasted, so many lives ruined…and Sessions knew better than most that there was No Collusion!"