Jeff Bezos, the Amazon billionaire, will retain 75 percent of his stake in the company and all voting rights amid his split with ex-wife MacKenzie Bezos.
MacKenzie Bezos will also relinquish all her interests in the Washington Post and rocket company Blue Origin, she wrote on April 4.
She is "grateful to have finished the process of dissolving" her marriage "with support from each other and everyone who reached out to us in kindness," according to her statement.
She's also "happy to be giving him all of my interests" in the Post, Blue Origin, and 75 percent of the stock, MacKenzie Bezos said.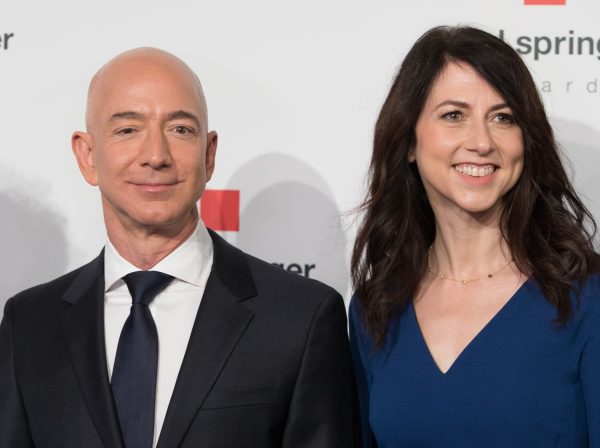 Meanwhile, she is "excited about my own plans" and is "grateful for the past as I look forward to what comes next."
According to a filing with the Securities and Exchange Commission, she will retain shares of about 4 percent of Amazon's outstanding common stock. She will be the third-biggest shareholder at Amazon behind Jeff Bezos and Vanguard, CNBC reported.
— MacKenzie Bezos (@mackenziebezos) April 4, 2019
Jeff Bezos also issued a statement on the matter.
"I'm grateful for her support and for her kindness in this process and am very much looking forward to our new relationship as friends and co-parents," Jeff said, adding that he is "grateful to all my friends and family for reaching out with encouragement and love."
— Jeff Bezos (@JeffBezos) April 4, 2019
"In all our work together, MacKenzie's abilities have been on full display," he added.
"She has been an extraordinary partner, ally, and mother. She is resourceful and brilliant."
Forbes magazine reported that he is giving $35 billion worth of stock to his wife in the divorce, effectively making MacKenzie the third richest woman in the world.
"Those shares are worth more than $35 billion as of 1:30 p.m. Eastern Time on Thursday. That would make MacKenzie the third-richest woman in the world, behind L'Oréal's Francoise Bettencourt Meyers, who is worth an estimated $52.9 billion, and Walmart's Alice Walton, who is worth $45 billion. She would rank as the planet's 26th richest person, ahead of Nike's Phil Knight," according to Forbes.
Jeff's net worth will remain above $110 billion following the move.
Bill Gates is still the second-richest person at $99.5 billion.
Prosecutors Probe Tabloid Report
Federal prosecutors in New York are probing whether the National Enquirer's parent company violated a cooperation agreement in its handling of the story regarding Amazon CEO Jeff Bezos.
Bezos claims American Media Inc. threatened to publish intimate photos of him unless he stopped investigating how the tabloid obtained his private exchanges with his mistress.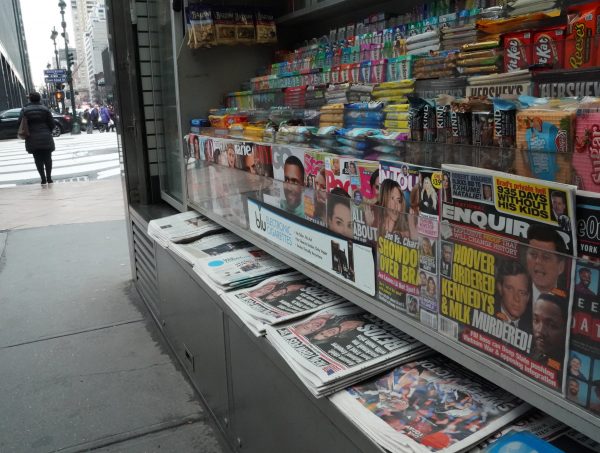 Two people familiar with the matter told The Associated Press that prosecutors are looking at whether an email exchange Bezos published shows AMI violated an agreement it struck to avoid prosecution for alleged campaign finance violations. The people were not authorized to speak publicly and spoke on condition of anonymity.
The agreement requires AMI to commit no crimes for three years. AMI did not respond to requests for comment.
The publisher of the National Enquirer says it will investigate Amazon CEO Jeff Bezos' allegation that it threatened to publish revealing personal photos of him unless he stopped investigating how the tabloid obtained his private exchanges with his mistress.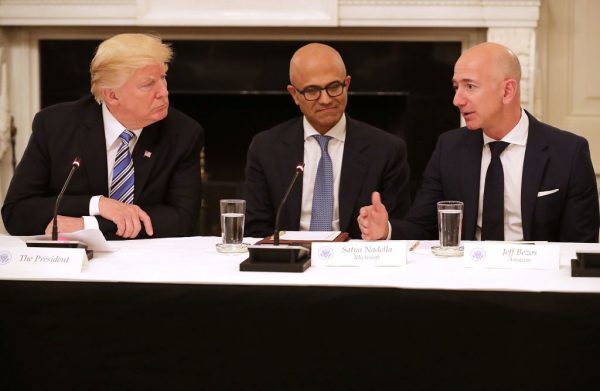 American Media Inc. says in a statement issued Friday it "acted lawfully" while reporting the story.
The Enquirer published a story last month that included lurid texts between Bezos and former TV anchor Lauren Sanchez. Since then, private investigators have been looking into how the Enquirer got the texts.
The Associated Press contributed to this report.