Japanese Reporters Detained in Sichuan
June 5, 2008 Last Updated: June 5, 2008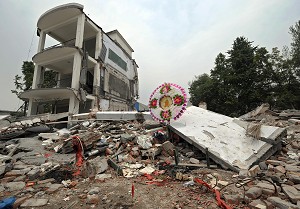 Japanese media recently reported that two journalists from the Japan-based Kyodo News were detained when conducting an interview in Dujiangyan area in Sichuan Province, where the earthquake struck. Local authorities said the detention was because "the earthquake caused social instability and we carried out procedures to ensure the reporters' safety; it was not an arrest."
On the morning of June 3, about 150 people, including parents of students from Juyuan Middle School who were killed during the earthquake, gathered near the local courthouse and sought to sue the school for damages. The crowd and police clashed. Two Japanese reporters from Kyodo News were present to interview the parents. They were surrounded by police and brought into the courthouse. The reporters were released approximately one hour later.
The collapse of school buildings during the earthquake could largely be attributed to substandard construction of these buildings. The parents wanted to sue the school for damages.
Court staff told the parents of the students that they could not accept the lawsuit. They recommended that the parents visit local government appeal offices to pursue a remedy.
According to Financial News, after a large number of reports on school building collapses killing over 10,000 students, Chinese media have been banned from reporting on school building failures. A reporter from Guangdong who wishes to remain anonymous told Financial News that the government's ban had already been passed on to reporters. Such orders are typically issued by the Propaganda Department of the Chinese Communist Party branch in different provinces and cities.