Japanese Prime Minister Shinzo Abe raised the recent protests in Hong Kong over a proposed extradition law to Chinese leader Xi Jinping at a meeting in Osaka, Japan on June 27 on the sidelines of the G-20 Summit.
Abe's remarks come despite Beijing's firm warning earlier in the week that it would not allow the Hong Kong protests to be raised during the Summit.
The prime minister, at a June 27 evening meeting, stressed to Xi the importance of a free and open Hong Kong under "one country, two systems" framework, in light of recent disputes in Hong Kong over a controversial extradition bill, Nippon News reported.
Abe also mentioned human rights issues regarding Uyghurs in Xinjiang and other groups in China, emphasizing the need to respect human rights and universal values.
A top Chinese Foreign Ministry official said June 24 that Beijing would "not allow" the topic of recent protests in Hong Kong to be mentioned during G20 meetings, as "any foreign force has no right to interfere" with China's "domestic affairs."
The remark, widely criticized by protesters in Hong Kong, was seen as Beijing's attempt to evade international pressure on critical issues.
In the past few weeks, millions of Hongkongers have taken to the streets to protest a controversial bill that would allow people to be extradited to mainland China for trial.
Opponents say that the bill would jeopardize the safety of Hong Kong's residents and visitors who could be transferred to China on trumped up charges, thus further eroding the city's autonomy.
Hong Kong reverted to Chinese rule in 1997 under the express guarantee that the city would retain its freedoms and autonomy—a policy known as "one country, two systems."
On June 15, Hong Kong leader Carrie Lam announced a decision to "infinitely suspend" the bill amid public pressure.
However, the bill continued to draw massive protests in the city over the past two weeks, as opponents insist that the bill must be fully retracted.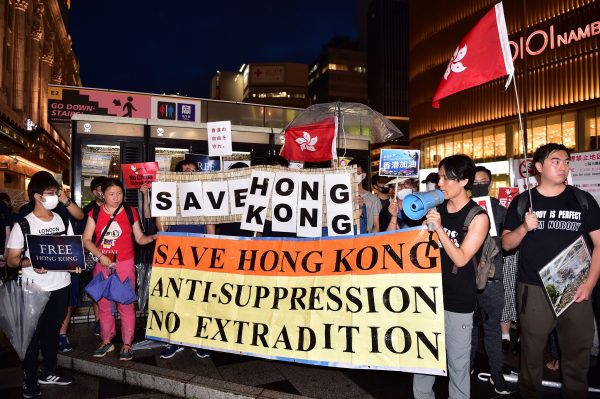 The demonstrators have seized on this week's G20 summit as an opportunity to put the city's concerns on the agenda.
On June 27, about 40 protesters showed up near the G-20 venue in Osaka, holding banners that read "Save Hong Kong" and "Protect Hong Kong's Freedoms," in a bid to directly appeal to world leaders attending the summit.
Protesters in Hong Kong have also organized mass rallies in the past few days, including a June 26 "G20 Free Hong Kong" rally attended by thousands, which called on foreign officials to pressure Beijing at the international summit.
Abe might not be the only country leader to raise the sensitive Hong Kong topic with Xi this week.
German Chancellor Angela Merkel, who departed for Osaka on June 27, was urged by nine German parliament members to defend Hong Kong's autonomy when she meets with Xi.
In a June 27 statement, nine members of the German Parliament's Committee on Human Rights and Humanitarian Aid asked Merkel to raise concerns about the erosion of Hong Kong's autonomy.
"We stand shoulder to shoulder with the demonstrators in Hong Kong, who share our values of civil liberty, democracy and the rule of law," the members said.
The parliamentarians also described charges placed on certain protesters as "signs of a progressive restriction on civil liberties" that must be "dropped immediately."
They also condemned the firing of rubber bullets and tear gas by Hong Kong police against demonstrators and journalists during a crackdown on June 12, and demanded a public inquiry into the police's use of force by an independent body.
Meanwhile, President Donald Trump will bring up the mass protests in Hong Kong with Xi during the G20 summit, U.S. Secretary of State Mike Pompeo assured on June 16.
"The president has always been a vigorous defender of human rights," Pompeo added.
Trump and Xi will meet in Osaka on Saturday, June 29.