Japanese Media Uncovers Shanghai Karaoke Spies
September 6, 2006 12:00 am Last Updated: September 6, 2006 12:00 am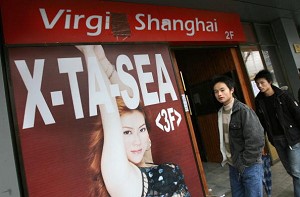 There are rumors in Japan that Japanese diplomats and Defense Force officers have leaked out classified national secrets to Chinese women working in a karaoke bar. Two of the men had visited the same karaoke bar in Shanghai and had sex with the hostesses. Recently, one Japanese magazine published an inside report on this karaoke bar. These hostesses are not only beautiful and entertaining but also spoke Japanese.
Japan's Mainchi Daily News quoted a weekly magazine stating that an informer said this karaoke bar located in Hongqiao District in Shanghai, specializes in entertaining Japanese guests and has about 10 private rooms. When Japanese guests arrive, a very attractive female manager greets them at the door with fluent Japanese and then escorts them to the private rooms.
A Japanese guest can drink all he wants for around US$32. A group of hostesses line up for the guests to choose from. The informant said that if a guest would spend another US$130, "These hostesses, speaking broken Japanese, would ask the guest to take them out."
The report quoted a Japanese reporter stationed in Shanghai as stating that these hostesses have frequent close contact with Japanese businessmen and diplomats in Shanghai. The hostesses may overhear classified national secrets. This reporter disclosed, "The Japanese Ministry of Foreign Affairs announced in August that officials from embassies and consulates should avoid going to these places to socialize with the females."
Last year, the media reported that one Japanese diplomat stationed in Shanghai hung himself because the CCP's intelligence agency pressured him to disclose classified information by threatening to disclose his affairs with the hostesses. The diplomat who committed suicide had an intimate relationship with a karaoke hostess in Shanghai.
In August, a 45-year-old sergeant from the Japanese Navel Defense Force was found with copies of internal documents of the location of all naval vessels and submarines of the countries surrounding Japan. The sergeant left work many times without approval and went to Shanghai to meet with a Chinese woman who managed a karaoke business.