Japanese Defence Minister Nobuo Kishi has said that a rare demonstration of Sino-Russian force projection close to Japan this past week was unprecedented and underscored a growing list of security challenges in the region.
Kishi said that it was the first time that Japan had seen confirmed activity on such a large scale and over such an extensive period.
"We believe this was a show of force toward Japan," he said, according to Japan Today.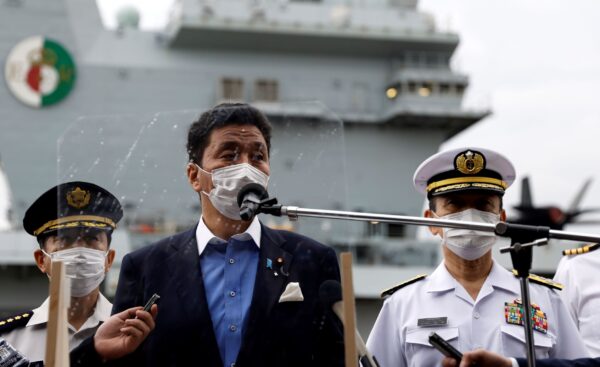 Kishi's comments come after Japan announced on Oct. 19 that it was monitoring a flotilla of Chinese and Russian naval vessels for the first time in the Tsugaru Strait that separates Hokkaido and Japan's main island, Honshu.
The flotilla then moved through the Osumi Strait, south of Kyushu, before continuing into the East China Sea. Both straits are classified as international waters, and vessels may travel through unimpeded at any time.
Russia later confirmed that the ships were part of the Sino-Russian three-day joint maritime exercise, Joint Sea Interaction 2021, that was conducted in the waters around Japan from Oct. 14 to 17.


"The group of ships passed through the Tsugaru Strait for the first time as part of the patrol," Russia's defence ministry said in a statement reported Reuters. "The tasks of the patrols were the demonstration of the Russian and Chinese state flags, maintaining of peace and stability in the Asia-Pacific region and guardianship of the subjects of maritime economic activities of the two countries."
However, Kishi said that the passage of the Sino-Russian flotilla "clearly demonstrates the increasingly severe security environment surrounding Japan," and said that "such developments must be closely monitored from the viewpoint of regional peace and stability."
According to the Russian navy, the exercises included a flotilla of five Chinese naval ships—two destroyers, two corvettes, and a diesel submarine. These joined with five Russian naval vessels, including the anti-submarine ship, Admiral Panteleev, and the submarine Ust-Bolsheretsk to complete more than 20 naval exercises.
The exercises, which are held annually, included the mine defence of vessels, joint tactical manoeuvring against air defence capabilities and anti-submarine aircraft.