Japan's health ministry confirmed it quarantined a cruise ship that arrived in Yokohama on Monday night after a male passenger was found to have been infected with coronavirus, which has triggered quarantines around China and global health fears.
The Japanese Ministry of Health, Labor and Welfare said that dozens of quarantine officers are checking the health of around 2,500 passengers on the ship, Kyodo News reported.
Princess Cruises, which is a subsidiary of Carnival Cruises, told Bloomberg that the passenger embarked on the Diamond Princess ship in Yokohama on Jan. 20 and disembarked on Jan. 25. The ship then continued its trip to take other passengers to Yokohama. On Saturday, that passenger tested positive for coronavirus.
The firm said that 2,666 passengers and 1,045 crew are on board the quarantined vessel. The delay will last 24 hours.
"The review of the arriving guests and crew, by Japanese health authorities, is standard practice after a guest tested positive for coronavirus and we are working closely with the local authorities to provide detailed records to facilitate their review," Princess said in the statement to the news outlet.
Japan has so far confirmed 20 cases of the new virus, but most of the patients have recently been in Wuhan, the coronavirus-hit city where the virus is said to have originated.
Last week, some 6,000 passengers were held on a cruise ship off the Italian coast after health authorities placed the ship under quarantine over coronavirus fears. A sick Chinese woman prompted the scare.
Cruise officials "have confirmed that Italian health officials diagnosed a passenger on board a ship docked in Civitavecchia, north of Rome, Italy with the common flu," according to a statement from Carnival Cruises and its Italy-based subsidiary Costa Cruises on Jan. 30.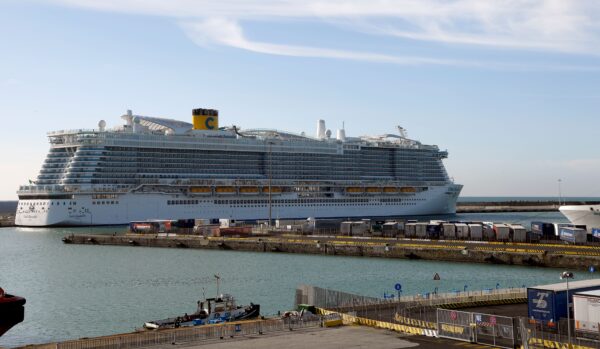 The World Health Organization (WHO) last week declared a global public health emergency over the virus, which has prompted quarantines and lockdowns in Wuhan, China, earlier this month. There have been confirmed coronavirus cases in about 20 other countries, including Italy.
Meanwhile, the Chinese Communist Party has not allowed American experts into the country, a U.S. health official said Monday.
"We have folks ready to go to China as soon as that offer is finalized. I understand that there still are negotiations in process on that. And really we're waiting. As soon as we are allowed to go we will be there," Dr. Nancy Messonnier, director of the Centers for Disease Control and Prevention (CDC)'s National Center for Immunization and Respiratory Diseases, said Monday.
Officials in the United States have confirmed 11 cases of the virus after three were confirmed in Northern California on Sunday night.