Japan is planning for a possible mass evacuation of its citizens currently living in or visiting South Korea, amid heightened threats from North Korea's latest weapon's test. 
"There is a possibility of further provocations," Japanese Prime Minister Shinzo Abe said Monday, Sep. 4, the Nikkei Asian Review reported.
"We need to remain extremely vigilant and do everything we can to ensure the safety of our people," he said. 
In total, about 60,000 Japanese citizens are currently residing in South Korea. Of that number, 38,000 are long-term residents, while roughly 19,000 are tourists or short-term visitors, according to the Japanese media outlet. 
The Japanese government said they were prepared to act immediately if a military strike from the United States was launched. 
"If the U.S. decided on a military strike against the North, the Japanese government would start moving toward an evacuation on its own accord regardless of whether the American plans are public," a Japanese government source told Nikkei Review.
Japan proposed a four-tier plan, depending on the severity of the situation. They include discouraging unessential travel to South Korea, discouraging all travel to South Korea, urging Japanese citizens there to evacuate, and finally, urging them to shelter in place. 
In a recent tweet on Sept. 5, President Donald Trump said that he would be allowing an "increased amount" of military equipment to be sold to U.S. allies.
"I am allowing Japan & South Korea to buy a substantially increased amount of highly sophisticated military equipment from the United States" he said. 
North Korea claimed on Sunday to have successfully detonated a hydrogen bomb that could be placed on an intercontinental ballistic missile (ICBM).
The U.S. Geological Survey and other seismic activity-monitoring agencies detected a man-made earthquake near the North's border with China on Sunday morning. Japanese and South Korean officials said that it was around 10 times more powerful than the quake picked up after its last nuclear test a year ago.
South Korea conducted live-fire exercises simulating an attack on a nuclear site, in response to the apparent nuclear test. The exercise was demonstrated to "strongly warn" North Korea, Fox News reported. 
In the exercise, a surface-to-surface missile and a long range air-to-ground missile "accurately struck" their targets in the Sea of Japan. 
South Korean officials said that the set of targets were chosen for their comparable distance to where North's test site was. The exercise was aimed at practicing precision strikes in addition to cutting off reinforcements, Fox News reported.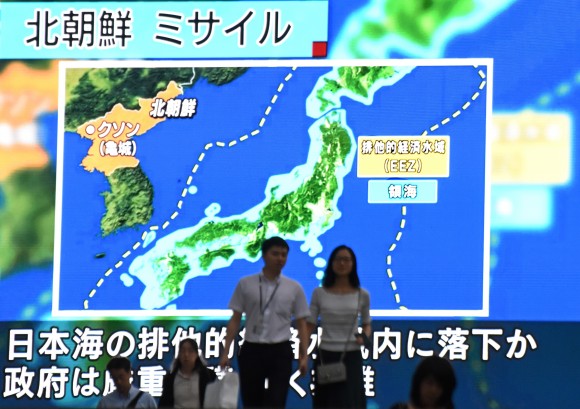 From NTD.tv